Many thanks to Scott (AK5SD) who shares the following photos and bill of materials for his custom Elecraft KX3 go-box:
---

Bill of materials
The panel was custom laser cut by Front Panel Express. I have the CAD
file and I'm willing to share it with anyone who wants to reproduce my effort.
Amazon.com
Case B&W Type 1000 Outdoor Case with SI Foam
You won't use the foam, so you can buy the version without it if you can find it cheaper.
Battery Anker Astro Pro2 20000mAh Multi-Voltage (5V 12V 16V 19V)
Portable Charger External Battery Power Bank
Avoid look alike batteries and the next generation model from Anker. The newer Anker
battery is only capable of delivering 1.5A from the 12V supply. Two look alike batteries
I tried did not have the auto-off feature that the Anker does.
Vetco.net
ACC2 and I/Q Jacks 2 x 2.5mm Stereo Jack Panel Mount (PH-666J-B)
Phone, Key, and ACC1 3 x 3.5mm Stereo Jack Panel Mount (High Quality) (PH-504KB)
Mic Jack 1 x 3.5mm 4 Conductor Jack Panel Mount (PH-70-088B)
12V IN and CHG IN 2 x 2.1mm DC Power Panel Mount Jack (PH-2112)
12V OUT 1 x 2.5mm DC Power Panel Mount Jack (PH-2512)
You also need plugs and wire for interconnects. I bought some 2.5mm (CES-11-5502)
and 3.5mm (PH-44-468 for stereo, PH-44-470 for 4-conductor) audio cables with right
angle plugs and just cut them to use for the signal lines going to the KX3. I did the same
thing for the 2.5mm (PH-TC250) and 2.1mm (PH-TC210) power cables. A couple of
caveats are in order. The Phone, Key, and ACC1 interconnects require low profile
right angle connectors. The cables I listed above won't work. Vetco part number
VUPN10338 will work. The power cables I've listed above use 24 gauge wire. This
is a little light, but the runs are small so I think it is OK. You can use higher gauge
cables if you can find a source.
USBfirewire.com
USB OUT USB 2.0 Right Angle Extension Cable (RR-AAR04P-20G)
Digikey.com
L Brackets 8 x Bracket Rt Ang Mount 4-40 Steel (612K-ND)
These L brackets are used to mount the KX3 to the panel and the panel to the case.
For mounting the KX3, I use a little piece of stick on felt on the bracket to protect the
KX3's cabinet from damage. Replace the KX3's screws with #4-40 Thread Size, 1/4"
Length Steel Pan Head Machine Screw, Black Oxide Finish (see below). For the panel
mounting, use #6-32 Thread Size, 3/16" Length self tapping sheet metal screw. You
may need to cut the tip off in order to not puncture the outside of the case.
RG316 BNC Male Angle to BNC Female SM Bulkhead Coaxial RF Pigtail Cable (6")
This is not the original interconnect I used for connecting the KX3's antenna output to
the panel. However, I think it is a better option for new designs. The caveat is that you
will need to verify the hole in the panel matches the bulkhead connector on this cable.
There will be a little loop in the cable when you are done, but that is fine.
Micrfasteners.com
Screws for Sound Card 2 x FMSP2510 – M 2.5 x .45 x 10mm
Screws for KX3 Bracket Mount 4 x MSPPK0404 – 4-40 x 1/4
Screws for Countersunk Panel Holes 8 x FMPPK0403 – 4-40 x 3/16
Screws for USB Connector *** 2 x FMPPK0406 – 4-40 x 3/8
I'm pretty sure these are the right length for the USB connector. I am doing it from memory.
Amazon.com or eBay.com
Soundmatters foxL DASH A Wireless Bluetooth Soundbar (OPTIONAL)
Sonoma Wire Works GJ2USB GuitarJack 2 USB Portable Audio Interface (OPTIONAL)
(Make sure you get the USB model, not the 30-pin model.)
This is optional if you want a built-in sound card interface for a waterfall display using iSDR. Make sure to eliminate the holes in the upper left corner of the panel if you are not installing. You will also need 2.5mm x 10mm screws to mount this to the bottom of the panel (see below).
bhi Compact In-Line Noise Eliminating Module (OPTIONAL)
In my opinion, the KX3's noise reduction is totally ineffective for SSB communications. This external noise reducing DSP is one solution, albeit an expensive one, to that problem. It is only for SSB, not CW or digital modes. It is also available from GAP Antenna Products.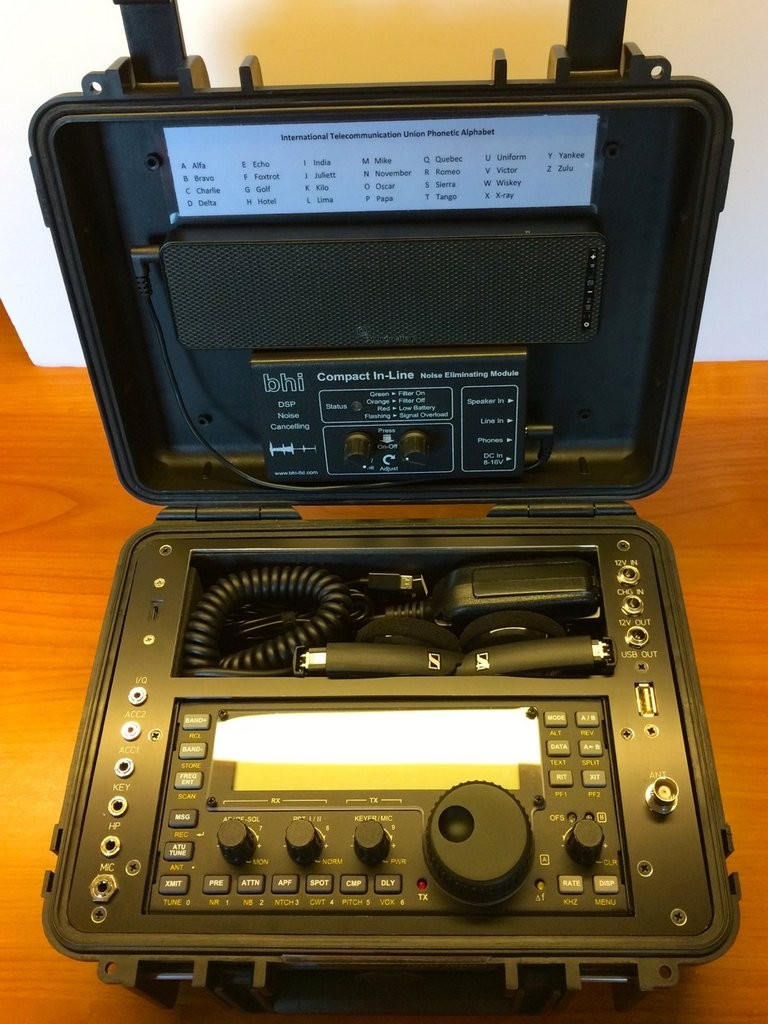 ---
Scott: you have done a beautiful job here and have spared no expense to make a wonderfully-engineered and rugged go-box. No doubt, you're ready to take your KX3 to the field and enjoy world-class performance on a moment's notice. 
Though I've never used them personally, I've noticed others who have taken advantage of the Front Panel Express engraving service–certainly makes for a polished and professional front panel.
Again, many thanks for not only sharing your photos, but also your bill of materials which will make it much easier for others to draw inspiration from your design!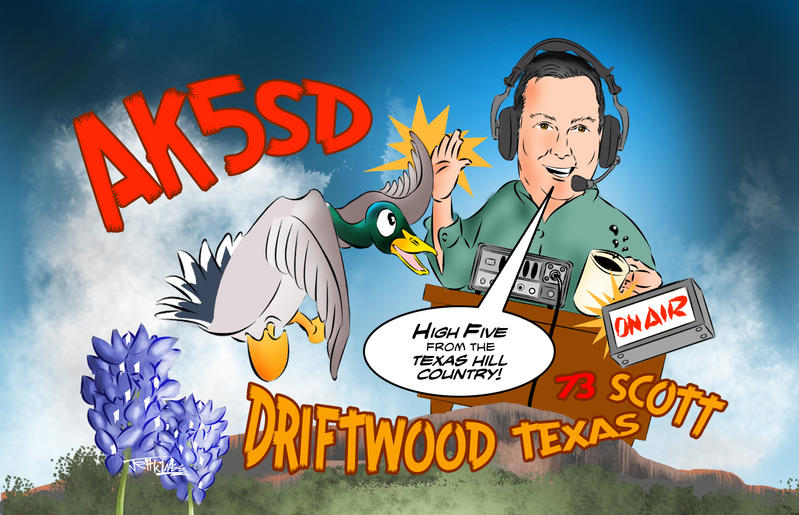 Speaking of designs, when I looked up Scott on QRZ.com, I noticed that he also sports a QSL card (above) designed by my good friend, Jeff Murray (K1NSS). Obviously, Scott is a man with good taste!