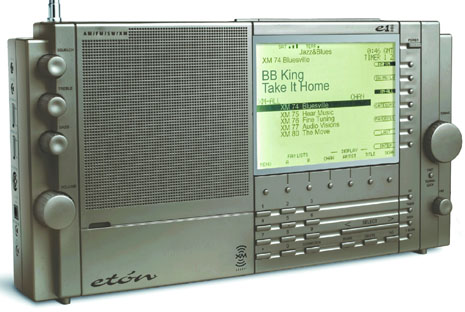 Many thanks to SWLing Post contributor, John Figliozzi, who writes:
Sean at Universal Radio in Reynoldsburg, OH put me on to another terrific product that does the job fabulously and quite easily. It's called MaxPro Ink/Adhesive Remover and is a citrus-based cleaner/solvent that won't harm the radio's plastic casing. You can get it on eBay for around $11 with free shipping:

It took me a total of less than 3 hours to clean both my E1s. I used a lot of paper towels, working a section of the radio at a time, spraying the solvent onto the towels and then rubbing the surface free of the degraded and sticky rubberized coating. After removing the coating, I simply wiped down the radio with a wet paper towel to remove any residual solvent. They are now clean and smooth and look like new with all the white print intact. And my hands didn't suffer any from contact with the solvent.

A reminder if you do this: It's important to seek out citrus-based solvents and avoid petroleum based solvents. It was so easy with this product that I wished I had done this a long time ago and wasn't so nervous about taking it on.

John Figliozzi
Halfmoon, NY
Thank you, John! I just noticed that a few of my rubber-coated receivers are starting to get tacky. I like the idea that this adhesive remover is gentle on the chassis. Click here to search eBay for MaxPro Ink/Adhesive Remover.
We've posted a number of solutions for sticky radios. Click here to view past posts.