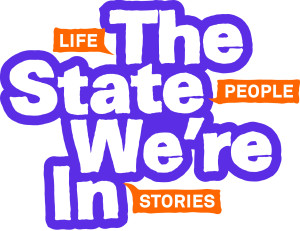 You may remember The State We're In (TSWI) from Radio Netherlands Worldwide and how sad I was to hear TSWI was cancelled in the wake of RNW's cuts last year.
Well, I just heard the following brilliant news from TSWI:
"November 6th marks the rebirth of The State We're In: The Podcast, produced every other week by Jonathan Groubert and WBEZ 91.5." 
In my opinion, The State We're In represents some of the best radio documentary out there: TSWI has won international honors, including three New York World Medals in 2010, awards at the 2013 New York Festivals, as well as a Gabriel. Ira Glass, the talented host of Chicago Public Media's This American Life, has praised TSWI for its "amazing editorial judgment," and Glass rightly called TSWI host Jonathan Groubert "one of the best news interviewers on public radio today."
Don't believe me? Listen to some of their archived shows, like Two Enemies, One Heart.  Powerful stuff.
I will be the first to subscribe to TSWI's podcast.  As soon as the RSS feed becomes available, I will post it here.
In the meantime, check out TSWI's new website: http://tswi.biz