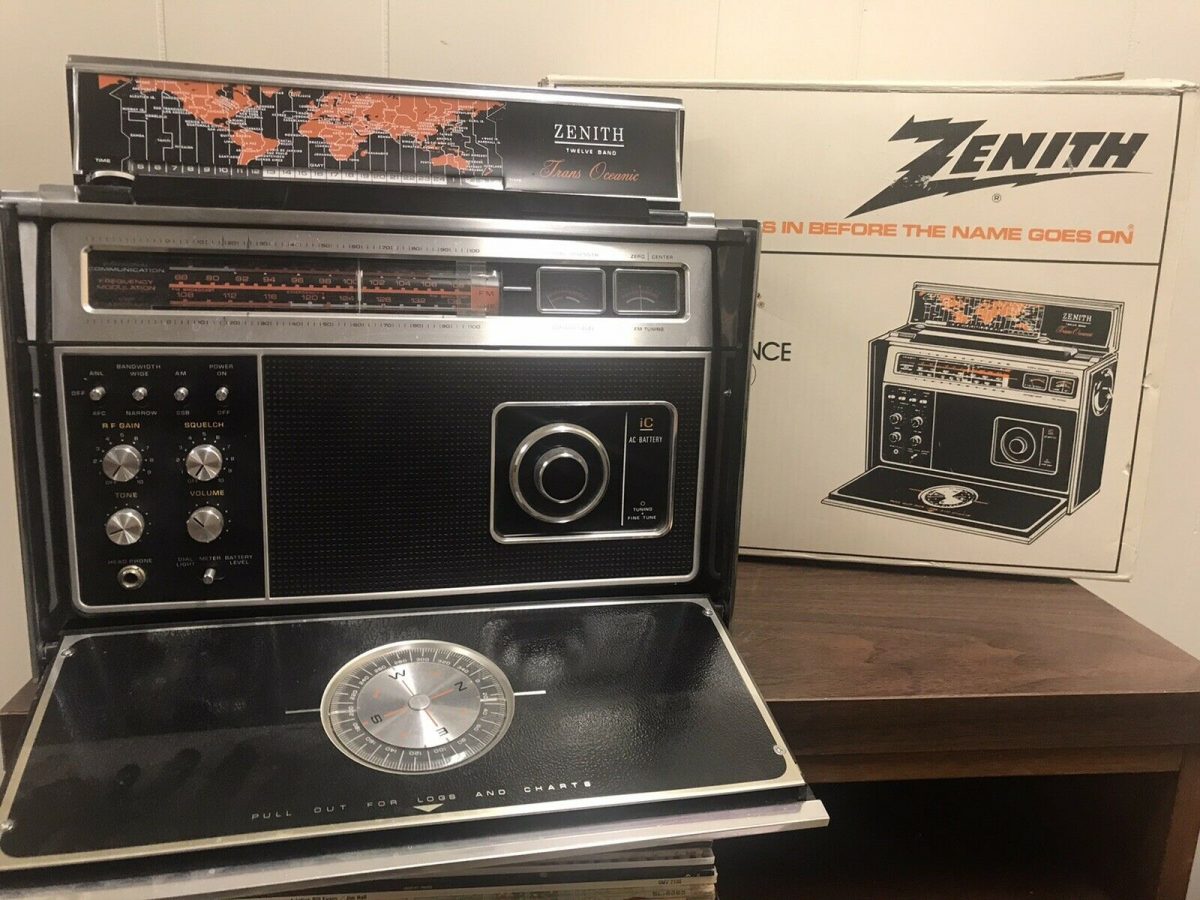 Many thanks to SWLing Post contributor, Dan Robinson, for the following guest post:
---
Zenith Trans Oceanics Still Command Big Prices
by Dan Robinson
For many radio collectors and users, the Zenith Trans Oceanic R7000-2 is a must-have item in the collection. This was the final version of the Zenith Trans Oceanic line that stretched back for decades — production was shifted to Taiwan and tuning in this radio is accomplished with internal gears, with concentric knobs for main and fine tuning.
The R7000-2 has Longwave, AM, FM and importantly for fans of aircraft listening, the radio
has excellent VHF reception. The huge Zenith TO telescopic aerial is a real eye turner — it is
super tall and compares only to the SONY CRF-1 in length.
Some years ago, the used market saw a few NIB or LNIB Zenith R7000-2 every year or so.
That hasn't been the case — at least it was not until just recently when a LNIB TO appeared from a California seller.
NIB or LNIB R7000-2 radios could often bring more than $1,000 and sometimes much higher —
even as high as $1500!
That did not stop bidding on this-2 R7000-2 from topping the $700 mark and reaching nearly
$800 in this auction.

This does not mean, however, that every R7000-2 will be out of reach but other R7000-2 radios on eBay at this time suffer from cosmetic issues of one kind or another (see photos) such as detached side vinyl and missing antennas.
Amazingly, as this is being written there is yet another R7000-2 on eBay, complete with original
box and papers, and the original purchase receipt. This one could well hit the $1,000 mark.
If you're hunting for an excellent late production Zenith TO, this may very well be the time
to pull the trigger — but for one in 9.9 to 10.0 NIB condition you will pay a price!
Click here to check this Trans Oceanic R-7000-2 out on eBay.