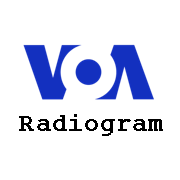 VOA Radiogram is a new Voice of America program experimenting with digital text and images via AM shortwave broadcasting.  One might say this is the crossover point between classic shortwave and current technology.  It's fun and fascinating stuff, and also has real utility.
If you've been an SWLing Post reader for very long, you'll be familiar with the digital messages, otherwise known as radiograms, included in broadcasts from The Mighty KBC and, earlier, from WBCQ.  We've also offered a small primer on decoding.
In the near future, Dr. Kim Elliott's digital radiograms will be broadcast through VOA via the Edward R. Murrow Transmission Station in Greenville, NC.
The new VOA Radiogram website contains time and frequencies and all of the information you'll need to decode VOA radiograms.
Incidentally, Kim Elliott and I will be presenting on the topic of VOA Radiograms and digital modes at the 2013 NASWA Winter SWL Fest. If you're interested, it's not too late to register!  Meanwhile, stay tuned for more information about radiograms.