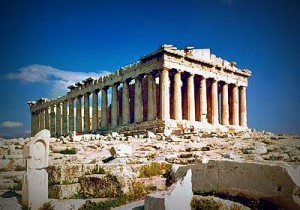 Sometimes, the Voice of Greece plays very little Greek music; October 10th was one of those occasions.  Nonetheless, I recorded that evening's broadcast.
Using AM sync for sideband noise
In the first hour of the 10/10 VOG broadcast, you'll hear a pulsating noise from an unknown origin (possibly a jammer?). The noise was centered about 20 kHz above VOG.
Fortunately, most of the noise was in the upper side band of the VOG signal, so I was able to mitigate it by using an AM sync lock on the lower side band. Without AM sync, this VOG broadcast––and its music mix––was almost inaudible.
If you have a synchronous detector on your receiver and tune in a station with interference, always try turning on sync lock and locking it on either the upper or lower sideband. If most of the noise resides in one of the sidebands, the lock can help tremendously. I often use this method while listening to AM pirate radio stations in noisy conditions.
A confession…
I have no idea what she's talking about–it could be something absolutely mundane–but I love this radio host's voice as she speaks and Pink Floyd's Comfortably Numb begins. (Start listening around 26:00)
Click here to download more than two hours of the Voice of Greece, recorded on October 10, 2013, starting around 03:15 UTC on 9,420 kHz, or simply listen via the embedded player below. Most of the noise disappears around 00:21: