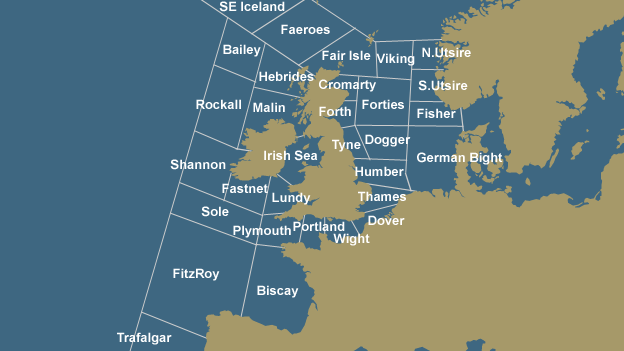 When I lived in the UK, I would often fall asleep and/or wake up to the Shipping Forecast: a BBC Radio broadcast of weather reports and forecasts for the seas around the coasts of the British Isles.
Though I had, of course, no real need of the Forecast, on many occasions it lured me like the voice of a hypnotic siren (especially, I must admit, when read by a woman). When I moved back to the US in 2003, I missed hearing the Forecast on the radio, but thankfully one can listen to it at Radio 4 online. Although the online stream lacks the delectable sonic texture of long wave radio, the Forecast still has the power can still reel in its listeners.
Last December, I followed a brilliant series on NPR which highlighted the BBC Shipping Forecast.  I intended to publish it here on the SWLing Post at the time, but somehow lost it in the shuffle of a busy travel season. Fortunately, NPR has archived audio from the series online. I love their introduction:
"It is a bizarre nightly ritual that is deeply embedded in the British way of life.

You switch off the TV, lock up the house, slip into bed, turn on your radio, and begin to listen to a mantra, delivered by a soothing, soporific voice.

"Viking, North Utsire, South Utsire, Forties, Cromarty, Forth, Tyne, Dogger …." says the voice.

You are aware — vaguely — that these delicious words are names, and that those names refer to big blocks of sea around your island nation, stretching all the way up to Iceland and down to North Africa.

The BBC's beloved Shipping Forecast bulletin covers 31 sea areas, the names of which have inspired poets, artists and singers and become embedded into the national psyche.

Your mind begins to swoop across the landscape, sleepily checking the shorelines, from the gray waters of the English Channel to the steely turbulence of the Atlantic.

Somewhere, deep in your memory, stir echoes of British history — of invasions from across the sea by Vikings, Romans and Normans; of battles with Napoleon's galleons and Hitler's U-boats.

Finally, as the BBC's Shipping Forecast bulletin draws to a close, you nod off, complacent in the knowledge that whatever storms are blasting away on the oceans out there, you're in your pajamas, sensibly tucked up at home"
You can listen to the series on NPR, or via the embedded player below:

Click here to listen to the Shipping Forecast on the BBC Radio 4 website. Also, check out the history of the Shipping Forecast on Wikipedia and from this excellent article by Peter Jefferson in Prospero (PDF, page 10).