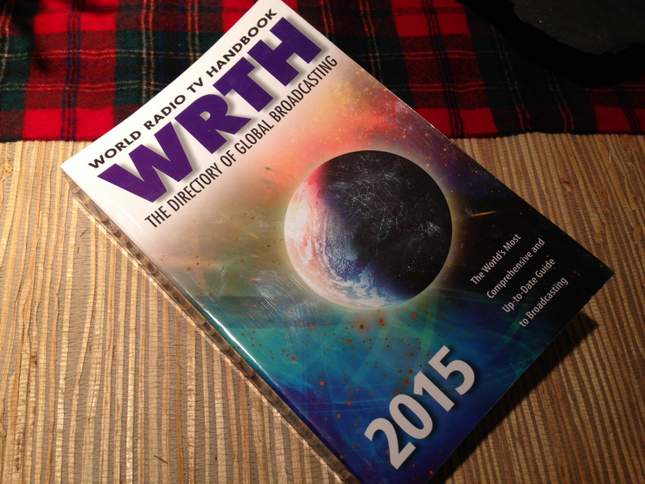 I received my copy of the 2015 World Radio and TV Handbook (WRTH) directly from the publisher last week. As many SWLing Post readers know, I always look forward to receiving this staple radio reference guide each year. While other reference guides have dropped out of the scene, WRTH has remained strong and the publication's quality has been wonderfully consistent. In fact, I noticed in the Editorial that this is 69th edition of WRTH: obviously, a publication with longevity.
WRTH's team of noted DXers from around the world curate frequencies and broadcaster information by region; while I'm not sure how they orchestrate all of this, the end result is truly a symphony of radio information. In addition to broadcaster listings, WRTH's radio reviews, feature articles, and annual HF report make for excellent reading.
But the WRTH isn't just a frequency guide: the publication always devotes the first sixty or so pages to articles relating to various aspects of the radio hobby. Following, I offer a quick overview of these.
The first article always features a WRTH contributor (indeed, it's this very network of contributors that make WRTH and its listings such a success):  this year, Mauno Ritola tells us how he got interested in the hobby and what being a contributor means to him. Many of you will recognize Mauno's name–he's quite a prominent Finish SW and MW DXer (and a very nice fellow, as well).
The second set of articles is always my favorite: WRTH receiver reviews.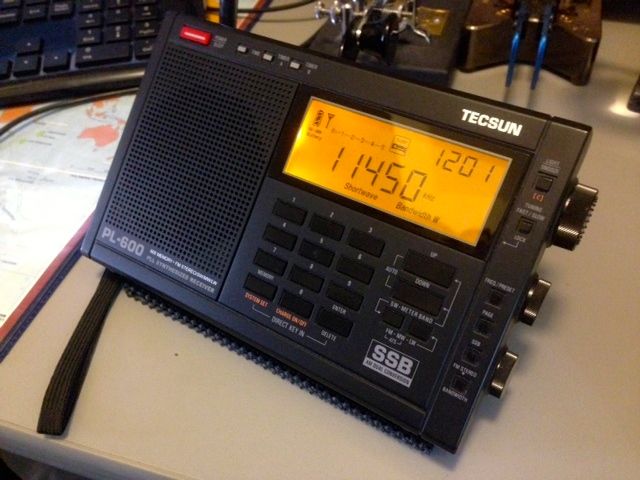 This year, WRTH reviewed the CommRadio CR-1a (un update of their very positive CR-1 review last year).  They also review the Tecsun PL-600 (above), the SDRplay software defined radio, the MFJ-1046 Preselector, and the Apache ANAN-10. The 2015 WRTH also has a special review section that features two HF noise and loop antennas: the AOR LA400 indoor loop and the Wellbrook ALA 1530S+ Imperium Loop (which wins the WRTH Award for Best Antenna). As I've come to expect from this publication, these are all great comprehensive reviews.
The following article is "Wooferton: 70 Years on the Air," written by Dave Porter, one time Senior Transmitter Engineer at the site. In a few pages, you'll gather the technological history of the site, dating back to a rather bumpy start in WWII.
Following this, noted DXer and WRTH contributor, Max van Arhem, speaks to The Future of DXing. He proposes that with the decline of international broadcasting on the shortwaves, there is still much challenge in the hobby–especially by broadening DXing in the FM and medium wave bands. [Indeed, I've certainly seen an increase of questions about medium wave DXing here on the SWLing Post. I hope to cover more of these topics in 2015.]
WRTH often features a snapshot of the radio scene in various parts of the world.  This year, WRTH Contributor, David Foster, writes about his recent trip to remote Lord Howe Island and what he discovered about the radio landscape there. As a keen traveler myself, I found his article fascinating (Lord Howe Island is now on my travel list!).

As a bonus, WRTH includes a feature/review of the benchmark Watkins-Johnson 8711A receiver. Not only does the article speak to the mechanics and virtues of the 8711A, but it also places this particular model within the context of the Watkins-Johnson legacy.
The final sections of articles are dedicated to the WRTH Digital Update and HF propagation report/forecast.
As expected, this is another great edition of the World Radio TV Handbook. As I've said many times, though I use online frequency databases fairly regularly, there is just no replacement for a good printed frequency guide–especially for all of my off-grid DXing.
For DXers who collect QSL cards, you'll find that broadcaster contact information in WRTH is often more up-to-date than a broadcaster's own website.
Not only does WRTH contain more in-depth information on broadcasters and schedules, but it makes for quick reference, and doesn't require a computer or Internet connection–much like, well, your shortwave radio.
Purchase your copy of WRTH 2015 directly from WRTH's publishers, or from a distributor like Universal Radio (US), Radio HF (Canada) or Amazon.com. Happy reading–and listening–in 2015!