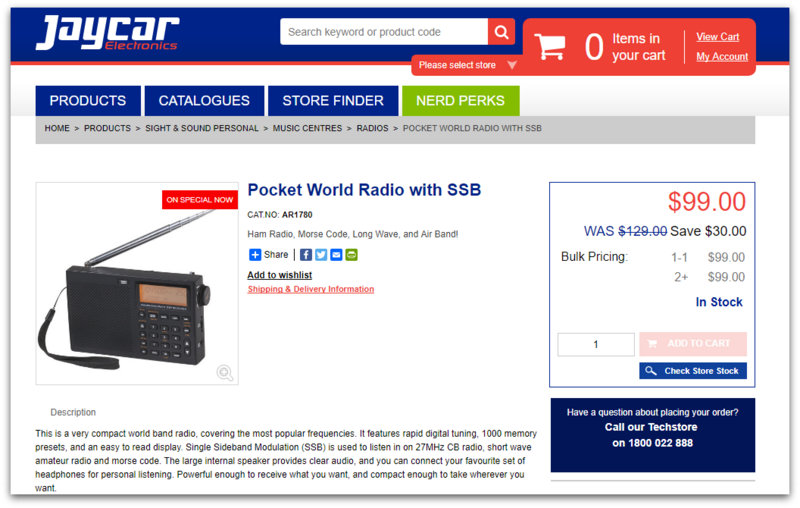 [UPDATE: Click here to read our full review of the Digitech AR-1780.]
Many thanks to SWLing Post reader, Wesley, who notes:
For those in Australia, the Jaycar in Bondi Junction is currently selling the Digitech AR-1780 for AUD$99. I suspect the other locations are offering the same price.

I picked one up – pretty happy with it so far! Really excited that it contains several filter bandwidths, which should help with receiving weather fax and SITOR signals.
UPDATE: SWLing Post reader, Davo notes:
It's on special in NZ too: NZ$119 saving of $30

https://www.jaycar.co.nz/pocket-world-radio-with-ssb/p/AR1780
Thank you for the tips!  Yes, indeed, I would purchase the AR-1780 for $99 AUD in a heartbeat. It's certainly a great value at that price (roughly $77 US). I don't think Jaycar ships internationally, so this sale may only apply to those living in Australia and New Zealand.
I can't tell via the Jaycar site how long this sale may last. If you live in Australia or NZ and have been considering the AR-1780, I would jump on this deal. It's a decent little portable. Besides visiting a Jaycar location, you can also place your order online.
Click here to view this deal at Jaycar Australia and here for Jaycar New Zealand.
Those of us outside of Australia/NZ can always purchase via the eBay seller I used–though the total price with shipping will set you back about $134 US.
Click here to read some of our Digitech AR-1780 posts. Also, note that on November 1 2017, I will publish a full review of the AR-1780 here on the SWLing Post.