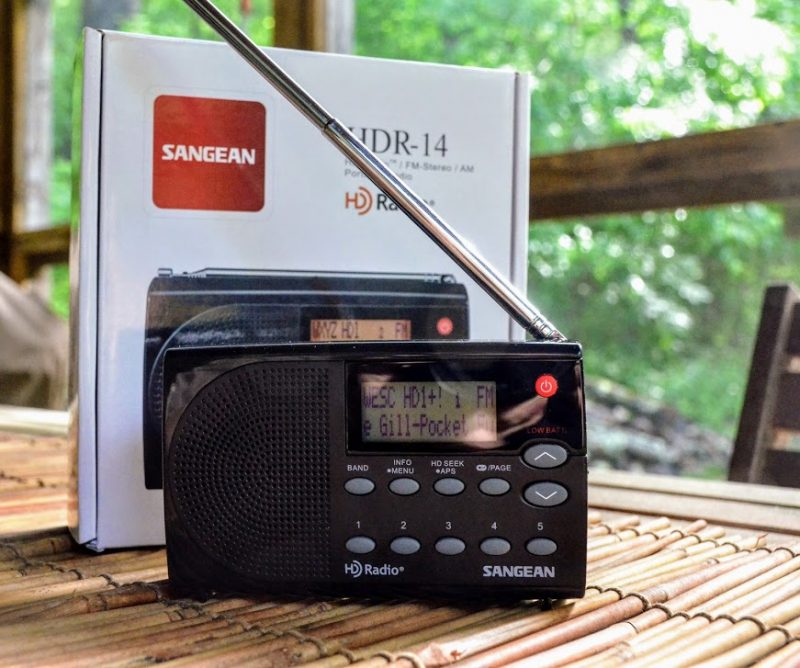 Based on readers correspondence, the most anticipated non-shortwave radio to hit the market this year might be the Sangean HDR-14 AM/FM HD radio.
Sangean sent me a sample evaluation unit and I've had it on the air since taking delivery last week. I'm starting to put the elements of my HDR-14 review together while also writing Part 2 of my SDR primer for The Spectrum Monitor magazine (Part 1 was published last week). Indeed, I've a total of five reviews and evaluations on my desk right now–!
So far, I'm impressed with the little HDR-14. If you recall my review of the Sangean HDR-16, I mentioned that one of my benchmark distant HD FM stations is WFAE 2–its transmitter is a full 101 miles from my home and I'm well outside even the the fringe reception area.
I'm pleased to note that on more than one occasion, I've gotten a reliable HD lock of WFAE from my porch. A most positive sign!
Over the next three weeks, the HDR-14 will be travelling with me and I hope to even snag an AM HD station if all goes well.
I can tell you already that I'm as pleased as punch Sangean gave the HDR-14 a total of 20 AM and 20 FM memory presets. The larger HDR-16, in contrast, only has 5 AM and 5 FM presets.
Look for my review of the HDR-14 on the SWLing Post in the coming weeks. If interested, follow the tag: HDR-14
I've noted that both Universal Radio and Amazon.com (affiliate link) have the HDR-14 in stock and shipping. Universal's price is $79.99 plus shipping and Amazon's price is $88.67 including shipping.