Many thanks to SWLing Post contributor, Paul, who asks:
How does the Icom compare with the Xiegu G90, besides lack of a built-in antenna tuner, and having lower transmit power, and a better screen?
Good question, Paul.
The G90 is a great radio for sure and has better specs and features than I would expect from a $450 transceiver. I've taken it on a number of portable field operations and love it. My full review of the G90 will appear in the August 2020 issue of The Spectrum Monitor.
Keep in mind that at time of posting (July 21, 2020) no one has really reviewed and compared the performance of a production run IC-705 with any other radio as of yet. I will purchase an IC-705 for review as soon as they start shipping in the US, but I don't expect to be able to do that until September or October at best. So we can't really speak about performance at this point.
What makes the IC-705 unique in the portable radio market is the number of features it will sport.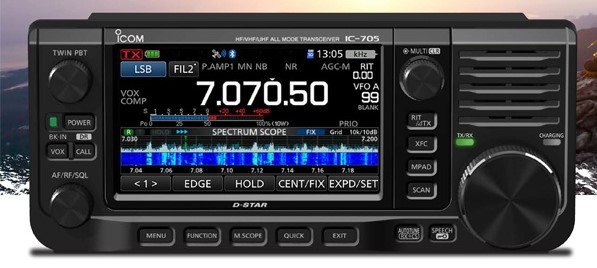 Here's a short list of features the Icom IC-705 has that the Xiegu G90 does not have:
Attachable battery pack
Lower current drain in receive per Icom specifications
CW memory keyer with beacon mode
Voice memory keyer with beacon mode
D-Star mode with built-in WiFi to connect to Internet/hotspot
Built-in GPS
Built-in TX/RX recording
Broader receive range: 0.030–199.999 and 400.000–470.000 MHz
Multi-mode 6M/2M/70CM TX and RX
Touch screen display that is customizable
Built-in WiFi and Bluetooth
Native to digital modes–no external sound card interface needed
Frequency stability less than 0.5 +/- ppm in VHF/UHF, making it ideal to drive an amplifier for demanding tasks like EME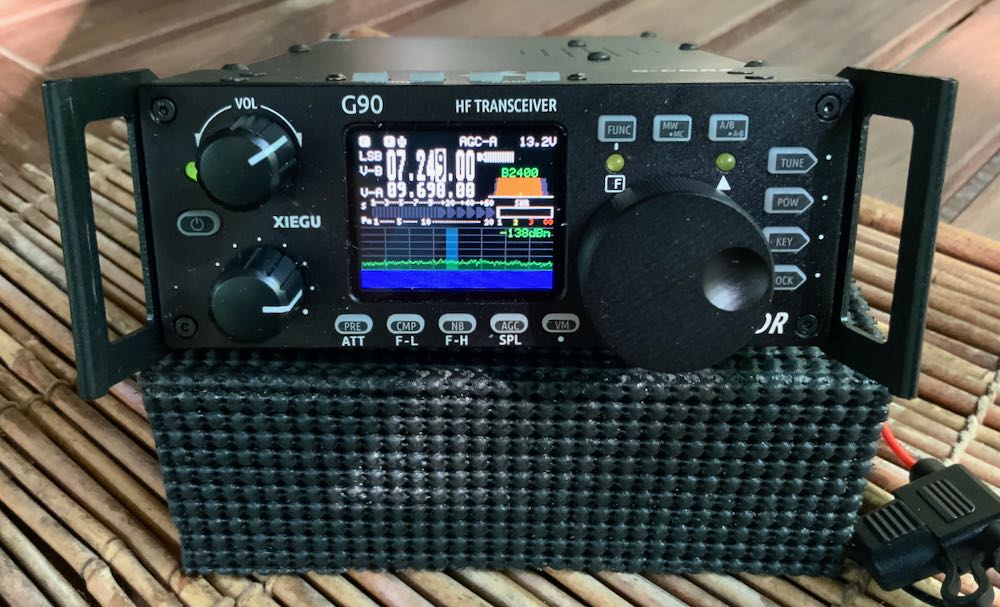 The Xiegu G90 actually has a few features that the Icom IC-705 will not:
Built-in (very effective) automatic antenna tuner
Antenna analyzer function [Update: Geoff notes "The Icom IC 705 does also have a VSWR Plot/analyser in the menu same as the IC7300 and iC 7100, page 9.3 in the advanced IC 705 manual"
20 watts of output power (the IC-705 has a max output power of 10 watts using an external 13.8V battery source)
10.8 kHz AM bandwidth (the IC-705 maxes out at 6 kHz per specs)
Detachable faceplate which will likely make mounting it mobile even a little easier than the IC-705 (although in truth both transceivers are very compact and should be easy to mount)
Side panels that protect the front faceplate and rear connections
At the end of the day, though, the Xiegu G90 is an excellent little budget transceiver. It's feature-rich compared with other transceivers in this price bracket, but basic compared with the IC-705 or Elecraft KX3 or KX2.
The Icom IC-705 will have a retail cost well over two times that of the G90 but will sport features that no other QRP transceiver has up to this point. In fact, the list of features above is only a sampling.
If none of the unique features of the IC-705 appeal or apply to you and your operating style, save a little money and grab the G90. Or consider spending a bit more for an Elecraft KX2.
If you want an incredibly feature-rich transceiver and are comfortable with a price point in excess of $1100-1200 US (estimated at time of posting), you might delay purchasing until you've read a few user reviews of the yet-to-be-released Icom IC-705.
Thanks for your question!
---
Do you enjoy the SWLing Post?
Please consider supporting us via Patreon or our Coffee Fund!
Your support makes articles like this one possible. Thank you!