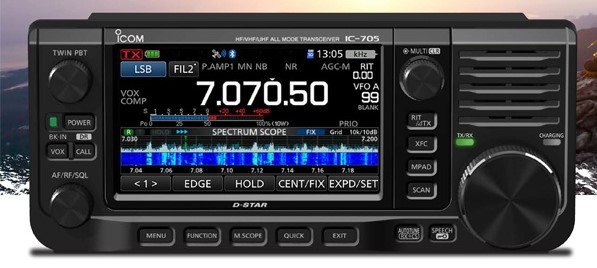 I was contacted by Universal Radio yesterday afternoon with  a tracking number for my Icom IC-705. It will arrive by Monday evening.
A number of SWLing Post readers in the US and UK have notified me that their IC-705s have also been shipped and a few have even been received already.
I'm really looking forward to checking out the IC-705. The preliminary reviews (overviews, really) have been pretty positive. I found the IC-7300 to be a fabulous rig and the IC-705 smacks of the '7300. The '705 even includes more features than the '7300 (multi-mode VHF/UHF, D-Star, Wifi, and built-in GPS to name a few) although lacks an internal tuner.
I've received more questions about IC-705 and the TX-500 than I have any other radios this year. Both, in many senses, are ground-breaking in their features, (and in the case of the TX-500) form-factor and build.
If I'm being honest, I was more excited about the TX-500 because it simply suits my field operating style better (my full TX-500 review will be in the Oct 2020 issue of TSM).
Since I haven't received the IC-705 yet and haven't read any truly detailed reviews or comparisons, I'm going to do something I've never done before and share a few of my personal predictions.
Predictions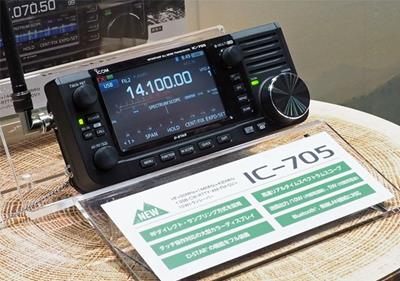 I'm human and can't help but form a few expectations/opinions prior to a thorough rig evaluation. That and, having owned a number of their products, I'm very familiar with Icom as a company. I'll probably regret this later, but here goes…
I suspect:
I'll like the touch screen display more than I think I will. I'm not a big fan of color backlit displays in field radios. I prefer simple high-contrast LCD displays that are readable in full sunlight. I'm hoping Icom will have optimized the IC-705 display for reading outdoors.
I'll be able to operate the radio without referring to the manual because I'm so familiar with the IC-7300.
I'll really miss having a built-in ATU on a rig in this price class. Feels like a missed opportunity, however seeing the inside of the IC-705, there really isn't a lot of spare room. With that said, I plan to review the mAT-705 ATU compact external tuner and hope it'll pair nicely.
I'll be disappointed with the amount of run time I'll get from a fully-charged BP-272 battery pack. I really hope I'm wrong about this one. Icom did some serious engineering on the IC-705 to lower the amount of current needed in receive. We'll see if that paid off and if it can compare, for example, to the run time I get from the rechargeable battery pack in my Elecraft KX2.
I'll be very pleased with some of its features like CW and Voice memory keying for POTA and SOTA activations.
I'll still find D-Star complicated to use even though, hypothetically, the IC-705 can connect directly to D-Star via WiFi. I hope I stand corrected on this point.
I'll struggle to find the perfect padded pack to house the radio. I'm a bit of a pack geek/snob and don't really like the Icom LC-192 backpack. I've no intention to order it even though it's designed to work with the radio. So while this doesn't apply to 99% of my readers, it's a big deal in my world. 🙂 I'm sure I'll sort out a solution.
I'll feel some buyer's remorse when, in 6 months, the IC-705 price drops a couple hundred dollars. That's okay. I see it as taking a bullet for my readers (and, let's face it, I love new radio gear). Plus, I'm banking on the notion that the IC-705 will make for a capable QRP EME transceiver.
I'll love the built-in digital recorder for making off-air shortwave broadcast recordings (although I do fear I'll find the AM audio filter too narrow).
Again, these are completely off-the-top-of-my-head predictions and based on no hands-on time with th IC-705. Next week, I'll start to see how many of these predictions are correct and how many I totally missed.
I can tell you this: I'm not sure I want to see the invoice from Universal Radio. It includes the IC-705, two Yaesu FT-60R HTs, and some Anderson PowerPole connectors! Although I've had the IC-705 on order for ages, I added the HTs and connectors at the last moment because they don't seem very pricey when you're already at the $1300 US mark, right–? (Shhhh! The FT-60Rs are a gift for my daughters who take their Technician test this weekend!)
How about you? Do you have an IC-705 on order? What are your predictions and thoughts? Please comment!