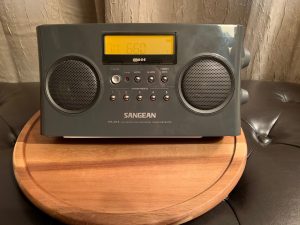 Guest Post by Troy Riedel
Since the demise of my Sony ICF-SW100, I've decided to do some AM Dx'ing. A few years ago I purchased a Sangean PR-D15 as my dedicated "AM Dx Radio". Despite owning it for a few years, I hadn't yet really put it through its paces.
Note: My 1994 Gründig Yacht Boy 400, with its 150mm (5.9″) ferrite rod antenna, performs splendidly on AM and until this purchase, the YB400 was the radio I grabbed for AM Dx.
At the time of my purchase – if my memory is correct – the other models I had considered were the CC Radio 2 (now discontinued), the CC Radio 2E (it was a relatively new release at the time), and the Original CC Radio EP (now discontinued & replaced by the CC Radio EP Pro).
Admittedly, part of my decision was based on cost. At the time, the CC Radio 2 & 2E were priced over 2x the cost of the PR-D15 and the CC Radio EP was $15-$20 more when shipping was added. Besides the cost, I chose the PR-D15 based on a few things I had read online. But the aspect that really appealed to me is the 200mm (7.9") Ferrite Rod Antenna and that compared favorably with the C. Crane offerings (yes – ferrite size isn't everything, but it is an important consideration). So after having read online comments (reviews, discussion boards, etc.) about the PR-D15, I felt very comfortable with my decision and it wasn't based on cost alone.
Frankly, I don't really care how well my AM radio performs during the day (I hope this isn't sacrilege). Why? During the day whether I'm in the car, working in the garage – whatever – I'll typically stream my favorite station (NYC) via radio.com on my iPhone so I can pause, rewind, or pick-up where I left off. Until my Sangean PR-D15 can do that, I prefer to daytime stream. My "hobby" of AM Dxing is in the evening – to relax and have fun (and isn't that what a hobby is supposed to be?). Keep that in mind as I reveal my results.
I intended to do my AM Dx Nighttime Test in one night, but I was getting so may stations that I had to extend it over two nights. I started each session around 8PM and they lasted until 11:30PM – 12AM (over 7.5-hours of testing on consecutive nights late this week). I had my PR-D15 on a lazy susan turntable and I had two nearby laptops – one to aid as an AM Station locator and the other I used to stream. Stream? Yes – to count as a recorded station I had to get a positive station ID. However, many radio programs are syndicated. Syndicated radio (and ESPN radio) can go on seemingly forever between station IDs. If I didn't get a station ID within 15-minutes, I used the second laptop to go to the web site of the station I believed it to be to "listen live" to see if the radio and the stream matched-up (luckily live web streams are slightly behind live terrestrial radio so the IDs were easy). Often by the time I had given-up and gone to my 2nd laptop, I'd finally get an on-air station ID. I just didn't want to waste too much time on one station and miss other stations.
Since my test extended for 2 nights, on night two I quickly dialed-through nearly all of the stations I confirmed on night one to make a quick re-confirmation they were still audible on the 2nd night.
Since I captured so many stations, I was overwhelmed trying to finish and thus I feel this test is still incomplete. My wife typically ends all of my radio playtime (my man cave is a "sitting room" off the side of the master bedroom & there is no wall – no door – so it's completely open). But my wife and my step-daughter have a weekend out of town in mid to late March. And that means I can stay up all night and do one non-stop test session. Is it bad to say that I cannot wait to be alone?
My QTH is ~ 35-miles east of RIC (Richmond, VA) Airport. The tables below (broken into three files) are my results. Some frequencies have multiple station IDs – since when turning the radio and nulling signals, sometimes one station disappeared and another jumped onto the dial. If/when I post an update of my all-nighter, I'll add another column to the spreadsheet to include the transmitter strength for better context. It should also be noted that I recorded straight-line distances & not driving distances (via an online straight-line/GPS calculator).
I was impressed that I successfully captured three Iowa stations. And though I find it almost unfathomable, I truly believe I was on the verge of successfully logging a station in Sandy, UT which is over 2000-miles away (there are only six stations assigned to the 1640 frequency, and given the content I [barely] heard, all indications are that it was KBJA)!
I also believe I captured at least one Super-Clear Channel station from Mexico, but unfortunately I just couldn't successfully verify the station ID. I hope to have a future opportunity to add it to my list.
My ultimate goal is to: (1) compile & maintain a spreadsheet of every AM station that I am able to successfully ID; and (2) maintain a record of the most AM stations I was able to ID in a single one-night, non-stop session.
Despite being somewhat incomplete, I'm impressed by my results. I'm interested to see what you think so please post your comments below!
I should note that my results are strictly off the internal ferrite antenna – no external antenna, no passive loop antenna was used to enhance any signal.
To save column space, please click on each table below. A larger & easier to read image will open in a separate window or tab (depending upon your browser setting).