A guest post by Troy Riedel:
---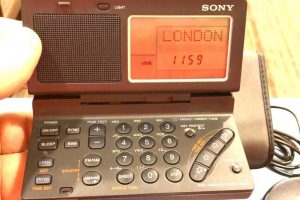 This is a sad story.  Well, it's sad for me.  But hopefully my sad story will yield "radio life" for somebody else and that life will bring them joy.
I've been an SWL'er since the early-90s.  Due to the decline of international broadcasters, "collecting" has become just as – if not more – important to me than listening.  I've always been fond of the Sony ICF-SW100 pocket radio.  I often read here on this blog about Thomas' affection for it.  To make my dream a reality, on 19 November 2017 I found the perfect SW100 (with the leather case) and I purchased it.  It did not disappoint!  That radio has to be the most sensitive radio for its size out there.  No, correction – that little baby has held its own against any other portable shortwave radio (of any size) that I own (I have 17 or 18, incl. this SW100).  That's quite amazing for a true pocket radio.
But please allow me go back to the beginning of my story.  Once I acquired the ICF-SW100, I assembled a "kit" … piece-by-piece (remember, I'm a collector).
I surmised that the SW100 would fit into the Sony ICF-SW1 case – and I was correct (sans the SW100's leather case).  The SW1 case was one of my first purchases for my SW100 as I wanted something rugged to protect it.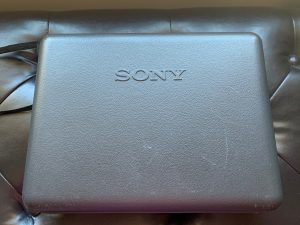 The Sony AN-1 antenna works great with the SW100, and that was part of my kit.  Of course, I also wanted the OEM Sony Compact Reel Antenna.  "Check" – found one on eBay!  The OEM AC adapter? Yes, "check" that one off the list.  A photocopy of the OEM manual would not do – I found an original on eBay and "check", that was added to the kit.
I already owned a Sony AN-LP1 (active) antenna.  That would not fit into the case, so I added a TG34 active antenna that I already owned (that's a Degen 31MS clone).  Why?  I gotta have a ready passive antenna in my kit.
Wait, who wants a 30+ year old OEM set of earbuds?  Exactly, neither do I.  This is the only thing I did not want to be OEM!  I bought a new pair of Sony earbuds (off Amazon) to throw into the kit.  Other than the TG34, everything in the kit had to be Sony.  In the end, this handy little case was my Eutopia – it had everything I needed in its own "shortwave bugout kit".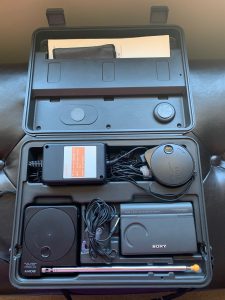 Of all of the radios in my shortwave arsenal, this was by far my favorite.  Hobbies should bring us joy.  So even if there weren't many broadcasters to listen to, this little pocket radio never failed to bring me joy.
The last time I really used this radio was June-August 2020.  My newborn grandson was in the NICU far from my son's home.  I "deployed" (with my SW100 bugout kit & 5th wheel camper) to my son's very rural & very remote farm (275-miles from my home).  I was there to tend the farm, solo, for that period of time while my son and his family could be with my grandson at a specialty hospital some 350-miles away.  During this stressful & physically demanding time – tending to more farm animals than I care to mention and rustling bulls that escaped from the pasture – my SW100 was the only friend that I had.  It provided many, many hours of enjoyment.  Literally, other than a neighbor about ¾ of a mile up the road my ICF-SW100 and I were alone (not including the 50+ animals I tended to) from June through August.
Fast-forward to the present: last weekend I reached for my kit and I removed the my SW100.  I turned it on and there was no power.  Not surprising but actually very unusual as my NiMH Eneloop batteries typically last for a year or more inside my radios in "storage".  I reached for the battery compartment, I felt an anomaly on the backside of the case and imagine my horror seeing this as I turned it over!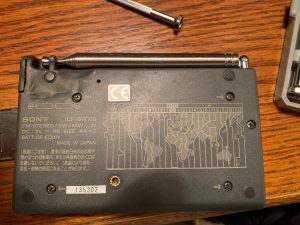 Surprisingly, there is zero damage to the Eneloop batteries (they did not leak).  I can no longer power the radio via ANY batteries, but amazingly the radio seems to operate at full capacity via AC Adapter.  Whatever happened inside the radio, it still seems to operate (though admittedly I haven't taken it through all of its usual paces).
Unfortunately, a pocket radio that only operates via AC power does not suit me.  There is a better option: my loss may be someone else's gain?  I am sending the radio and the necessary components to Thomas's friend Vlado for a full autopsy (Vlado emailed that he has worked on these radios for years and has "never" seen this issue before).  After the autopsy, my radio will become an organ donor.  The remaining healthy components of this radio – and there are many – will be used for repairing other SW100s (singular or plural).
Strangely, I cannot detect any other "trauma" to the radio other than that one melted corner.  The battery compartment *seems* undamaged though I refuse to open the case as I do not want to accidentally damage the radio's healthy components (I'll let the professional "coroner" do that).  I am looking forward to the coroner's report because I need to know what the heck happened to my baby?!
In closing, though we've only had a 3-year plus relationship I can honestly say this amazing little pocket radio had become a great friend.  I'm sure it's grief, but I am considering liquidating the remainder of my radio & antenna collection – my heart just isn't "in" to SWL at the moment.  And the timing of this is just awful for me: I'm having surgery Tuesday for an injury I incurred eight months ago while tending my son's farm.  I had big plans that my SW100 and I would pass the time while I convalesce.  But alas, my buddy will be headed to radio heaven as an organ donor.  May others benefit from my loss.
Guest Post by Troy Riedel