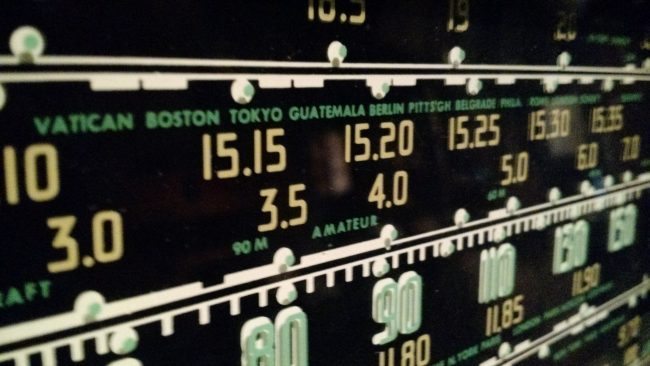 I'm absolutely chuffed to announce that the excellent Cities and Memory sound project has partnered with the Shortwave Radio Audio Archive for an all-new take on the soundscape of cities, and YOU are invited to be part of it.
From Cities and Memory:
Shortwave radio is one of the most fascinating sonic worlds – capturing vital moments in world history as well as pirate radio, clandestine stations, secretive number stations and military and spy radio, all of humanity is there to be listened to at the turn of a dial.
We're delighted to have teamed up with The Shortwave Radio Archive to present 100 incredible recordings from the history of shortwave radio all over the world for artists to remix and reimagine.
Shortwave Transmissions is our latest global project, and we're calling for sound artists and musicians to get involved by reimagining shortwave radio recordings from across the world.
Here's how to get involved:
Email us to let us know you're interested – and we'll send you the database of recordings to choose from.
Let us know your top two choices, and we'll allocate one of those sounds to you to work with.
Create your composition – it must contain some elements of the original recording in some form, but otherwise is a completely free composition (music, sound art, radio art, composition, narrative storytelling – everything is valid!).
Submit your composition – the final deadline will be Sunday 14 November.
There are some incredibly rich recordings to work with as source material – here is just a sample selection:
Recordings from the mysterious "numbers stations" around the world
Coverage of world-changing events such as 9/11, the invasion of Kuwait, Kennedy's assassination, Tiananmen Square protests, the death of Fidel Castro and many more
Rare international recordings from St. Helena, Nicaragua, Saudi Arabia, the Falkland Islands and Antarctica
Recordings covering a huge period of time from 1934 through to the present day
Space travel documented, including the Sputnik, Apollo and Challenger missions
Recordings of famous voices such as Winston Churchill and King George V
Station IDs, interval signals and final broadcasts from radio stations
Compositions will be presented in the Shortwave Transmissions project in late November and to thousands of listeners across the Cities and Memory podcast, and a selection of compositions will be chosen for an accompanying album release. 
Sound artists and mixers, jump in to the Archive and see what you can unearth from the depths of our audio. We hope you'll want to part in what we believe will be one of the most intriguing projects we've launched; in partnership with Cities and Memory, there's no doubt it can be.  We look forward to your contributions!