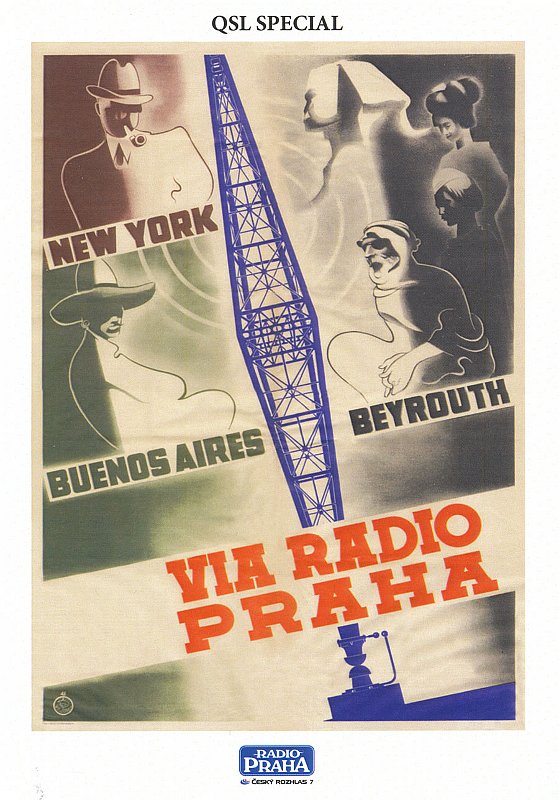 Many thanks to SWLing Post contributor, Jonathan Marks, who recommends this video tour of the Czech Radio Building from Radio Prague's Facebook page.
Jonathan notes: "[The video os very] nicely done. It compliments episode 4 of the video I made with Olrich Cip":
Many thanks for sharing this, Jonathan, and for documenting this important piece of our international broadcasting story.
Post readers: If you'd like more information about the 85th Anniversary of Radio Prague, check out this (and other) stories on the Radio Prague Website:
Although the origins of foreign language broadcasting on Czech Radio stretch as far back as 1926 – in the form of English and French lectures about Czechoslovakia – the birth of the foreign language service is traditionally dated to August 31, 1936, when the Technical Director of Czechoslovak Radio Eduard Svoboda officially announced the beginning of regular foreign language broadcasting.

The spoken word appeared only in news bulletins and to introduce programmes, and the presentation was always live (in the European broadcast news bulletins were delivered in Czech/Slovak, German, French and English, while in the American broadcasts news was read in Czech/Slovak, English and occasionally Russian). Other written material consisted mainly of lectures, at first just in Czech, occasionally in English. The response to the first Radio Prague International broadcasts was encouraging, with over 4,400 letters arriving from listeners by the end of 1936.
Foreign language broadcasting was radically reduced after the Nazi occupation of Czechoslovakia. Only two hours of programming – broadcast to North America – were left, compared to almost 20 hours before March 1939. The programme consisted almost entirely of music, with an officially-approved 10-minute news bulletin.
Immediately after the end of the war the international service resumed in earnest. In the beginning there were programmes in English, Czech, German, French and Italian. However, their number grew quickly. The information in the schedule shows that in early 1947 programmes were broadcast in 18 languages (Bulgarian, French, Serbo-Croat, Slovene, Sorbian, German, Polish, Russian, Romanian, Swedish, Norwegian, Danish, Spanish, Italian, English, Esperanto and Czech/Slovak). Unlike the pre-war years, the spoken word now formed the backbone of programming; 90 percent of broadcasts were made up of news or comment, the rest was music.
In April 1948 Czechoslovak Radio was nationalised, and from that point on its organisation and output was dictated by the Communist Party. A prisoner of the new ideology, Radio Prague International began preparing different programmes for "friendly" countries, i.e. countries which had also "embarked on the road to socialism", and "hostile" or capitalist countries.
The station reached its largest capacity during the Communist period, with hundreds of employees. In 1970 Radio Prague was broadcasting 29 hours of programmes per day, by 1978 the figure had risen to 37 hours. The number of letters arriving at Radio Prague also grew steadily. In 1970 the station received around 88,000 letters. The number peaked in 1976, when listeners' letters reached 137,000.
After the "Velvet Revolution" the most compromised employees and secret service agents left Czechoslovak Radio. Radio Prague International gradually returned to its original mission – to provide the world with balanced and unbiased information about events in Czechoslovakia. However, its size and broadcasting range was steadily reduced. In 1989, Radio Prague had some 360 employees: four years later that number had fallen to just over 50. In 1993, following the division of Czechoslovakia and Czechoslovak Radio, the international service became an independent broadcasting body within Czech Radio.
Today Radio Prague International has close to 40 employees. It broadcasts in six languages (English, Russian, French, Spanish, German and Czech). Each language section has a daily 30 minute show which is rebroadcast in 16 countries. With the digitisation of radio, the station's broadcasting can also be accessed via its website radio.cz. The daily show, as well as a multitude of original podcasts, is also available via apple and android devices.
On the occasion of its 85th birthday Radio Prague International has prepared a special broadcast, packed with archival sounds, messages from listeners and answers to some of your most frequent questions.
Author:Tom McEnchroe