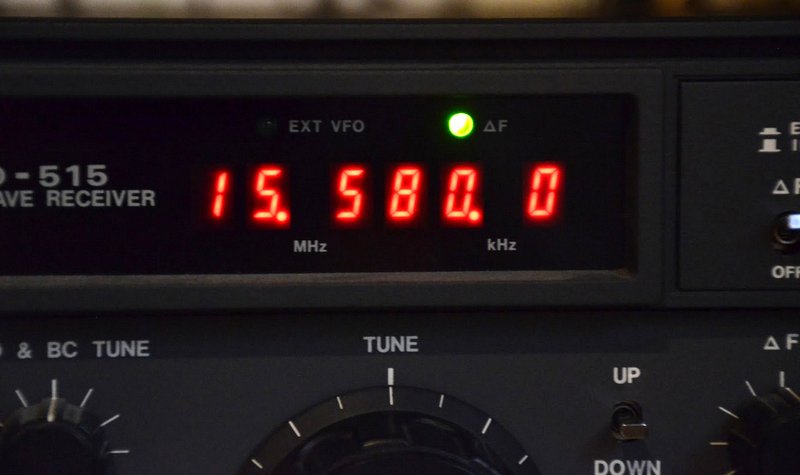 Radio Waves:  Stories Making Waves in the World of Radio
Because I keep my ear to the waves, as well as receive many tips from others who do the same, I find myself privy to radio-related stories that might interest SWLing Post readers.  To that end: Welcome to the SWLing Post's Radio Waves, a collection of links to interesting stories making waves in the world of radio. Enjoy!
---
n March 2, the BBC World Service announced that it was restarting four-hour daily shortwave transmissions in English to Ukraine. The decision to resume Ukrainian shortwave broadcasts came after Russian forces began to deliberately target Ukrainian communications equipment, including the Kyiv television tower.
Why do these four-hour daily transmissions matter so much when the world supposedly has moved away from radio and adopted social media and the Internet? Isn't shortwave an obsolete, century-old technology that harkens back to memories of World War II and the Cold War?
Despite its age, shortwave remains an enduring tool in the global fight against disinformation. In part, this is due to its unique broadcasting qualities. FM and broadcast television can only travel to just beyond the horizon. But shortwave can travel vast transcontinental and transoceanic distances. It accomplishes this feat by bouncing between the ionosphere and the earth—over mountains, skyscrapers, and digital firewalls.
It's this last obstacle that's most important here. Russia is demonstrating that it can destroy Ukraine's television and FM broadcasting infrastructure. It can use hackers and such Kremlin-affiliated subversive agencies as the Internet Research Agency to take down or otherwise block Internet sites of Western and Ukrainian media agencies seeking to provide accurate information about the conflict. Cellphones only have limited range; they need towers to transmit longer distances. Russia has demonstrated that it can shut down cellphone communications in areas of Ukraine it has captured or is shelling, including nuclear power plants.
What about satellite reception? In theory, satellite reception can break through these issues. Last week, Starlink CEO Elon Musk sent "a truckload of satellite dishes" to Ukraine to provide "space Internet service." But Russia can identify the satellite signals, seek to jam them, and locate those who have the dishes in Ukrainian areas now under its control.
This leaves shortwave, the venerable analog signal infamous for how it fades in and out as each wave is received. Shortwave cannot be hacked. It cannot be bombed or otherwise destroyed because it is being transmitted from far outside Ukraine. Shortwave is notoriously difficult to jam, despite Russia and China's best efforts. The shortwave signal is always drifting slightly, making it difficult to precisely focus jamming equipment. The shortwave signal can also be more powerful than that of the jammer, effectively overriding the interference.
Shortwave only works if people listen. Fortunately, many Ukrainian families likely still have old, often cheap Soviet-era shortwave sets in their basements that can be powered by batteries or wall sockets. They are usually small and can be easily hidden from prying eyes. Some can even fit in a pocket. Shortwave radios can also be brought in as nonlethal aid. [Continue reading…]
LEBANON, Tenn. (WSMV) – Right now, the people of Ukraine need positive messages. One Lebanon family found a way to give them that with what they do best – a radio broadcast.
We all know there's AM and FM radio, but there's also shortwave radio. It's listened to on a small device the size of a phone. While it may not be common in the U.S., radio personalities said it's how people in Europe listen to radio continents away.
From the comfort of his home, Ted Randall brought comfort to those who need it most.
"We are broadcasting to the Ukraine and Russia," Randall explained. "We are playing American rock and roll because our email responses have been saying, 'please, no news, we are tired of hearing the news.'" [Continue reading…]
Overnight shows at BBC Radio 5 Live have been temporarily suspended due to a shortage of staff at the station's MediaCity HQ.
BBC World Service will be rebroadcast instead until at least April 4th 2022.
Weekday overnight presenter Dotun Adebayo tweeted yesterday saying there will be no shows through the night until further notice, with a reply coming from weekend overnight host Hayley Hassall confirming the news.
An increase in COVID cases at the station means more staff are off work than usual.
A BBC spokesperson told RadioToday: "Due to increased COVID cases, we have temporarily suspended our overnight programming and will broadcast BBC World Service instead."
The overnight show usually runs from 1am till 5am.
In other 5 Live news, the station's new logo has now been uploaded to social media channels, and BBC Radio 5 Live Sports Extra has been renamed to BBC Radio 5 Sports Extra.
https://radiotoday.co.uk/2022/03/bbc-radio-5-live-suspends-overnight-programmes/
One retailer said last week's sales of battery-powered radios were triple that of the same time last year.
Electronics retailers in Finland have seen increased sales of battery-powered radios in the past few weeks, suggesting that some residents are preparing for the possibility of a coming emergency situation.
Sales of portable radios began to tick up at the electronics chain store Veikon Kone in Sodankylä, shortly after Russia's deadly invasion of Ukraine, according to shop manager Jukka Haavisto.
"Radio sales rose to an entirely new level than they were," he explained, adding that battery-powered radios were products that mostly sold in the summer.
"It's a surprise to everyone and there are already availability issues," Haavisto said.
Portable radio sales have doubled at the electronics store chain Gigantti, according to the retailer's sales manager, Sami Kinnunen, who noted that last week's sales were about triple that of the same time last year.
"We're selling all kinds of radios, but ones with batteries are the most popular. It can be said that the change is significant, but we're not talking about sales of thousands, but rather hundreds," Kinnunen explained, noting that some models have sold out.
A noticeable uptick in sales of radios at electronics retailer Verkkokauppa.com has been seen on a weekly basis, according to the firm's commercial director, Vesa Järveläinen.
He said the most popular radios were basic FM models that sell for around 20 euros.
"Right now we're often selling about 100 radios a week, while before the increase the figure was a few dozen or so," Järveläinen said. [Continue reading…]
ASHEVILLE, N.C. (WLOS) — At the Asheville Radio Museum, Tim McVey tunes in an RCA Radiola 20, built in 1927 but still kicking.
"This one still requires that you manipulate two dials to tune it in, and you have another dial here that fine tunes this dial. And this controls the filaments in the tubes," says McVey, as he tunes the sound of several radio stations with static, down to one station with clear sound.
McVey retired from the FBI and moved from the Washington D.C. area to the mountains a year and a half ago.
"I get giddy thinking about it, because Tim has been such a remarkable addition to the museum," says Asheville Radio Museum Curator Stuart Smolkin.
Smolkin says McVey has restored some of the most important radios in the museum, built in the 1920's and 30's, preserving a vital part of communications history.
"Without radio, we would not have cell phones," Smolkin explains. "We would not have GPS. We would not have wireless internet routers, or wireless Bluetooth speakers. The list goes on and on."
McVey tunes in another radio, this one from 1931, sounding great. [Continue reading…]
---
Do you enjoy the SWLing Post?
Please consider supporting us via Patreon or our Coffee Fund!
Your support makes articles like this one possible. Thank you!