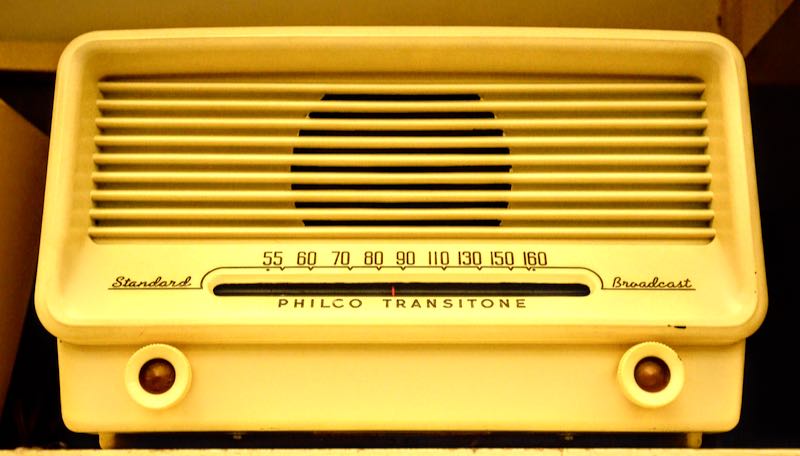 Radio Waves:  Stories Making Waves in the World of Radio
Welcome to the SWLing Post's Radio Waves, a collection of links to interesting stories making waves in the world of radio. Enjoy!
---
Anyone who has tried to find an AM/FM receiver in a big box retailer knows they are not as easy to find as they once were. It is little surprise then that the Consumer Technology Association expects fewer to sell this year. But at roughly five million units now sold each year, CTA expects that number to hold steady in the years to come, in part due to the role radio plays during emergencies.
"That category has stabilized," said Rick Kowalski, Director of Industry Analysis and Business Intelligence at CTA. "It's a low number relative to other categories, but there's a steady demand, just in terms of people having an AM/FM radio for those situations where you might need a battery-powered radio as a backup."
CTA forecasts 4.7 million traditional radio receivers will be sold this year in the U.S. That is six percent lower than the five million units sold in 2021. "Looking out in the next five years. It's not going to get much lower than that," Kowalski said in an interview.
CTA projects 24.5 million smart speakers will sell this year, or roughly five-times as many as traditional radio receivers. But in what may be a surprise to many, that estimate is actually two percent lower than the 25 million smart speakers that CTA says were sold last year. [Continue reading…]
ASHEVILLE, N.C. (WLOS) — The Asheville Radio Museum has added a new piece of history to its' collection!
It's a 1922 radio receiver built by an Asheville-based business.
The model HS2 radio the museum procured is only one of two known to exist.
Collector and restorer Robert Lozier found that it was the first name brand radio built in North Carolina.
News 13 spoke to the director of media communications Peter Abzug about why this radio is so significant.
"Having this radio here, in Asheville, where it was built is really significant," he said. "It's bringing it home. Although the company itself didn't last for years and years, it did employ people and it was a significant part of Asheville's history, and something we can be very proud of."
Click here to watch the video at WLOS.
Innovation is at the historic heart of Alabama Power, beginning with its founding in 1906 and Capt. William Patrick Lay's vision of electrifying the state by harnessing the power of Alabama's rivers.
But the company's embrace of another cutting-edge technology, just 16 years after Alabama Power's incorporation, is also historic.
One hundred years ago this year, on April 24, 1922, Alabama Power hit the airwaves with the state's first operating radio station. WSY (an acronym for "We Serve You") began broadcasting from rented space in a building on Powell Avenue in Birmingham.
The 500-watt AM station was initially designed as a company tool, to provide better communications among employees – especially those in the field and at remote generating plants. In fact, radio technology was so new – regularly scheduled radio programming in the United States started only in 1920 – Alabama Power engineers had to design and build most of WSY's transmitting equipment.
"We began assembling the set … with intentions of using it for purposes of operation of the system exclusively," wrote George Miller, the employee in charge of the station, in the July 1922 issue of the company's Powergrams. "The broadcast feature came up, though, and materially changed our plans."
Indeed, a month before the station went on the air, The Birmingham News published a do-it-yourself piece about "how to make your own radiophone receiving set" so local residents could pick up WSY when it began broadcasting.
Interest in the station was so strong that within weeks it began offering entertainment programs, according to "Developed for the Service of Alabama," the centennial history of Alabama Power, written by noted historian Leah Rawls Atkins.
Dee Haynes, with the Alabama Historical Radio Society, recalled one story that underscores WSY's popular embrace. Soon after WSY went on the air, earpieces began disappearing from the handsets of payphones all over Birmingham, apparently because people were swiping them to use in home-built receiving sets. [Continue reading…]
For 54 years, WCFW has been a beloved independently owned radio station on 105.7FM. But for lifelong Eau Claire resident Parker Reed, it has been more than that: it's his family's life, love, and legacy.
A catchy jingle – featuring the melody "WCFW, where FM means fine music" – came across a young radio station owner's desk in 1969.
It was short, simple, and it worked. The owner paid $25 for it, and more than 50 years later that same jingle – which has aired thousands of times on 105.7FM radio – exemplifies the values of WCFW in Chippewa Falls and the couple who have owned it for over half a century: simplicity and consistency.
My grandparents, Roland and Patricia Bushland, have owned and operated WCFW since its inaugural broadcast on the airwaves on Oct. 20, 1968. Earlier this summer, they decided to end their 54-year stint in radio, selling the legacy station to Magnum Media – a Wisconsin-based media organization owned by Dave Magnum who now owns 25 radio stations across the state and will take over operations of the quaint, easy-listening station later this fall.
It's a bittersweet moment – for the community, yes, but especially for our family, for whom the station has been an integral part of our lives for decades.
"It's hard to not have mixed feelings about it, because it was our life for so long," said my grandmother, Patricia Bushland. "When you start something, and you're the only people who ran it all those years, you get attached to it. But after so many years, I'm thrilled to death that someone new is coming in, and we can finally take a break."
When my grandfather, Roland, was young, he would draw pictures of radio towers during school – as his life too began with radio, front and center. My great-grandfather Roy Bushland owned and operated multiple Bushland Radio Specialties storefronts in Chippewa Falls and Eau Claire since the early 1930s – a business where my grandfather got his start in 1952 after he graduated Chippewa Falls High School as salutatorian. [Continue reading…]
---
Do you enjoy the SWLing Post?
Please consider supporting us via Patreon or our Coffee Fund!
Your support makes articles like this one possible. Thank you!