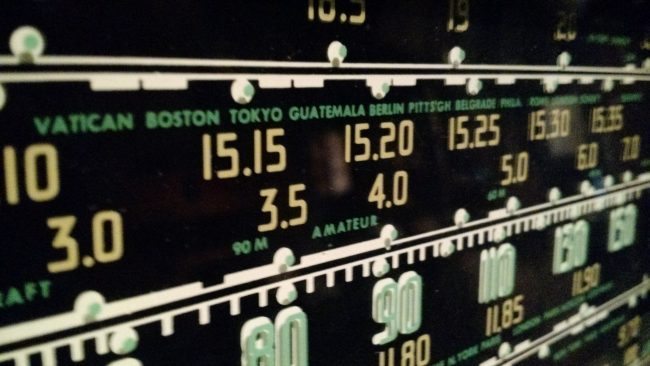 Radio Waves:  Stories Making Waves in the World of Radio
Welcome to the SWLing Post's Radio Waves, a collection of links to interesting stories making waves in the world of radio. Enjoy!
---
The BBC's 100th anniversary has been marked in the town that enabled it to make nationwide radio broadcasts.
Opening on 27 July 1925, the Daventry Transmitter was the world's first long wave transmitting station.
Known as 5XX, it was on Borough Hill in the Northamptonshire town and its first transmission was with the a poem called "Daventry Calling…".
Sophie Good from the town's museum said: "Daventry has got a strong affiliation with the BBC."
The BBC chose the position so the transmitter could cover the maximum land area.
It brought the total audience within listening distance to 94% of the population.
When it opened, the poem by Alfred Noyes was followed by speeches from the postmaster general, external and the mayor of Daventry, introduced by Lord Gainford, BBC Chairman.
The then Prime Minister Stanley Baldwin sent a message, published in the Radio Times, which said he saw "Daventry as another milestone on the road to the social betterment of our people". [Continue read at the BBC…]
LONDON — The British Broadcasting Corp. marked 100 years of broadcasting on Tuesday, a century after a group of wireless manufacturers founded the company and began filling the airwaves with its first daily radio service.
The BBC was founded on Oct. 18, 1922, in London and daily broadcasting began a month later. The broadcaster is marking its centenary with a series of special programs, including a guest appearance from King Charles III on The Repair Shop, a program featuring expert craftspeople restoring antiques.
Actress Jodie Whittaker will make her last appearance as the Time Lord on a special episode of Doctor Who on Sunday, before Ncuti Gatwa takes over the role. [Continue reading…]
In September 2022, Ampegon Power Electronics AG and RNZ (New Zealand public broadcaster) signed a contract to supply a new TSW2100-V4 100 kW shortwave transmitter to New Zealand. The transmitter will broadcast the RNZ Pacific service to millions of people living across the Pacific with high reliability and energy efficiency: Ampegon wins a new Shortwave Transmitter Contract with RNZ – Ampegon.
The TSW-2100 transmitters is capable of both traditional analogue broadcasts and DRM digital broadcasting. It is designed to provide DSB and AMC analogue modes to significantly reduce power consumption and when broadcasting DRM, energy usage is reduced by up to 40% without compromising broadcast range. Additionally, DRM provides FM quality stereo sound alongside a data stream which can be used to send text messages, advertising, images and the "Journaline" text service which provides capabilities for remote learning. For many years now RNZ has used DRM to feed FM stations in the Pacific islands, a sustainable and ingenious way to use the digital DRM standard to distribute analogue content and introduce digital broadcasting to far-away places in the Pacific. RNZ provides an essential shortwave service, 24 hours a day, for 22 broadcasting partners across the Pacific region. This new transmitter upgrades their service to the newest standards, the most modern capabilities, and together with their current transmitter, can provide redundancy or additional services in the future,
Richard Sutherland, Head of News at RNZ explains: "The value of the RNZ Pacific service can't be underestimated. Our voice reaches all parts of the Pacific, at times with critical information such as cyclone warnings. RNZ shortwave transmissions are a lifeline source of information, which helps to support sustainable social and economic resilience".
Simon Keens, Sales and Business Development Manager at Ampegon adds: "With growing global instability, Ampegon is receiving more and more frequent requests for shortwave transmitters, which are capable of extremely long range international and intercontinental broadcasting. Additionally, with the increasing cost of energy, DRM digital shortwave broadcasting makes a lot of sense, saving over 40% of the energy at the flick of a switch. Radio New Zealand has chosen one of our most economical transmitter setups for maximum efficiency, while providing FM quality DRM coverage over the entire Pacific region over shortwave for decades to come."
The new transmitter is planned to be delivered in 2023 and put into operation in early 2024.
From hundreds of miles away, a ham radio operator helped first responders find people stranded on a Florida island after Hurricane Ian hit.
The age-old communication made a difference for a woman who has family in the Susquehanna Valley.
With a language all their own, ham radio operators converse with people all over the world.
Dale Klonin, with the call sign KC3TAU, got into the hobby about a year ago.
"I found the fun aspect of it being talking to people in other countries, even people in the United States at some activities that ham radio operators do," he said.
During the height of Hurricane Ian, his hobby became lifesaving work.
"Ham radio operators in particular are here to help out when all other means of communication just don't work," Klonin said. [Continue reading and watch report on WGAL.]
A few months ago I bought my first ever vacuum tube radio, a 1956 Philips 353A bakelite AM/FM set, which is (currently) the oldest item in my collection. I've been wanting to get into vintage radio restoration for some time now (after watching YouTube channels such as the excellent Mr Carlson's Lab), as I find the electronics fascinating.
I bought it in unknown condition from an antique shop in Kirkby Stephen for £30.00 – it was in pretty rough physical shape, and the external antenna connector had been cut off.
The 353A is a reasonably complex mains-powered seven-tube superheterodyne radio receiver, with a channel switch and internal antenna, and connectors for an external antenna and a direct audio input ("gramophone pickup").
If you're interested in how "superhet" radios work, "Transistor Superhet Receivers" by none-other than Sir Clive Sinclair himself is an excellent book. [Click here to continue reading…]
---
Do you enjoy the SWLing Post?
Please consider supporting us via Patreon or our Coffee Fund!
Your support makes articles like this one possible. Thank you!