Many thanks to SWLing Post contributor, Frank, in Germany, who shares the following guest post and review of the Deshibo RD1860BT:
---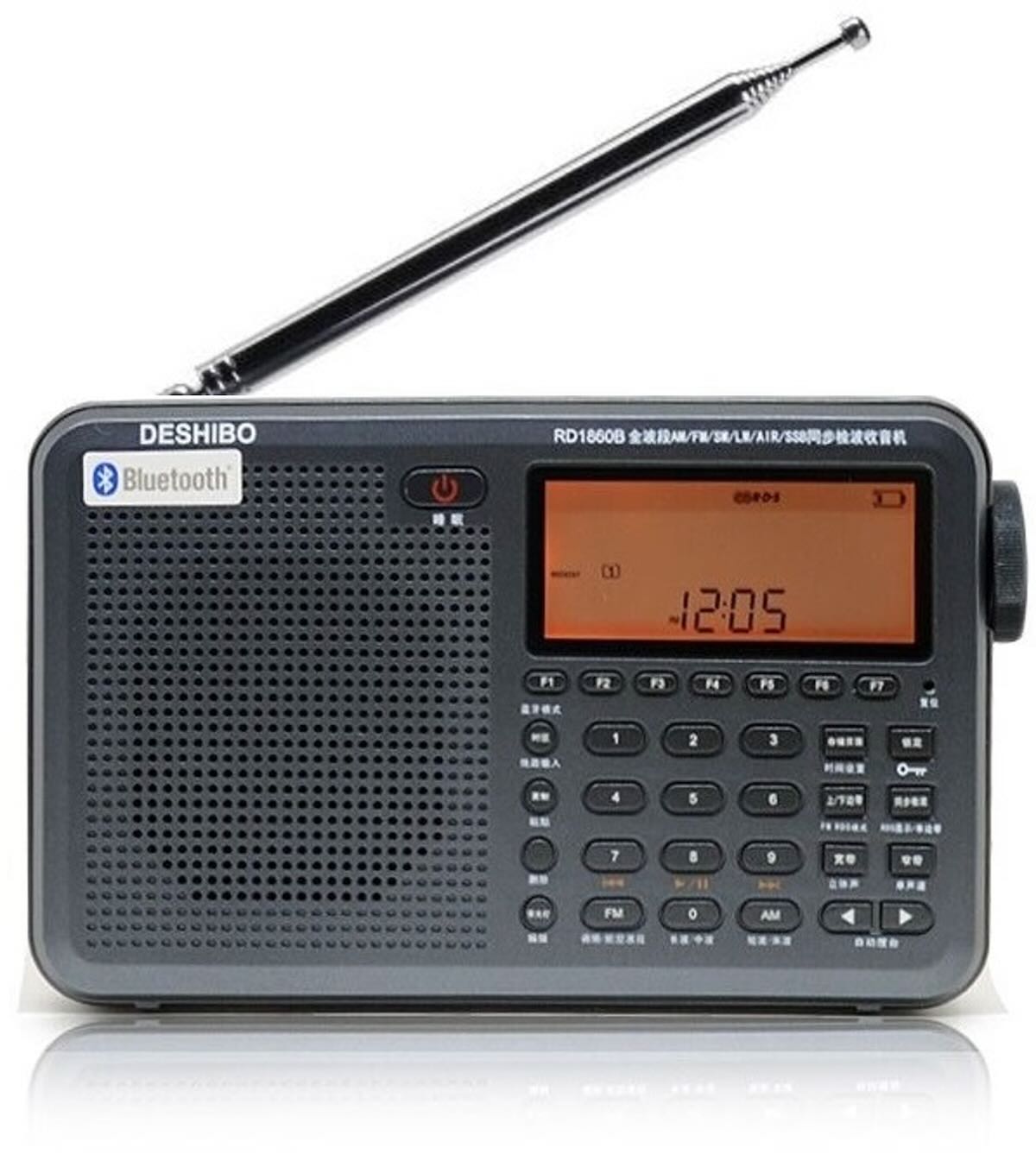 Deshibo RD1860BT report
Hello Thomas,
Today I would like to report on a new portable world receiver. Unfortunately, new devices have not been found on the shelves of electronics retailers for a long time, but now in the depths of the world wide web. And that's how I came across the Deshibo RD1860BT.
Deshibo is certainly known to many from their GA450 loop antenna. But Deshibo has also produced several radios, including the RD1780L, which is probably a little better known. New to the segment is the RD1860BT, which initially seemed like an old friend to me. An Eton Elite Executive? Yes, there are external similarities, but also differences.
Many months ago I had an Eton Elite Executive for a short time. I had heard of its excellent reception properties, which I can confirm, but the design is reminiscent of older receivers from the 80s, is relatively heavy, operation is sometimes a bit cumbersome, the protective cover does not protect properly. I find the device to be portable overall difficult. We didn't become friends, so I sold it on to a Swede, who in turn became a friend.
I still missed the Eton. RDS on VHF is not found in any Tecsun , nor are there memory banks that can be written on.
Then I discovered the RD1860BT and couldn't resist. First of all: the Deshibo is only labeled in Chinese for important function keys. But the friendly dealer on eBay provided me with an English manual before I bought it. That was the deciding factor, because I was sure that after a little use , the Deshibo could be operated blindly.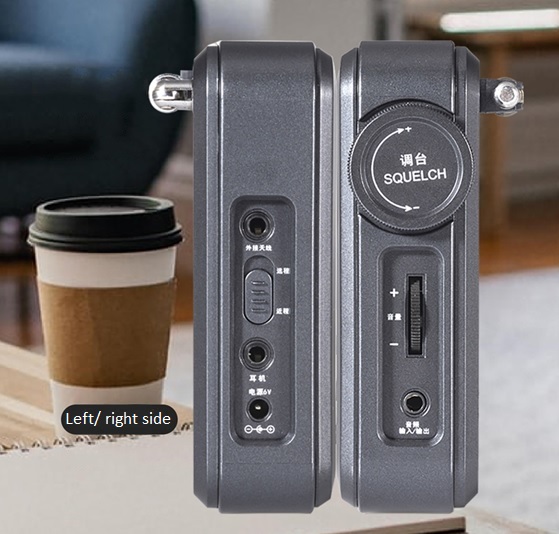 However, some questions have arisen in the user manual. Some things didn't seem quite right, others were completely missing from the description. That's why I decided to write my own manual on a journey of discovery of the new Deshibo. And so that it might also help others who might be interested in radio, I wrote it in English and attach it here.
Click here to download Frank's version of the RD1860BT manual (PDF).
The Eton's somewhat unsorted manual was very helpful, but I also added my own drawings. For example, I added an English-labeled keyboard as a back cover, so that the keys can be assigned without a long search.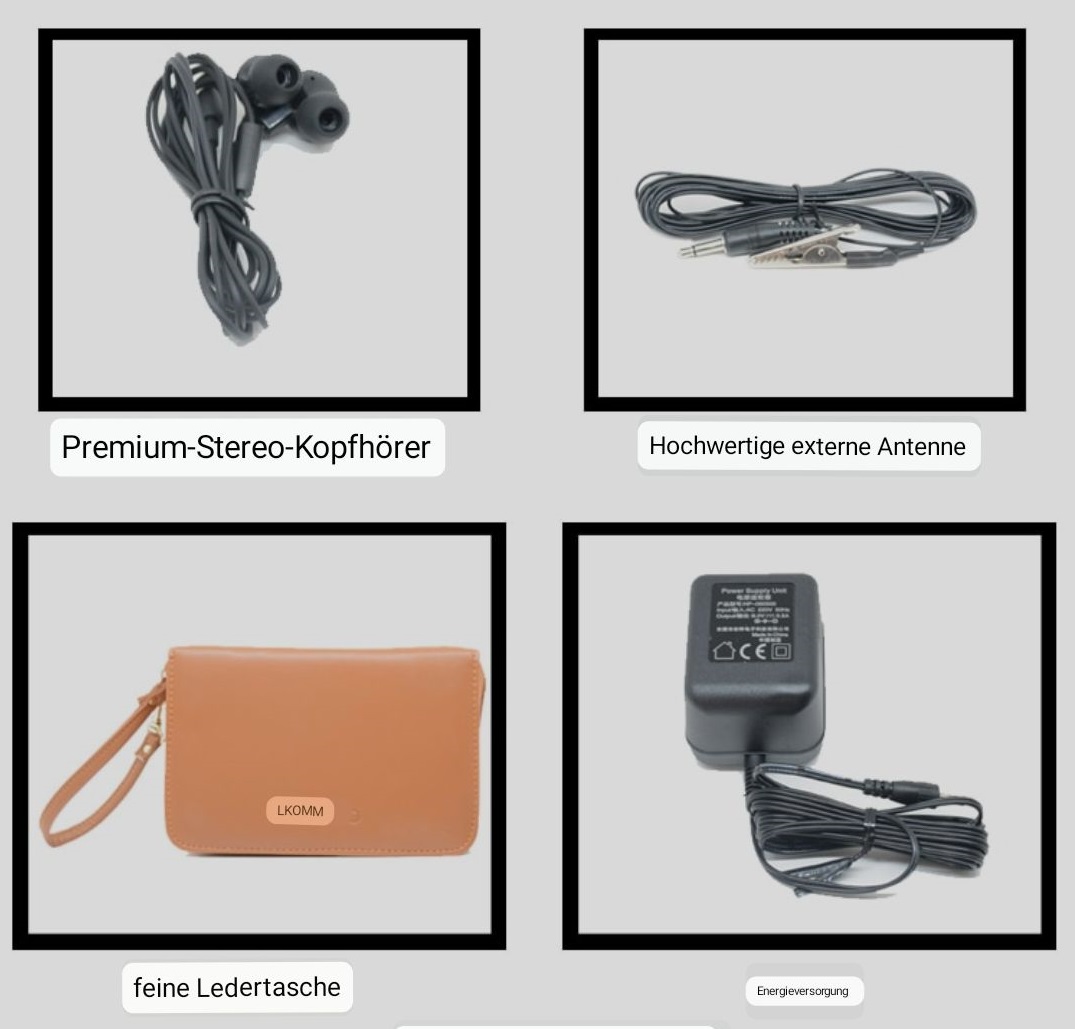 Here you can already find the first differences to the Eton: the keyboard layout is a bit more orderly. Also, the Deshibo doesn't have a metallic speaker grille (which frankly I don't like about the Eton). The display, not the writing, is backlit in orange on the Deshibo . Most importantly, the Deshibo is a lot lighter than the Eton ( around 500g if I researched correctly). And that means: the structure of the Deshibo must be different.
But comparing the Eton and the Deshibo would be unfair. Is the Deshibo trying to emulate the Eton? Is it plagiarism? I cannot answer this conclusively. I could read about such comparisons on Chinese videos and test reports, and the Chinese-speaking people were of course enthusiastic about the Chinese lettering. The Deshibo is certainly aimed at the Chinese market.
But there are also many differences between Eton and Deshibo, so today I would say: the Deshibo RD1860BT is perhaps the child of a good marriage between Eton Elite Executive and XHDATA D-808.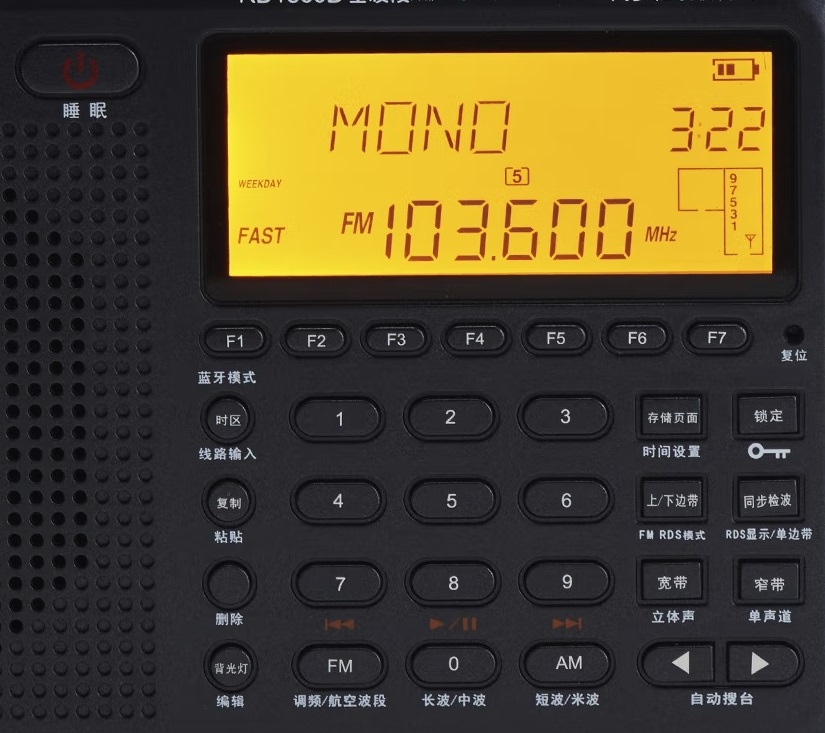 What I find particularly noteworthy:
RDS starts well on FM!
All wavebands work like the XHDATA, but the Deshibo is a PLL receiver! And that's exactly what I missed in my radio collection, which consists mainly of DSP or SDR radios.
Squelch works on all wavebands (FM, LW, MW, SW, Airband ). I don't think that's possible with the Eton, but I can't remember exactly.
MW is very strong, but it's a pity that you can only connect an external antenna for SW/ VHF/ Airband .
Speaking of the antenna: the Eton has the disadvantage that you cannot connect a mono jack plug as an antenna, because this leads to a short circuit between ground and antenna. Not so with the Deshibo .
ECSS works very well on AM, while I find the sync detector very mediocre like on almost all portables.
Memory bank management is created as with the Eton. I find them extremely organized. 700 memory locations are a lot, as are the 100 memory banks on which the 700 memory locations are divided. That had already inspired me at the Eton.
The easy-to-read display (in 3 brightness levels, can also be used when switched off) is very nice.
NiMH batteries are charged via a stabilized power pack. It seems to deliver significantly more than 6V during the charging process (I could measure 11.1V at the plug). And so far I haven't been able to use another power supply for charging either (although any 6V power supply works well for mains power). As with the Eton and older Tecsuns , the connection is made via a barrel connector (4.0×1.7), which I would now call a proprietary connection. Why no USB-C or at least micro-USB port in 2022? Carrying the AC adapter with you when traveling is less fortunate.
Very nice and important for me when traveling (I love radio plays) is the possibility of being able to connect other devices via Bluetooth (5.1) or line in. Media control works well with Bluetooth via the keyboard, as does the connection between Deshibo and an external device. Newer Tecsun models can use Bluetooth, but not line in.
If necessary, you should switch to pure battery operation. Overall, the Deshibo consumes very little power, so that a battery charge lasts a long time (unfortunately I can't say the exact duration yet, but it's over 20 hours).
The graphite gray painted housing is very compact and streamlined, even downright elegant. An imitation leather bag is included as an accessory (comparable to the new Tecsun models). I personally prefer being able to take the device out of the case rather than attaching the protective cover to the device with magnets. But that's clearly a matter of taste.
The keys labeled in Chinese no longer bother me at all. I actually find her blind. Number keys are marked alphanumerically, some symbols have Latin letters (function keys F1-F7, FM, RDS).
About the cost: I paid €193 including shipping and taxes on eBay (actually it can be found for about $180). I have sometimes seen the Eton much cheaper. Nevertheless, I would like to say: the price is worth it.
Best wishes
Frank, Germany