Many thanks to SWLing Post contributor, TomL, who shares the following guest post:
---
Earbuds for Shortwave Listening
by TomL
A few years ago I had bought the discontinued Sennheiser MM 50 earbuds for a cheap price on Amazon to use in my various radios.  The portable radios in particular can use more fidelity because of their small, raspy speakers.  I also like to listen without bothering others around me who might not want to listen.  And earbuds are a LOT more comfortable for my ear lobes than any over-the-ear headphones I have ever used.  Furthermore, the old Apple iPhone 4 earbuds were very harsh to listen to.  However, a trade-off is that, generally, earbuds are somewhat fragile; one of the two pairs of MM50's died through mishandling.
I was generally happy with them while listening to Shortwave broadcasters with a mix of news/talk and music.  I especially liked them on Mediumwave listening; stations can sound surprisingly good when playing music.  Then I tried using these earbuds on my Amateur Radio transceiver, a Kenwood TS-590S.  I was impressed how clear they sounded with a lack of distortion, although there was too much bass.  Fortunately, Kenwood supplies USB connected software with an TX & RX 18 band EQ (300 Hz spacing, not octaves).
Here is a frequency response chart I found from Reviewed.com for this model: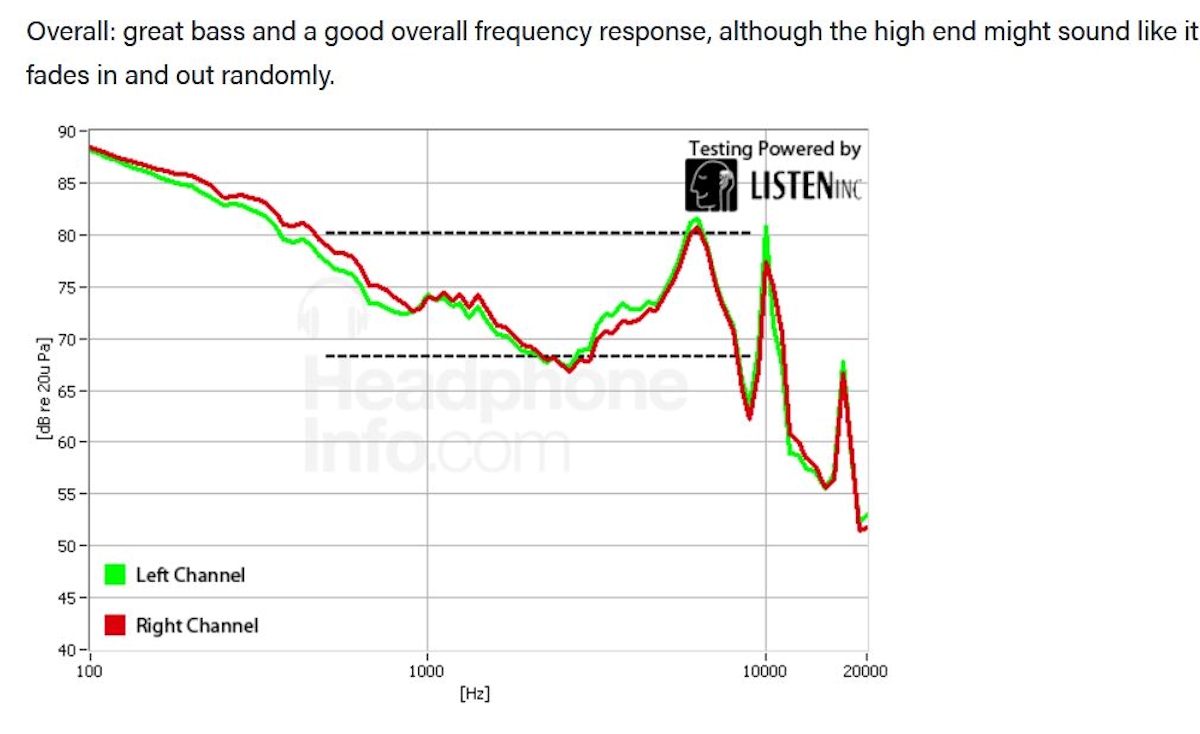 One of the notable things about these earbuds is the total lack of distortion.  Most likely one of the reasons they sound so clear on Shortwave, which has many LOUD audio spikes.
I had not wanted to get Bluetooth earbuds.  However, I had recently upgraded my cell phone and NO headphone jacks anymore!  So, while I do not use Bluetooth yet for radios, I can see a time in the future to get a Bluetooth transmitter to plug into a radio with a headphone jack.  I am reluctant since I do not like having to recharge my earbuds and I put in a lot of radio listening time.  Am I supposed to buy two Bluetooth earbuds and swap while charging?  Maybe in the future.  And also, am I supposed to buy a Bluetooth transmitter for every non-Bluetooth radio I own?  Not likely gonna happen.
In the meantime, I ordered cheap wired earbuds from Amazon.  I had a $5 credit for trying Prime, so when I saw these Panasonic ErgoFit wired earbuds (RP-HJE120-K) for slightly over $10, I said to myself, "why not?".   Supposedly wildly popular, they are one of the most rated products on all of Amazon with 133,821 ratings/opinions (perhaps Russian bots?!?!?).
Here is a frequency response chart from ThePhonograph.com for these Panasonic earbuds: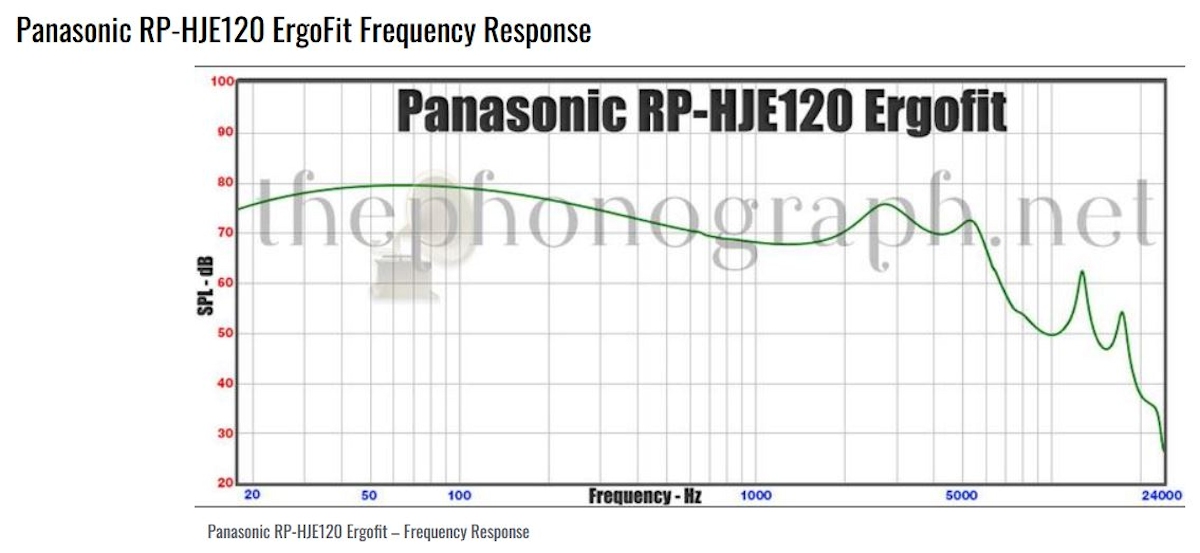 You can see comparatively that the bass response in the very good Sennheiser MM50's is much stronger, being good music earbuds.  But for voice articulation, not as much, even though they have no distortion.  The Panasonic ErgoFit's have more modest bass, less of a dip in the lower midrange audio frequencies, and more importantly, has a peak near 2500 Hz and its harmonic 5000 Hz.  The highest highs are also modest compared to the Sennheiser model.  This general frequency response to "recess" the bass and treble frequencies and peak the 2500 Hz is very useful for voice intelligibility.
As described by the famous speaker-microphone-sound-system maker, Bob Heil relates what he learned from the scientists at Bell Labs many years ago.  Speech intelligibility is enhanced when audio is compensated for our natural human hearing.  Equalizing below 160 Hz, reducing the 600-900 Hz region, and peaking the 2000-3000 region centered at 2500 Hz will increase intelligibility dramatically.  The story goes that Bell Labs was tasked by parent AT&T with finding out why the earliest phones in the 1920's sounded so muffled and hard to understand.  After many experiments, the scientists found the most important frequencies for our ears + brain to comprehend speech.  In other words, our ears are not "EQ-flat" like a scientific instrument is.
So they over-compensated for our natural lack of hearing in certain frequency ranges.  That is why telephones sounded constricted, especially the old landline dial telephones that were processed through analog Central Office switches.  These large switches were essentially person-sized cabinets full of many relays, mechanically and electrically connecting one person's phone call to another on the other side of the country in just ten's of milliseconds!  The extra complication of compensating the audio frequencies was done with old fashioned resistors and capacitors. Quite a system and very reliable.  Here is a link if you want to hear it from Bob himself:
Click here to view on YouTube.
If your curiosity is stimulated, here is a long interview about Bob's utterly fascinating life hosted by Ted Randall on WTTW in 2017:
It is not possible to demonstrate what I hear with various earbuds.  So, here is a subjective description comparing the two earbuds in question.
Bass:
As expected, the Panasonic earbuds have a very laid-back bass but not completely lacking. It does EQ very well but low end bass is still lacking.
The Sennheiser earbuds sound well rounded and strong without too much boominess.
Midrange:
The critical midrange for voice is optimized in the Panasonic earbuds although not perfect since this still is a general purpose product. Some tweaking of the EQ in the Kenwood radio revealed a little more middle midrange with a tiny amount of boost at 2500 Hz to hear some better articulation of syllables.  It can be pushed too hard, which results in a spiky type of distortion with sudden, sharp, loud sounds.  The lower midrange actually needed more boost.  Too much EQ led quickly to  "boxy" sound around 1 kHz and below.
The Sennheiser was a little muddy for voice and I had gotten used to over-EQing the midrange.  Music sounded well balanced and appropriate for various types of music.  The Panasonic had a much more distinct midrange, even "bright" compared  to the Sennheiser.
Treble:
Panasonic was a little soft in the treble, the highest frequencies.  These are not so important in most listening situations.  Most Mediumwave and Shortwave listening is only up to about 6 kHz on the best of transmitters. So, there might not be much of an apparent difference between this and the Sennheiser earbuds when listening to these types of source material.
Intelligibility:
Voice clarity was better on the Panasonic although sometimes I heard some loud spiky distortion.  The Sennheiser's just did not have any distortion. If there was, it came from the radio, not the earbuds.  This is a hard one to judge depending on the type of listening.  If I am trying to hear a faint voice in a loud static filled soundfield, whether it is a Ham radio operator or a shortwave broadcaster from overseas, I would favor the Panasonic.  I might switch to the Sennheiser if it were, say, an hour long broadcast because it is less fatiguing.
Dynamic Range:
Sennheiser handled loud changes better and did not sound as compressed as the Panasonic earbuds.  The Sennheiser's "breathed" better, if that makes sense.
Summary:
Bottom line, for voice-only listening, the Panasonic earbuds win overall.  The Kenwood EQ worked well with the Panasonic, especially to tame the sharp spiky distortion, but it does have a slightly harsher sound, as well as a much more "compressed" and "bright" sounding midrange compared to the Sennheiser.  However, there are times when the voice quality is nice to listen to on the more music-oriented Sennheiser.  I definitely liked listening to music with the Sennheiser, especially to a high quality transmitter on Mediumwave like WSM in Tennessee or CFZM (Zoomer Radio) in Toronto. Music sounded smooth and if the signal was steady, distortion free.  Panasonic with music was  very uninspiring.
Here are my settings in the Kenwood EQ software:
Listening with Panasonic earbuds to Ham radio or voice-only broadcasts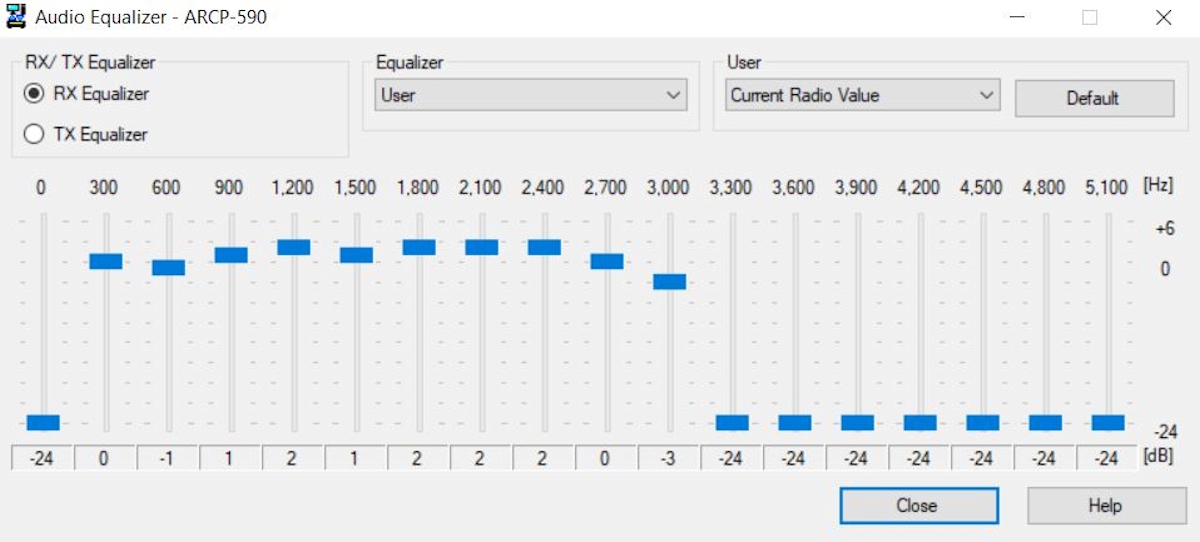 Listening with Sennheiser earbuds to strong Mediumwave broadcast with music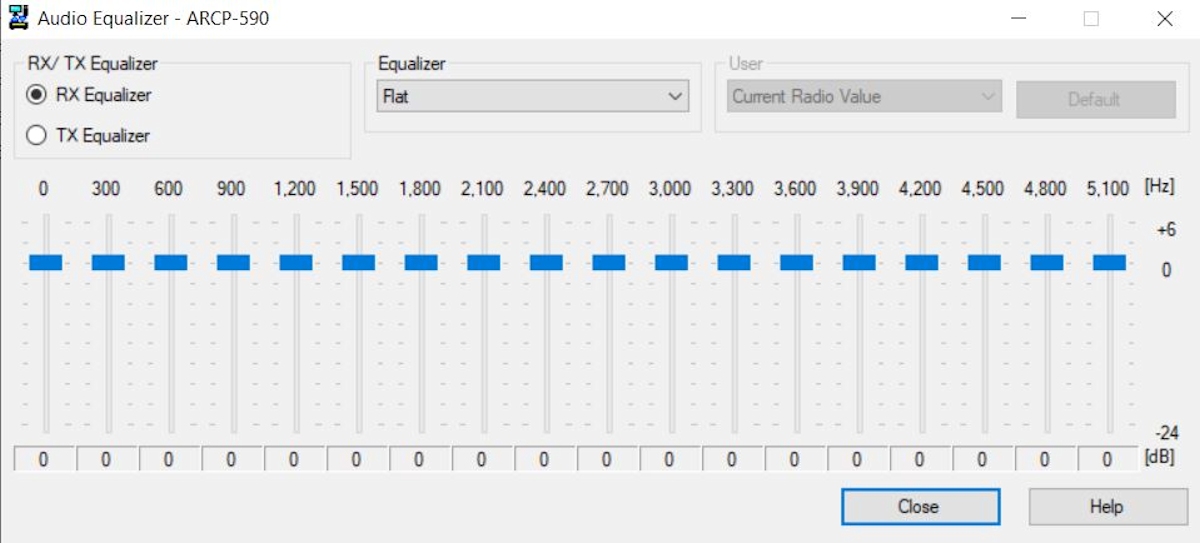 Do you have different earbuds for different types of radio listening?  Let others know in the Comments below.
Happy Shortwave Listening,
TomL
Endnote #1:
Since I am not buying a Bluetooth transmitter for every audio device I have, in terms of Speaker listening, I have decided to funnel all mono-audio radios through one Bose SoundLink Mini powered speaker (which just happens to be a Bluetooth device) to its AUX input jack.  Old fashioned wiring still works and is cheaper!  🙂
Endnote #2:
I stumbled upon a very nice explanation how to use Single Side Band (SSB) to listen to voice transmissions (ECSS).  It is another way to get another ounce of clarity from noisy AM and shortwave radios.  Some radios are not good listening on SSB (because of bad AGC implementation) or do not have SSB.  But if you have a radio with SSB, try it on a moderately weak AM-mode transmission.  When done right, the clarity kind of pops-out at you if you have dialed-in the frequency correctly.  It might even sound too quiet.  The Kenwood transceiver can tune down to 1 Hz in SSB and now sounds just as good (for voice) as any of my other portable radios that do not use SSB.  And music is not as boomy sounding.  Here is the YouTube link: