Many thanks to SWLing Post contributor, Don Moore–noted author, traveler, and DXer–for the latest installment of his Photo Album guest post series:
---
Don Moore's Photo Album: Costa Rica (part one) 
by Don Moore
Costa Rica is one of the most visited countries in Latin America. I only visited there once, for three weeks in May-June 1990 when the country was just beginning to become a major international eco-tourism destination. Visitors were few and prices very affordable. Except for a short trip to the Monteverde cloud forest, we spent all our time in the central valley, staying in San José and nearby Heredia. Rather than nature, our visit focused on cultural and historical sites … and a lot of radio stations.
Since the 19th century, Costa Rica has been one of the most literate and educated countries in Latin America. That quality is reflected in its radio broadcasting industry, which has always been very professional. Curiously that's even reflected in station verifications. Almost every Costa Rican shortwave station that I've verified had a professionally printed QSL card.
Despite being one of the smallest countries in Latin America, Costa Rica had a lot of shortwave radio stations. I have fifteen in my logbooks and some of the most famous ones were already off the air when I started DXing. Unfortunately, shortwave broadcasting from Costa Rica ended almost twenty years ago so there's no more to be had. It is still possible to log Costa Rica on medium wave but it's not as easy as it once was. When I started DXing in the early 1970s, stations in the San José were spaced twenty-five kilohertz apart. That meant that every other station, such as Radio Sonora on 675 kHz and Radio Columbia on 725 kHz, was on a split frequency that fell between the normally assigned 10 kHz channels. I logged nine Tico stations on medium wave while DXing from Pennsylvania in 1972-1981 and only one of those, Radio Reloj on 700 kHz, was on an even channel.  Those split channels were eliminated in the 1980s so logging Costa Rica on medium wave is no longer a slam-dunk.
I visited a lot of radio stations and took a lot of photos on my one long-ago trip to Costa Rica. I'm going to focus on just five shortwave broadcasters in this first look at Costa Rica. The others will be featured in two or three future columns.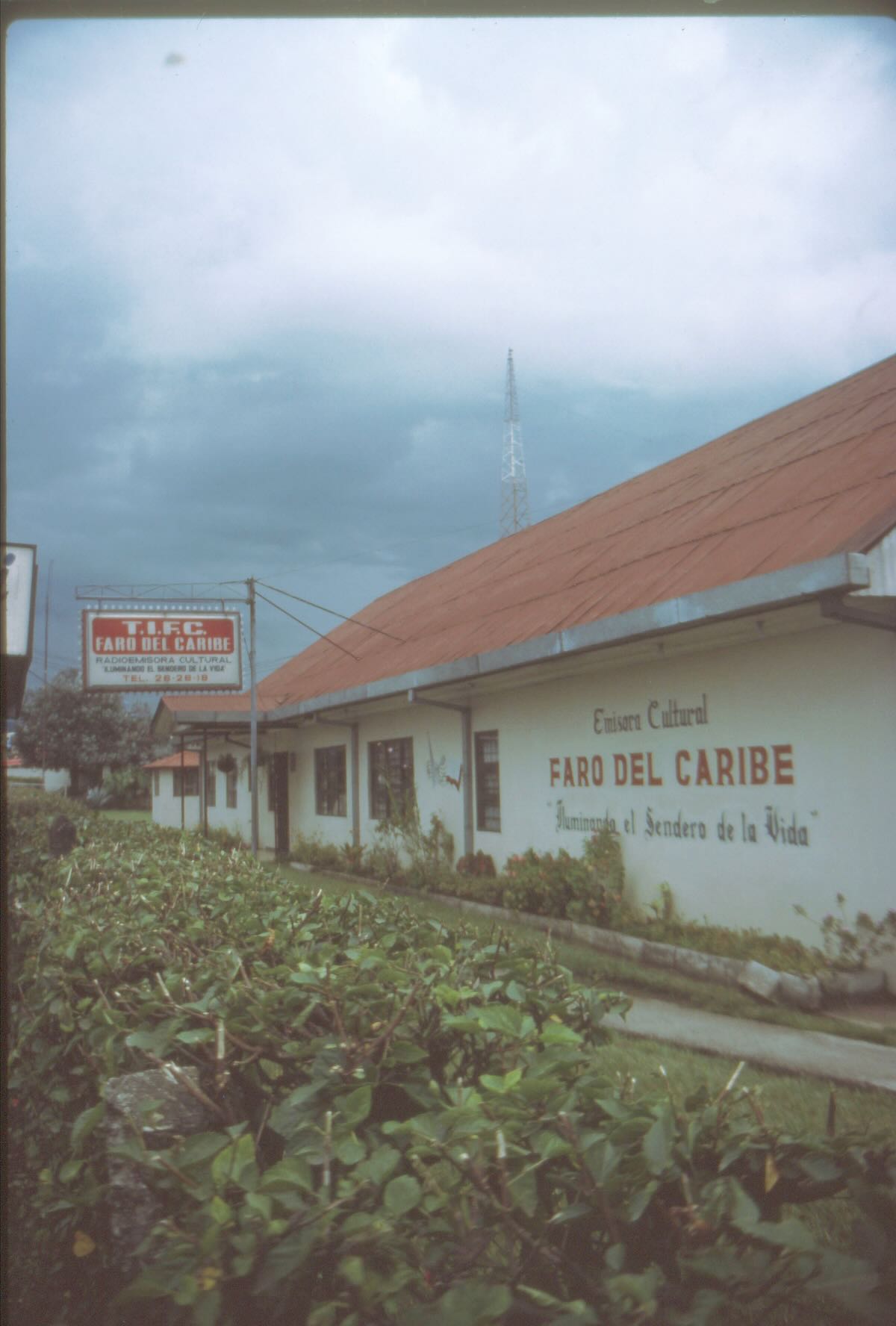 In the 1970s the first Costa Rican station most shortwave DXers heard was Faro del Caribe, or Lighthouse of the Caribbean. This religious station used two kilowatts on 9645 and 6175 kHz and got out surprisingly well as long as there wasn't a more powerful international broadcaster also using the same frequency. In the late 1970s they added 5055 kHz in the sixty-meter band.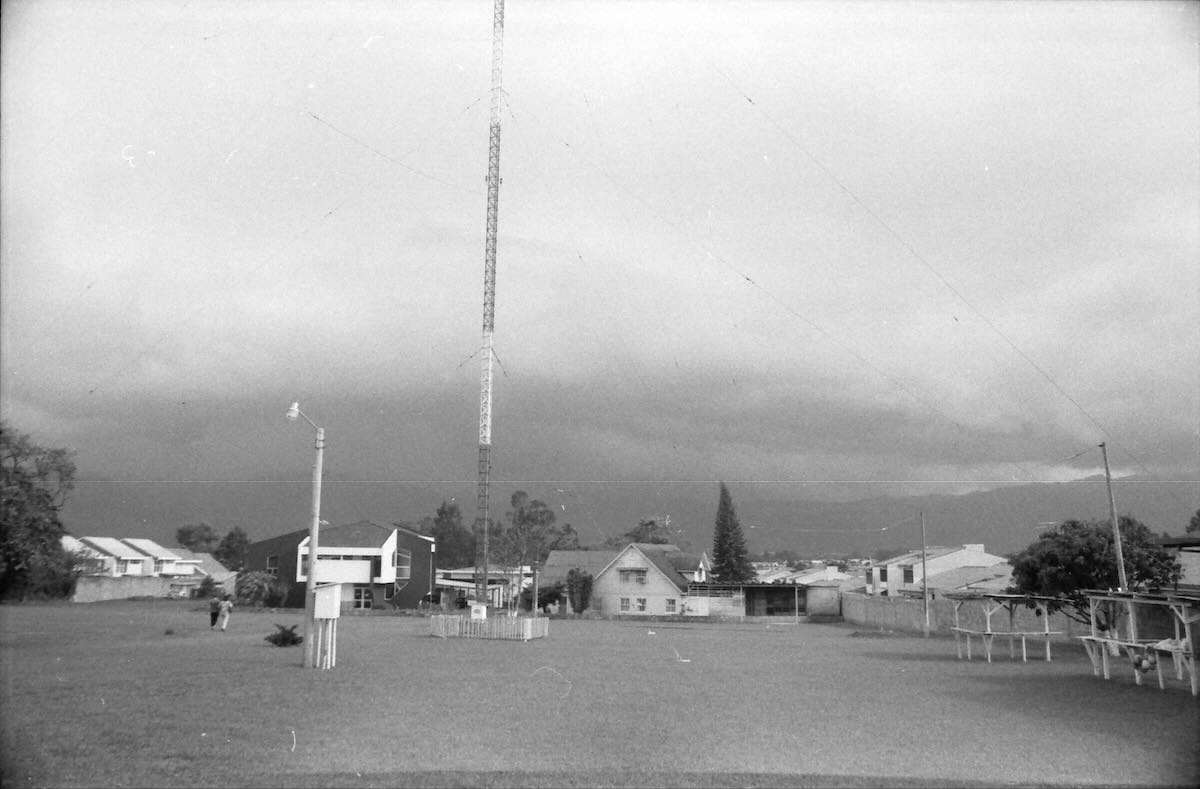 When I visited in 1990 the antennas were located right next to the studio building. The site was outside the city of San José when the station was founded but gradually a residential area built up around it.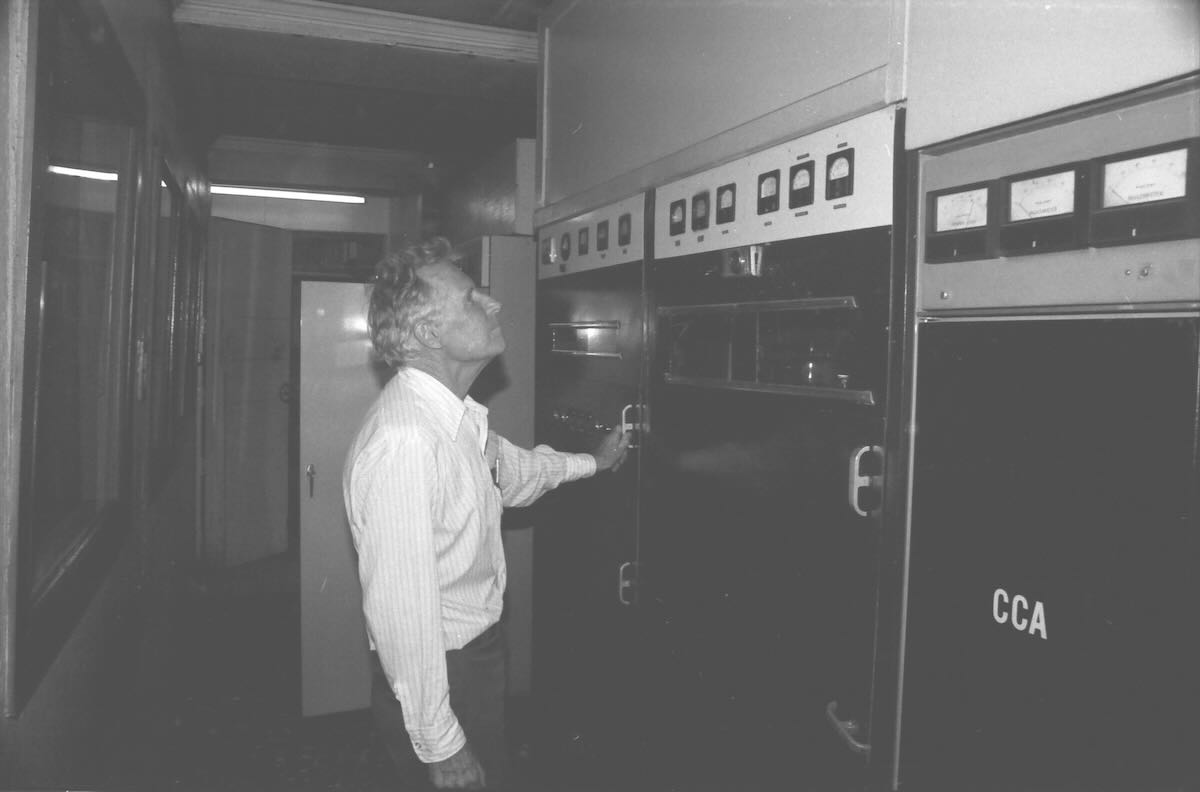 Engineer checking one of Faro Del Caribe's shortwave transmitters.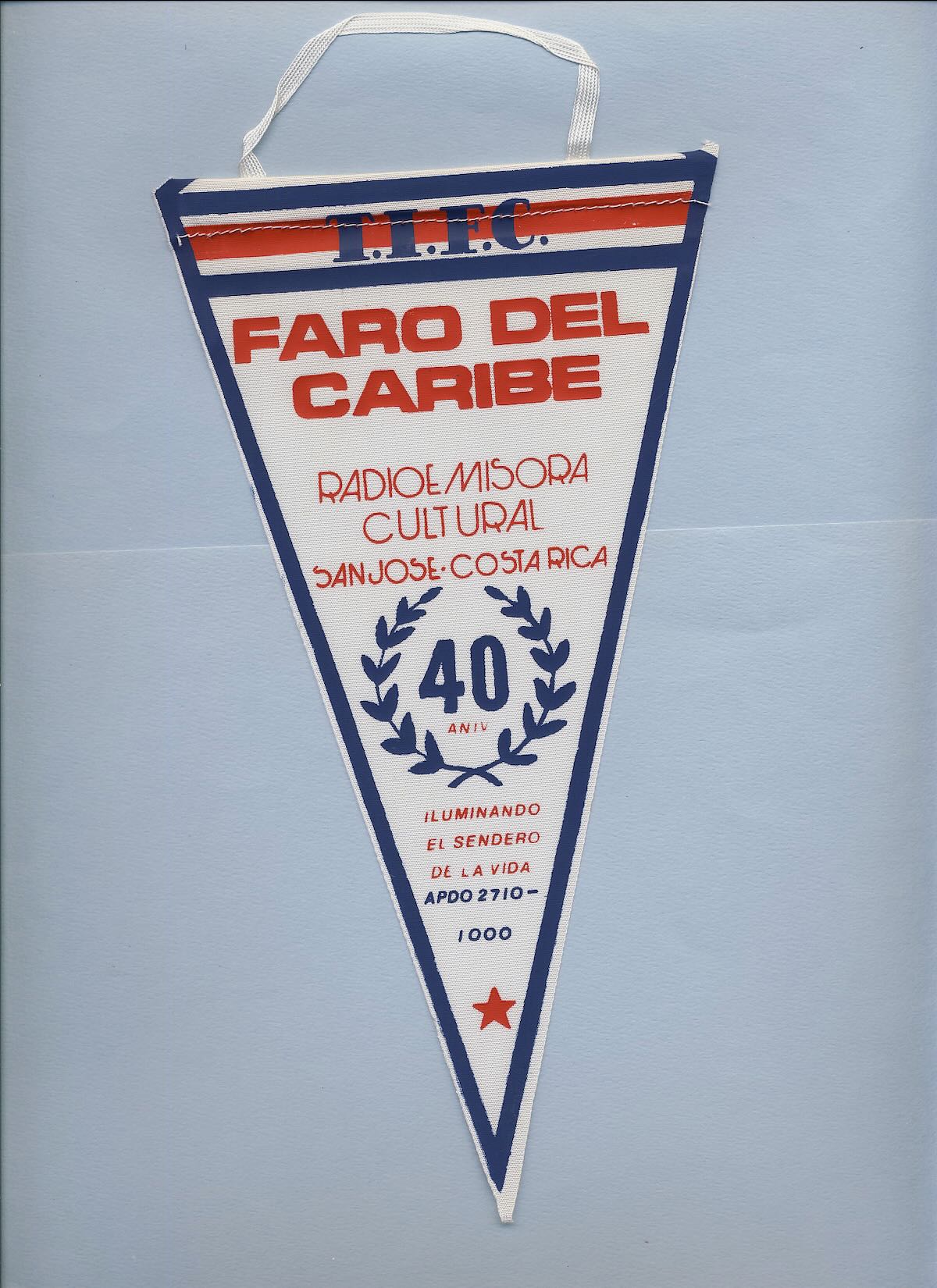 Fortieth Anniversary pennant from 1988. When Faro del Caribe began broadcasting on February 23, 1948, it was the first Evangelical Protestant radio station in Central America.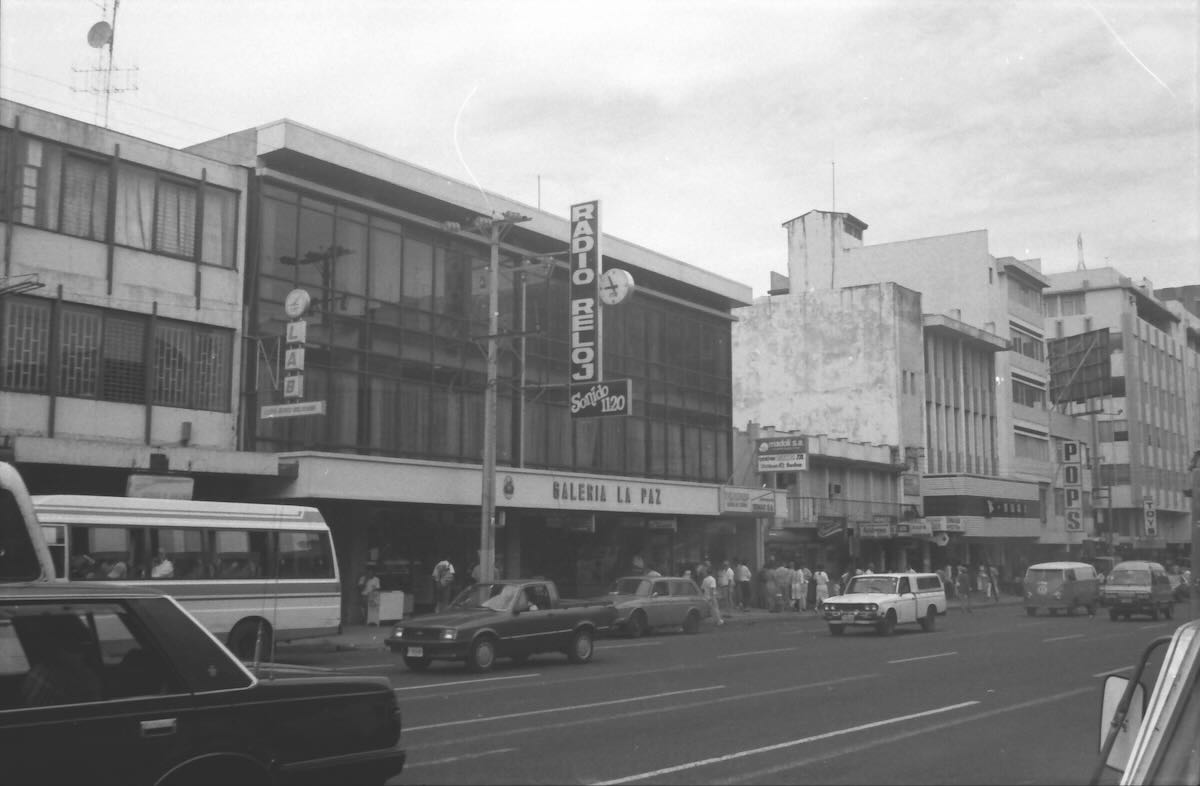 For DXers, Radio Reloj was one of Costa Rica's best known radio voices for several decades. The station was founded as Radio Cristal by Roger Barahona in 1945. The shortwave frequency of 6006 kHz was added in the early 1950s. In 1958 the station was renamed to Radio Reloj when the format changed to focus on news and community announcements with very frequent time checks. (Radio Reloj means Radio Clock.) Roger's brothers Isaac and Francisco had joined the broadcasting company and Radio Reloj was assigned the callsign TIHB for Hermanos Barahona (Barahona Brothers).
From 1962 until 1969 the brothers operated a second station named Radio Popular on 1120 kHz. In 1969 this was renamed Radio Capitol and shortwave was added on 4832 kHz. In the late 1970s 4832 kHz became a second shortwave channel for Radio Reloj and the medium wave was renamed Sonido 1120.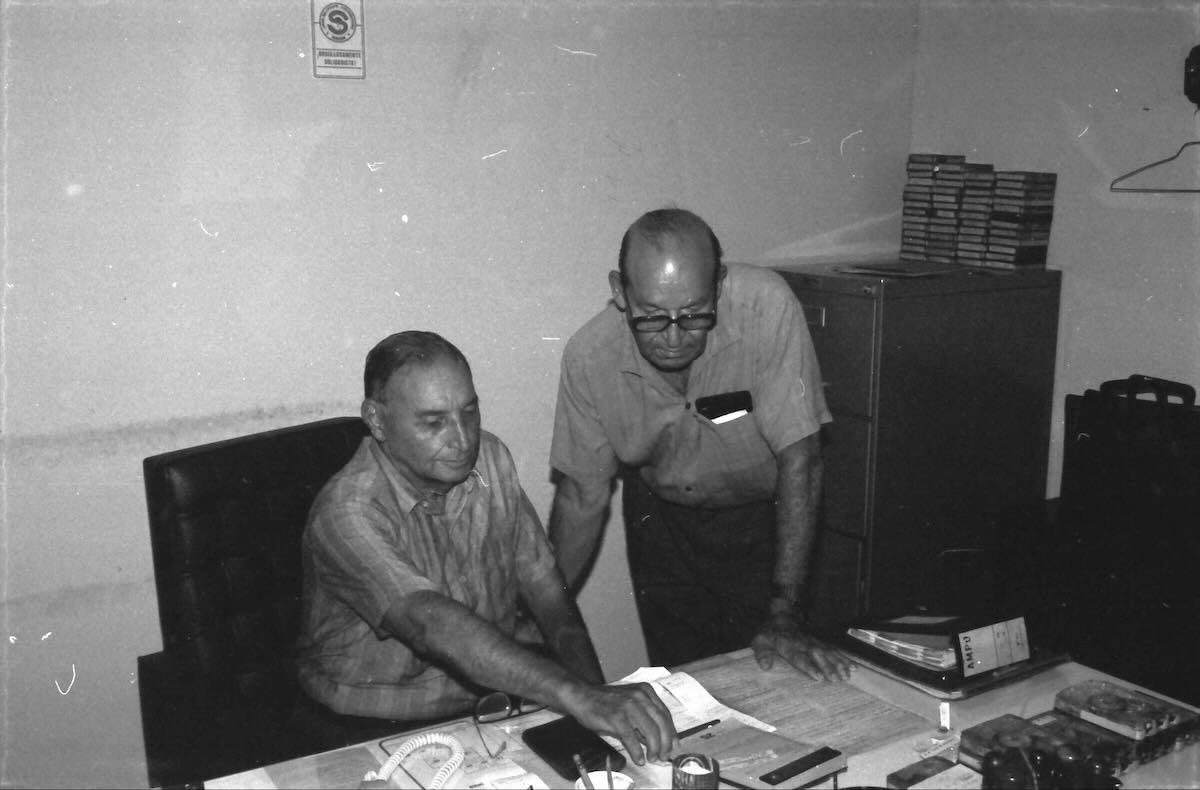 Roger and Francisco Barahona in 1990.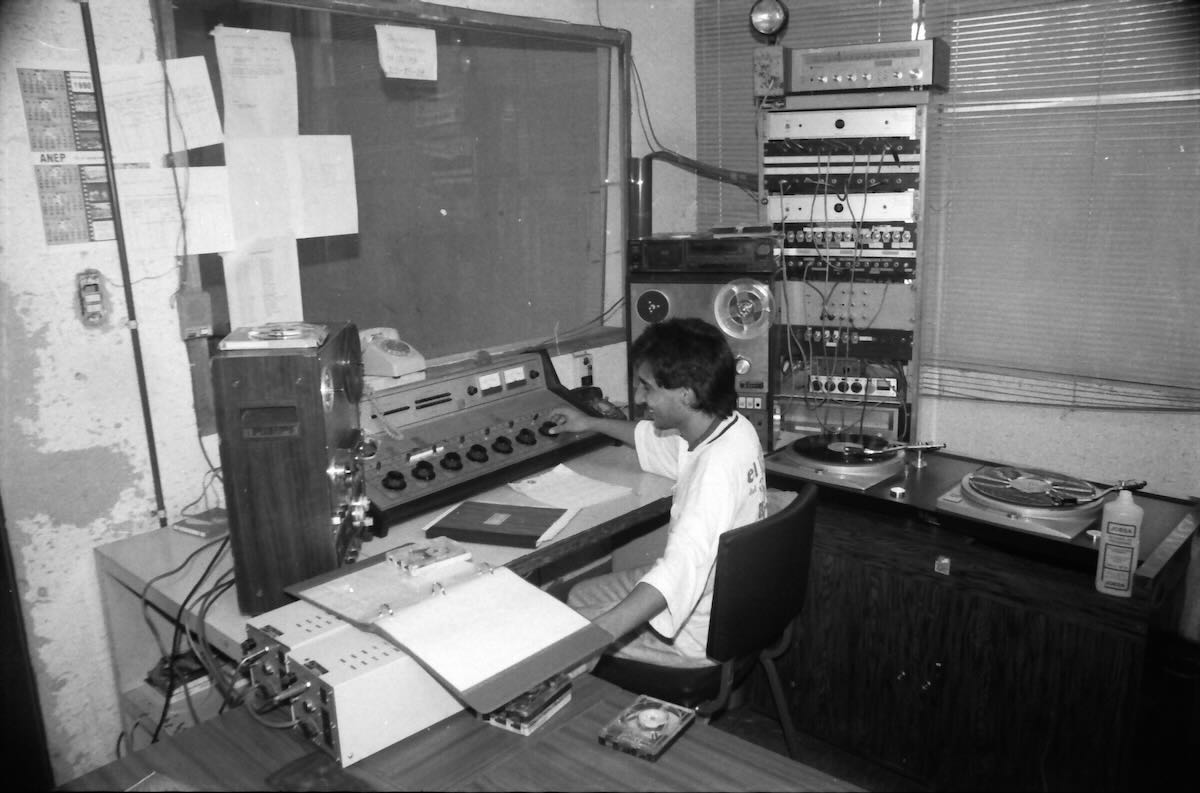 Studio at Radio Reloj, 1990.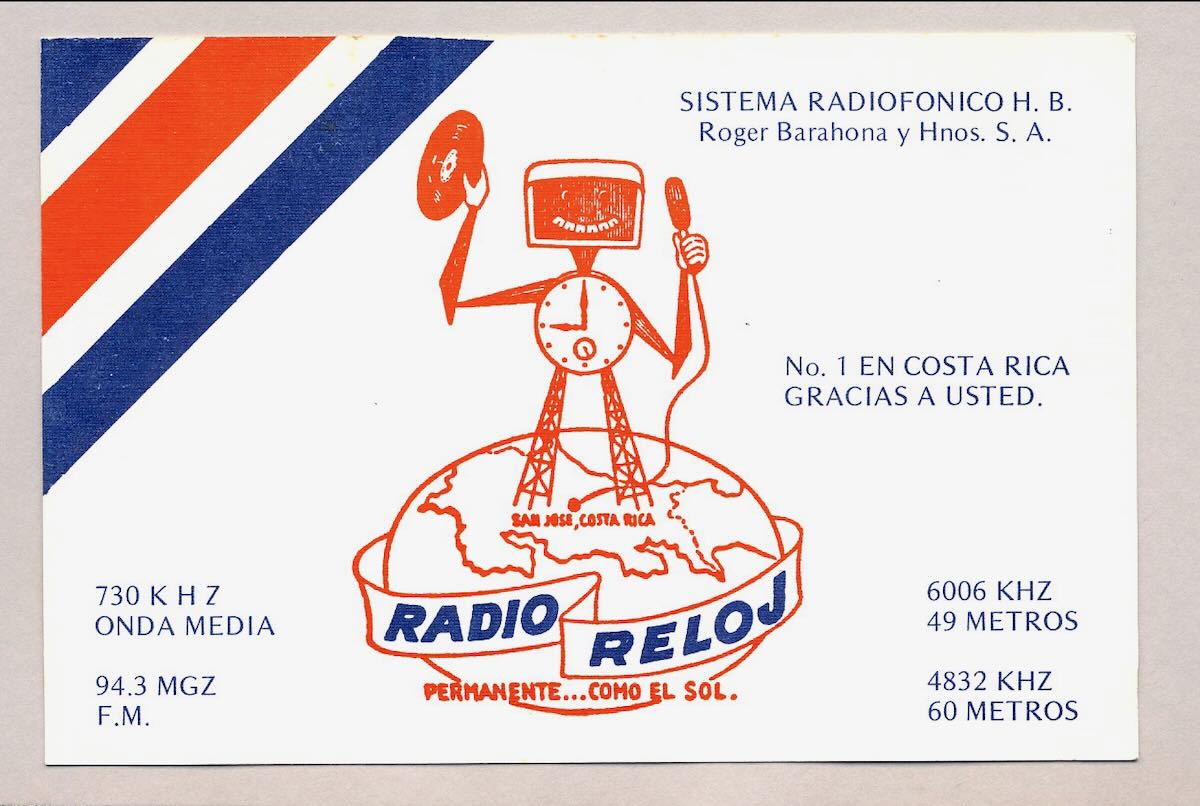 Radio Reloj QSL card from the late 1980s.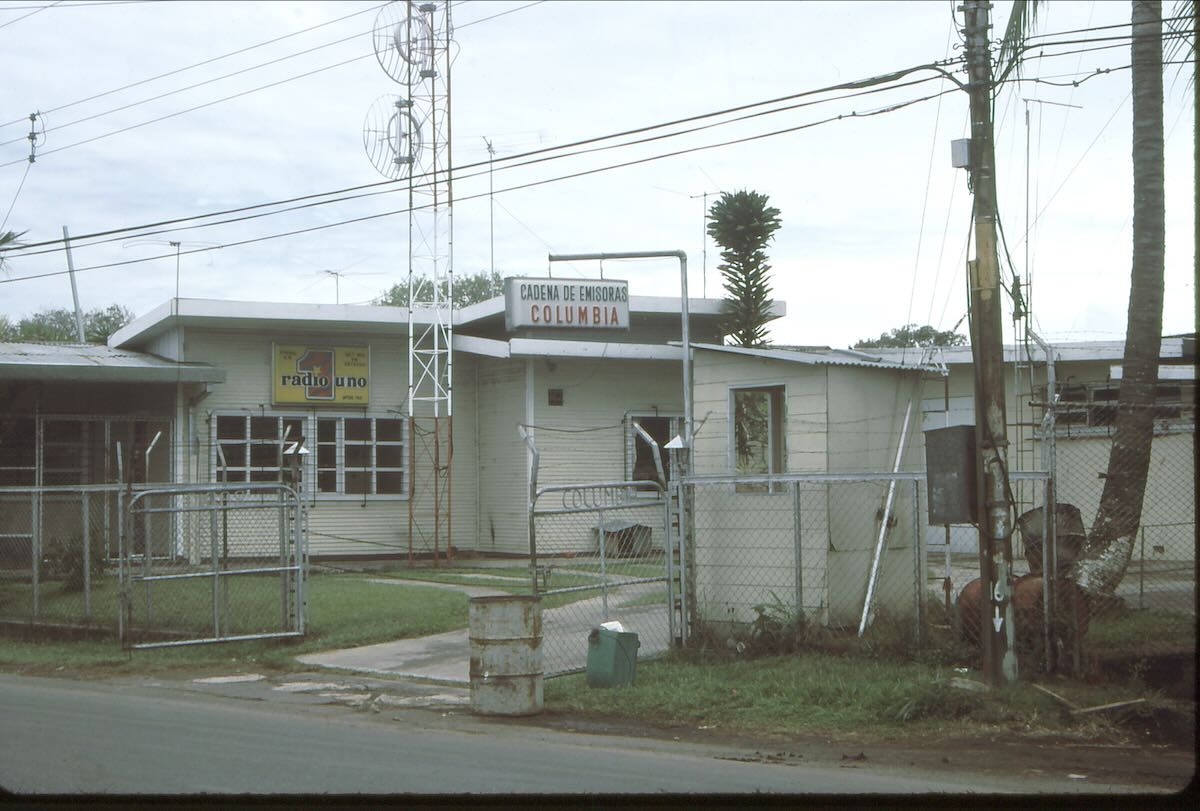 In the 1970s Radio Columbia on 675 kHz and its sister station Radio Uno on 775 kHz were two of the easiest Latin American stations to log on medium wave. In the early 1980s Radio Columbia briefly used shortwave on 4825 kHz (later 4840 kHz). In addition to the main station in San José, Radio Columbia also operated a network of low power medium wave repeaters in smaller towns around the country.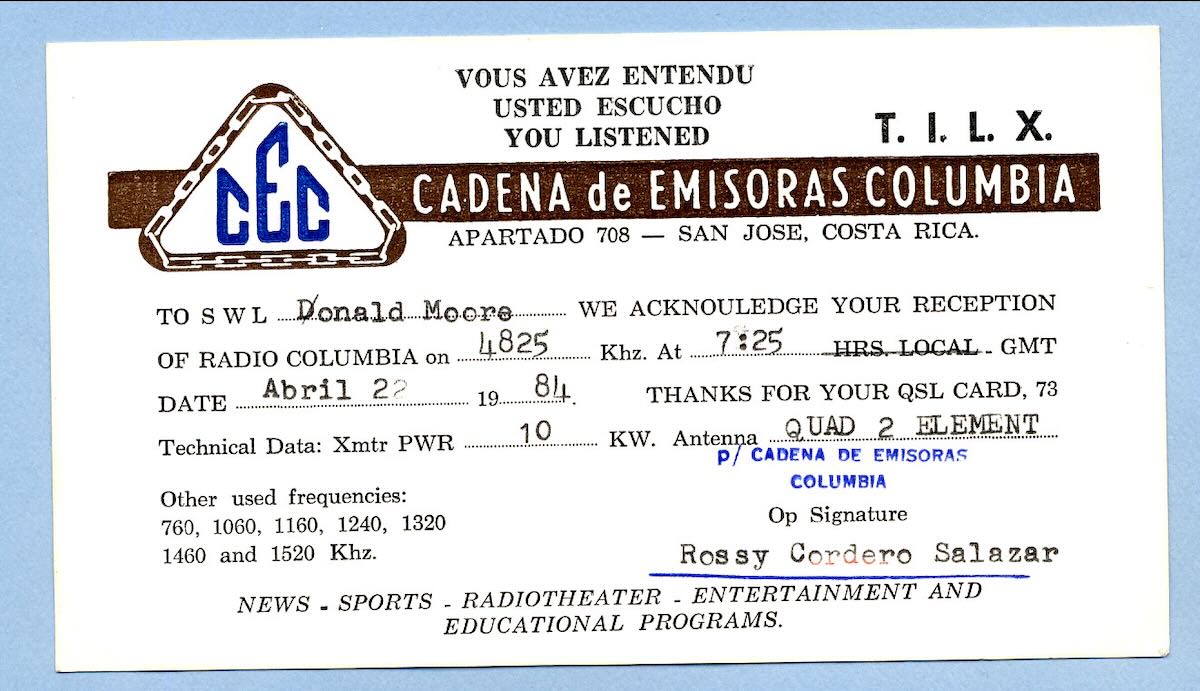 QSL card from Radio Columbia's brief period as a shortwave broadcaster.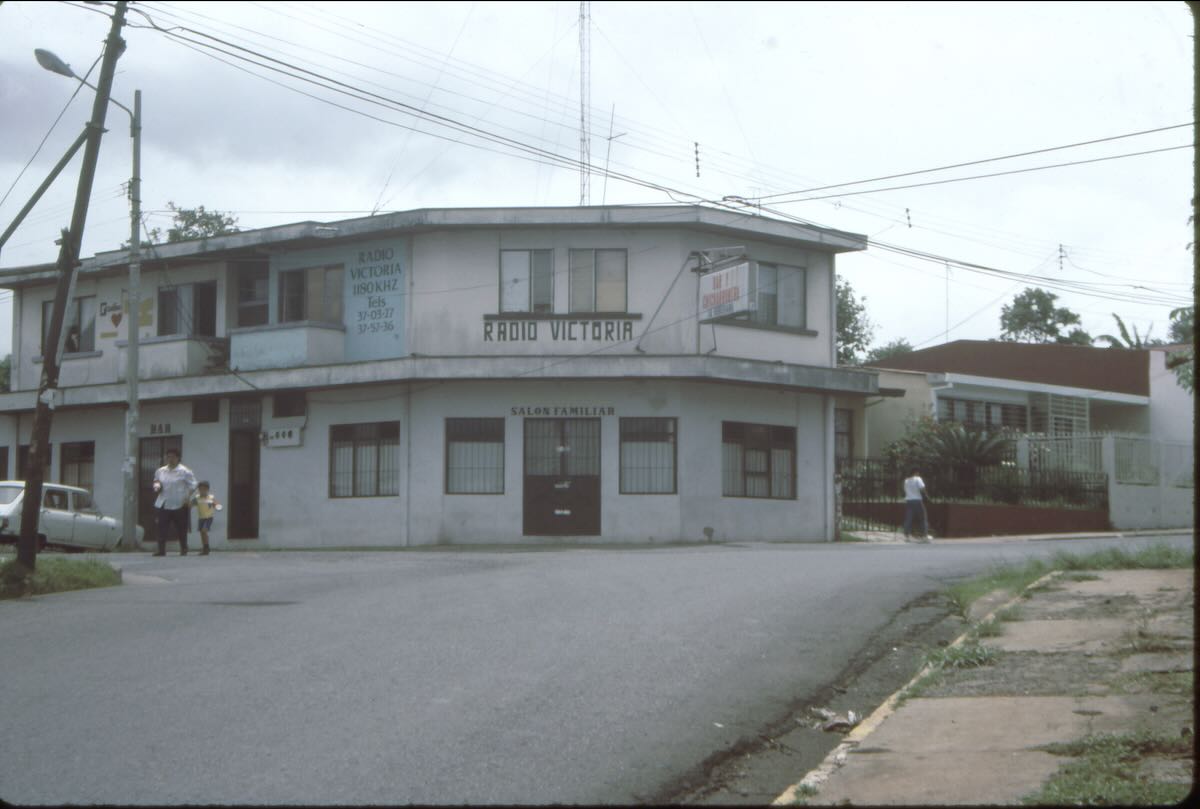 Broadcasting from the small city of Heredia, Radio Victoria was a tough catch on 6082 kHz. My only logging was made in Pennsylvania in 1979. The station hasn't used shortwave since 1980. Radio Victoria's medium wave channel of 1180 kHz was sometimes logged in North America.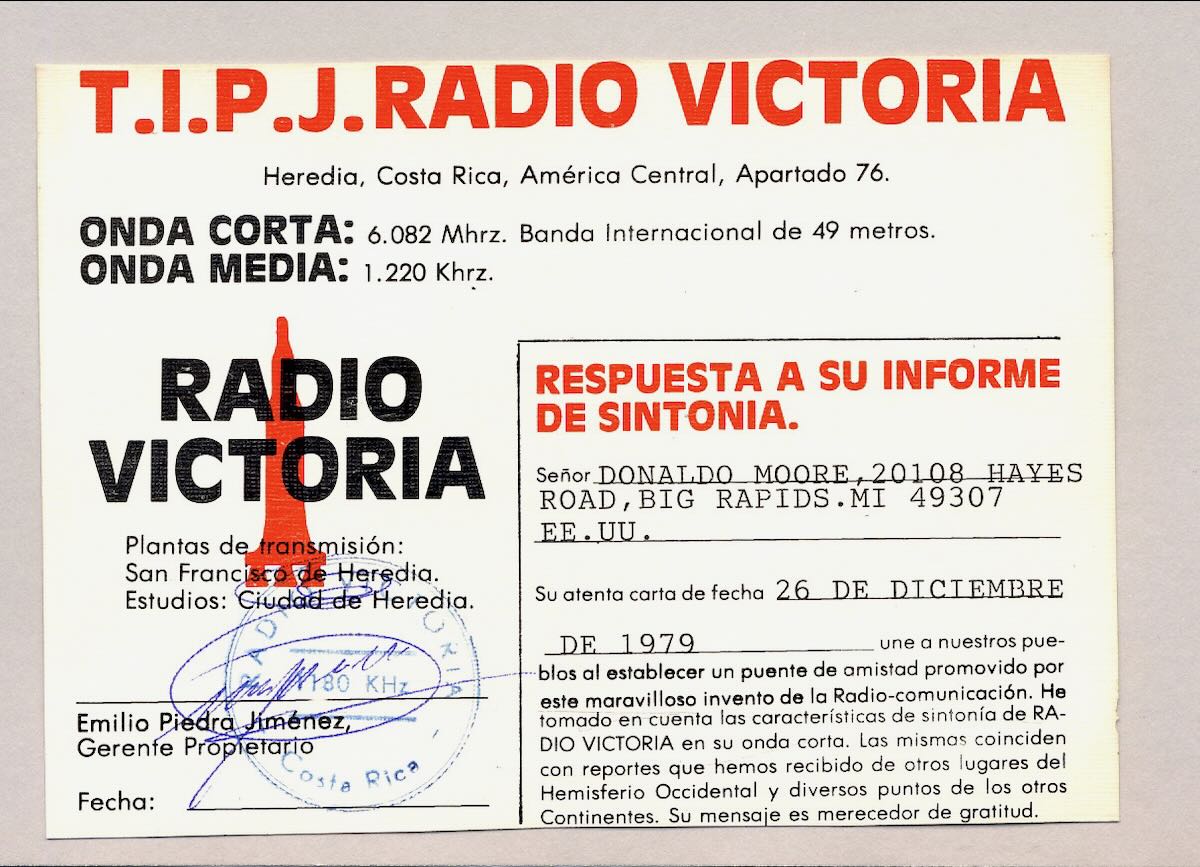 Radio Victoria never answered my original reception report. I picked up this QSL when I visited the station over ten years later.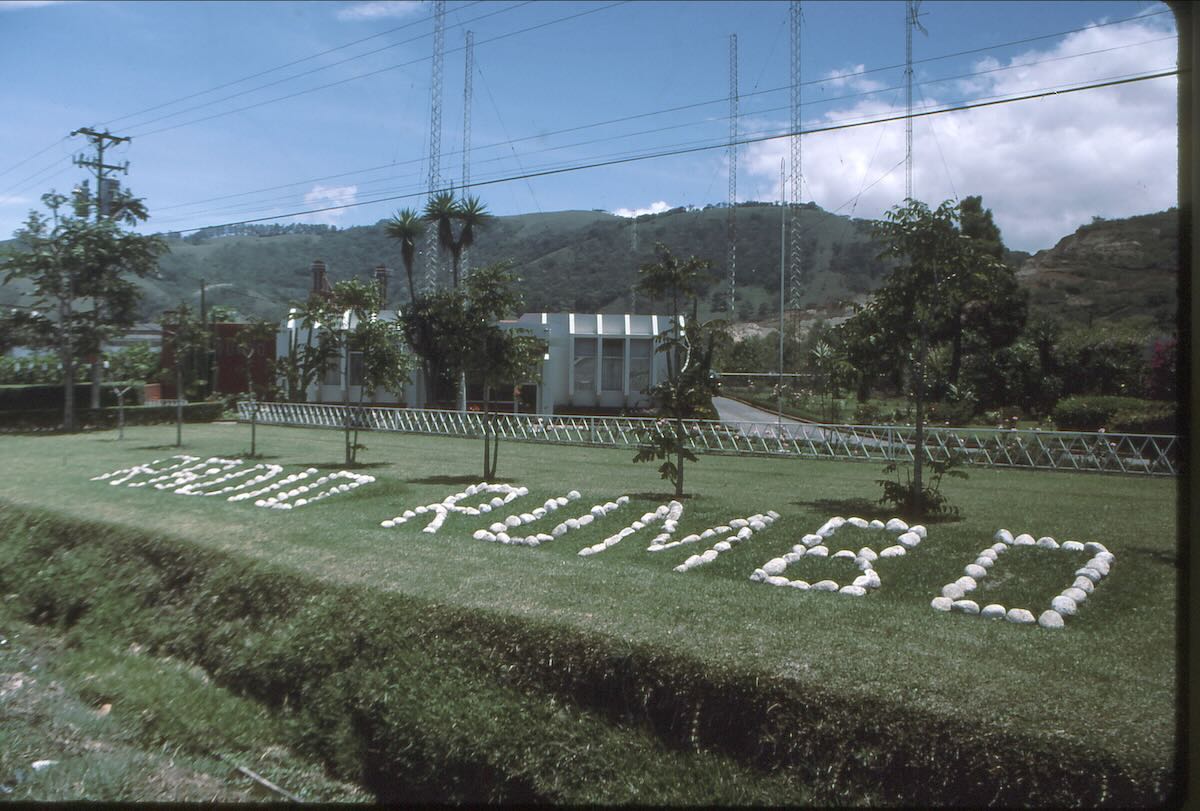 Radio Rumbo was another Tico station that could be heard on both medium and short wave. I logged them on 525 kHz in the 1970s but they were still an easy log when that was changed to 530 kHz. The shortwave frequency of 6075 was perhaps a tougher catch as the frequency was frequently blocked by more powerful stations.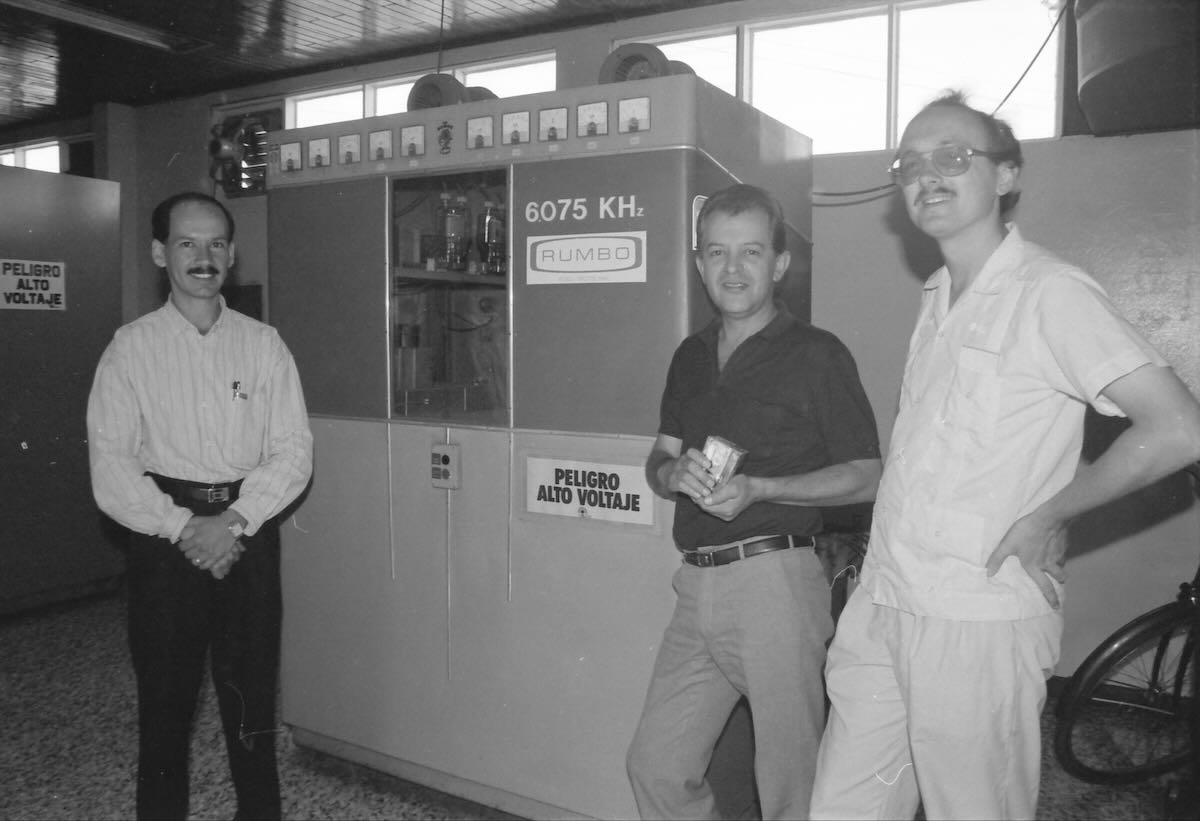 (Left to right) unidentified station engineer, Radio Rumbo founder/manager Carlos Lafuente, and Don Moore in front of the Radio Rumbo shortwave transmitter. Señor Lafuente founded the station from nothing in 1966. Since he didn't have a record library he went knocking on doors of friends to ask if he could borrow records. Five years later he was successful enough to build the station building in the first picture.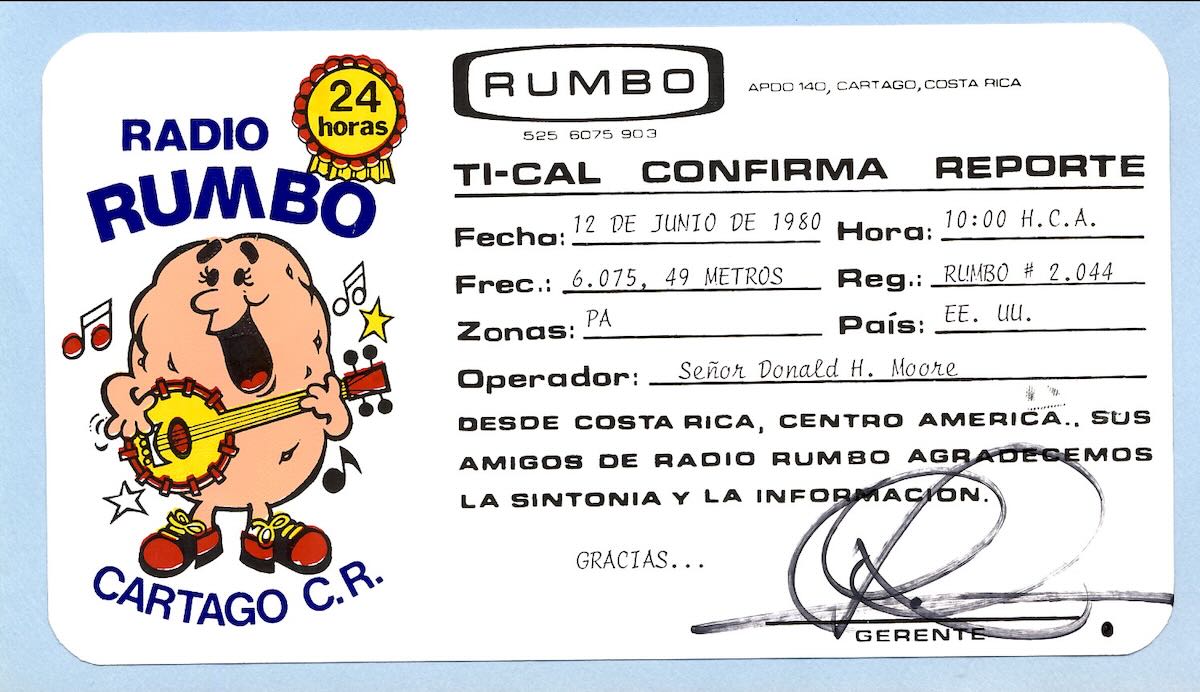 Radio Rumbo QSL card from 1980.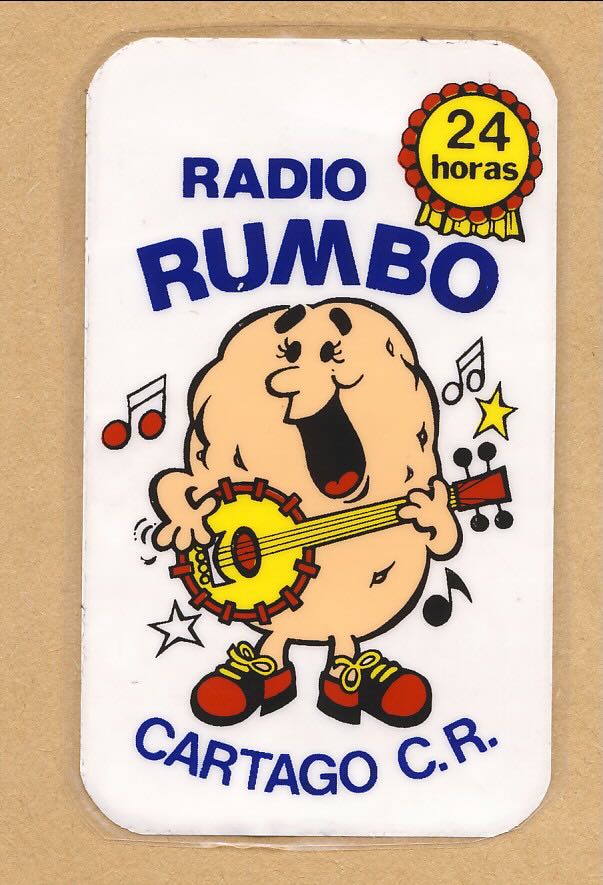 Station sticker from 1990 with the station's guitar-playing potato logo. Cartago is the center of Costa Rica's potato growing industry.
These Five Stations Today
Faro del Caribe is still at the same location but the antennas have been moved outside the city. It continues to broadcast on 1080 medium wave, FM, and Internet streaming. The Barahona brothers are gone and all that's left of Radio Reloj is a music station named Momentos Reloj on FM. The Barahona brothers were an important part of Costa Rica's radio history and it's sad this is what remains of their legacy. Radio Columbia and Radio Victoria continue to broadcast on medium wave and FM. Radio Rumbo closed down years ago but its sister FM station, Radio Sinfinola continues to broadcast. As of a few years ago Señor Lafuente was still managing the operation.
Audio Files
These were all made in central Pennsylvania unless noted otherwise.
Faro del Caribe English ID on 5055 kHz from 1980:
Sonido 1120 heard on 1125 kHz in 1979:
Radio Reloj 4832 kHz in 1980:
Radio Capital 4832 kHz at On The Shortwaves website:
Radio Uno 775 kHz medium wave in 1980:
Radio Columbia 725 kHz medium wave in 1981:
Radio Columbia 4825 kHz heard in Honduras 1983:
Radio Victoria 6082 kHz in 1979:
Radio Victoria 1180 kHz medium wave, recorded locally in Heredia in 1990:
Radio Rumbo – Recording at On The Shortwaves website:
Web Links