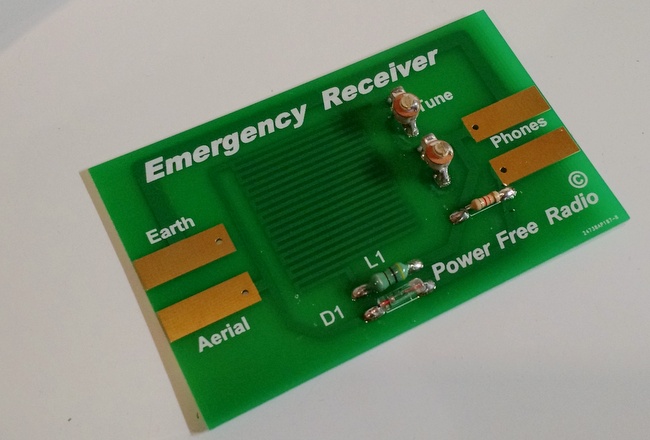 A few weeks ago, we published a short post about a credit card crystal radio from an eBay seller in the UK.
I purchased a kit–at $17-18 US shipped, it's quite a modest investment for what might be a fun little project.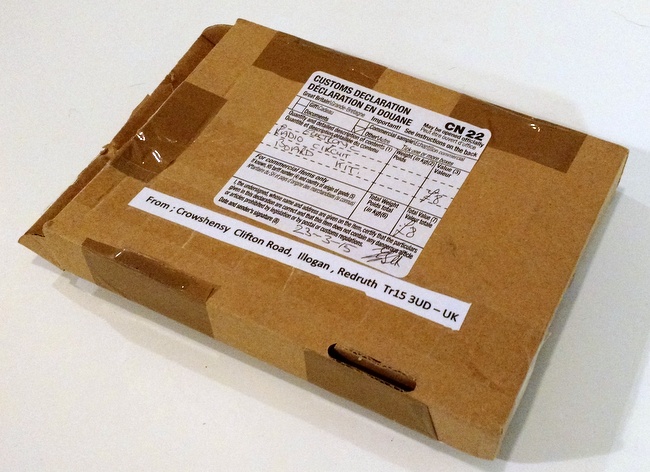 The crystal radio arrived while I was traveling during Easter break, but my free time has been so (extremely) limited lately, I was only able to unpack and try out this new arrival yesterday.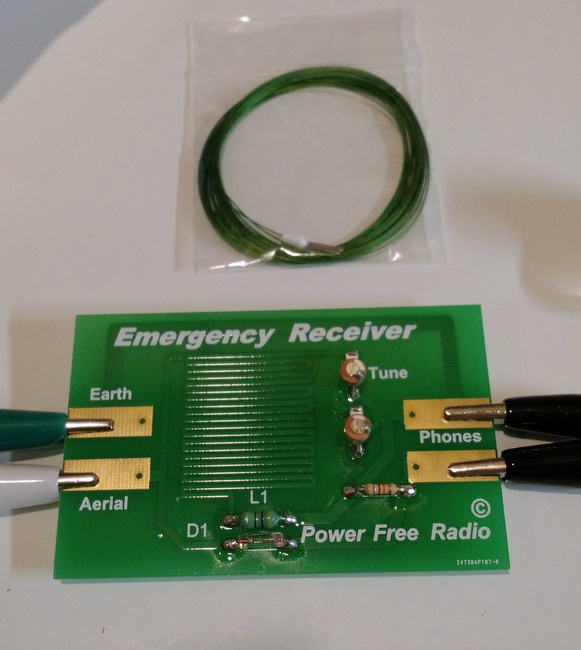 The biggest surprise for me was the fact that this isn't really a kit–the board is fully populated and requires no soldering whatsoever. The board feels of very good quality.
All that is required is connecting the high-impedance earphone, earth/ground and aerial/antenna to the board. Since all of these components can be connected with the supplied alligator clip cables, getting it on the air took all of 20 seconds. I simply hooked up the ground and connected the aerial to my sky loop wire antenna.
I instantly heard a signal and station ID which confirmed it was our closest local broadcaster on 1010 kHz.  This station isn't of the blowtorch variety, but is the strongest one I receive on the MW band simply due to its proximity. Audio was quite faint through the earpiece, but I believe if I tinkered with antenna length and the two variable capacitors, I could improve reception.
SWLing Post reader, Richard Langley, received his crystal radio and had a very similar experience with reception.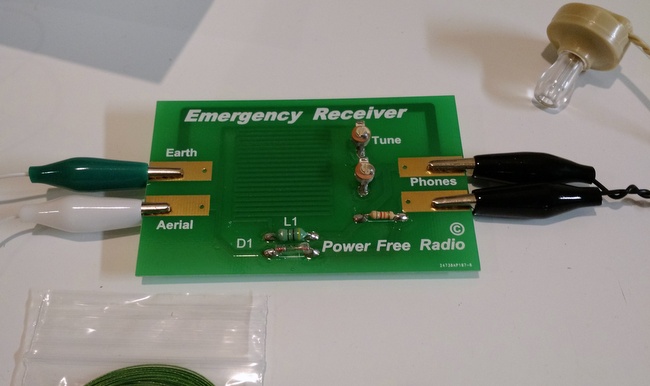 With any crystal radio (especially one this small), performance is directly correlated with antenna length, availability of a good ground connection and, of course, strong broadcasters in your vicinity.
I plan to spend an evening tinkering with this little receiver and see if I can pick up some of the night time powerhouse AM stations on the east coast.
I can say this: if you're looking for a simple, uber-compact emergency receiver for your go-bag, bug out bag or emergency kit, this one will certainly fit the bill. This crystal receiver and all of its components weight no more than a few ounces and could easily fit in compact pouch or sleeve.
Have any other readers have enjoyed tinkering with this little emergency crystal radio?
If you would like to purchase one, try searching eBay with one of the links below. The product will only appear in the search results if currently available.