As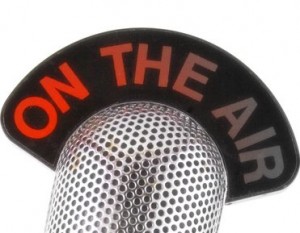 DRMNA.info says:
"Let Dr. Elliott take control of your PC!"
I agree.
On several occasions now, Dr. Kim Elliott has transmitted digital messages via shortwave radio in an assortment of digital modes. We've mentioned this in the past (and we even posted a tutorial on decoding his WBCQ message).
Early Sunday morning (UTC–Saturday night for many) The Mighty KBC will once again broadcast some of Elliott's digital messages from 00:00-02:00 UTC on 9,450 kHz. This time, they'll even broadcast two different messages in two different modes simultaneously (details below). No Johnny, this isn't your granfather's shortwave:
(Source: Kim Elliott)
The Mighty KBC, 21 Nov 2012: "This UTC Sunday, 25 November, more digital text during the broadcast of The Mighty KBC at 0000 to 0200 on 9450 kHz. At about 0130 UTC, PSK125 will be centered at 1300 Hz on the waterfall, MFSK32 at 2200 Hz. Decode one from the radio, and the other from your recording. Just before 0200, only one mode, MFSK32, will be transmitted, centered at 1500 Hz. For this message, please have Fldigi and Flmsg (both available from www.w1hkj.com), as well as your web browser, all running on your PC. If all goes well, at the end of this transmission, the message should pop up in new windows of Flmsg and your browser. (In Flmsg, click Configure, then Misc, then NBEMS, then check Open with flmsg and check Open in browser.)

[Elliott's comments] "UTC Sunday 25 November at 0000 to 0200 UTC is the same as Saturday evening, 24 November, 7 to 9 pm Eastern Time in North America. This transmission on 9450 kHz is via a leased transmitter in Bulgaria.

To decode the two text transmissions, download Fldigi and Flmsg from w1hkj.com. Configure Fldigi to work with your PC's sound card.

Also, in Fldigi, click Configure, Misc, NBEMS. Under NBEMS data file interface, click Enable. Under reception of flmsg file, click Open with flmsg and Open in browser.

During reception, patch audio from the earphone or line out jack of your radio to the microphone input of your PC. You may have to experiment a bit with audio settings. You should see a "waterfall" on your Fldigi display.

If all goes according to plan, when the text message just before 0200 UTC (9 pm Eastern) is completely received, it should pop up in a new window of your default web browser.
By the way, if you haven't noticed, I'm a big fan of The Mighty KBC. Not only do they broadcast an excellent mix of music on shortwave radio, but they'll also blast these digital messages to their listeners. Thanks, KBC!
Again, please comment if you decode these messages!