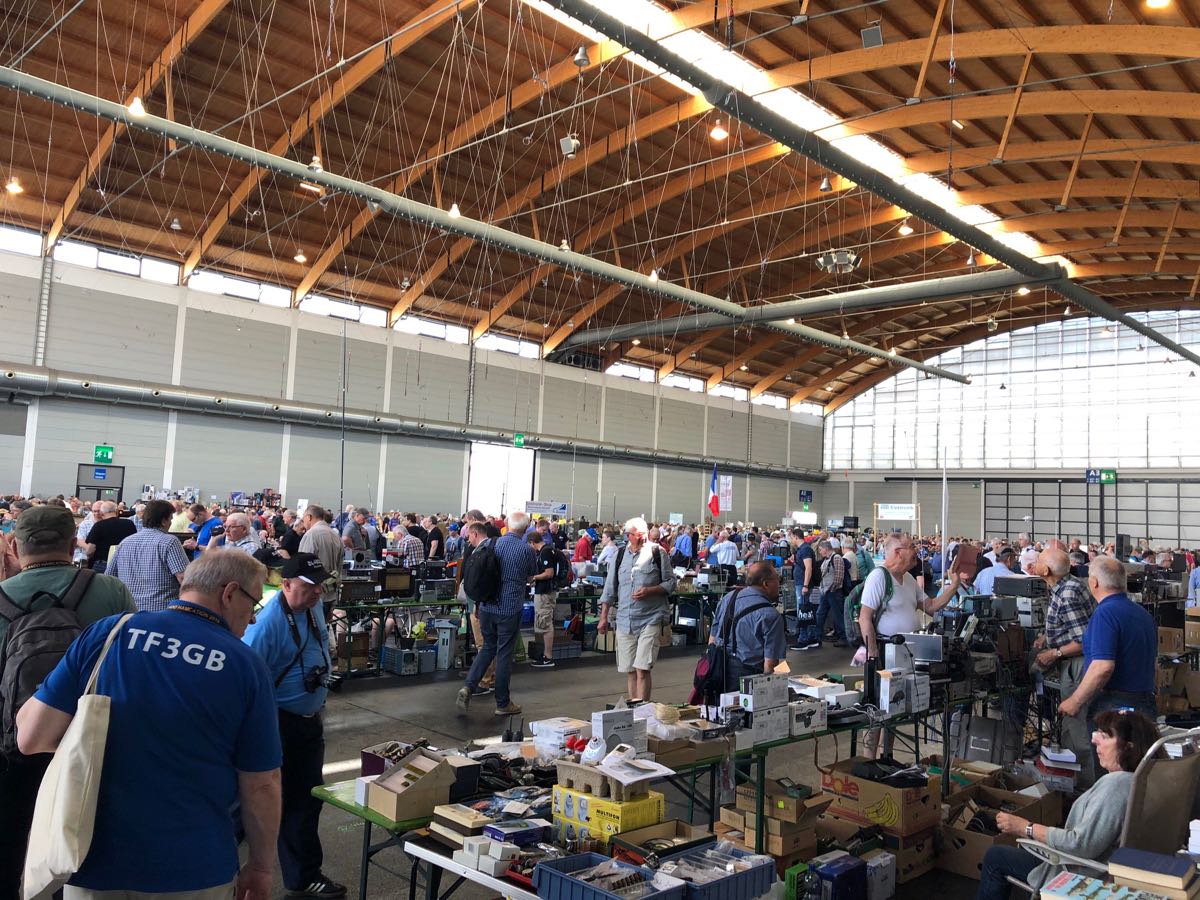 Radio Waves:  Stories Making Waves in the World of Radio
Because I keep my ear to the waves, as well as receive many tips from others who do the same, I find myself privy to radio-related stories that might interest SWLing Post readers.  To that end: Welcome to the SWLing Post's Radio Waves, a collection of links to interesting stories making waves in the world of radio. Enjoy!
Many thanks to SWLing Post contributors Dennis Dura, Ron Chester, and Mangosman for the following tips:
---
[Note that the following is a Google translation of the original piece in German]

Ham Radio cannot take place this year either – other trade fair events remain on course

Due to the current corona developments, Messe Friedrichshafen cannot hold the international amateur radio exhibition Ham Radio in the planned period from June 25 to 27, 2021. Instead, the industry meeting will take place from June 24 to 26, 2022.

"The decision was not an easy one for us, but a trade fair like Ham Radio lives from its high level of internationality. Due to the current uncertainties in the travel sector, implementation is currently not feasible, "explains Klaus Wellmann, Managing Director of Messe Friedrichshafen. All other trade fair events in the second quarter of 2021 and beyond should take place as planned at the present time. "A large percentage of our customers from these industries are still on board at the 2021 events. Together we hope that the immunization of society continues to gain momentum and that we can carry out the events with appropriate protection and hygiene concepts. "

Further information at: www.messe-friedrichshafen.de and http://www.hamradio-friedrichshafen.de/.
The United States Coast Guard heavy icebreaker Polar Star is literally a one-of-a-kind ship. After its sister Polar Sea was deactivated in 2010 it became the most powerful icebreaker in the fleet, and one of only two US icebreakers capable of operating in the treacherous polar regions. The vessel is critical to protecting America's scientific and economic interests in the Arctic, but according to a recent article in Business Insider, the ship's age and scarcity of spare parts is making an already difficult mission even harder.

In the article, Captain William Woityra specifically mentions that the ship's diesel-electric propulsion system is running on borrowed time as the diodes used in its AC/DC rectifier are no longer manufactured. With none remaining in the Coast Guard's inventory, the crew has had to turn to eBay to source as many spares as possible. But once their hoard runs out, Captain Woityra fears his ship will be dead in the water[…]
In Winter, the cap of dark on half the Earth is cocked to the north. So, as the planet spins, places farther north get more night in the winter. In McGrath, Alaska, at close to sixty-three degrees north, most of the day is dark. This would be discouraging to most people, but to Paul B. Walker it's a blessing. Because Paul is a DXer.

In the radio world, DX stands for for distance, and DXing is listening to distant radio stations. Thanks to that darkness, Paul listens to AM stations of all sizes, from Turkey to Tennessee, Thailand to Norway. And last night, New Zealand. Specifically, NewsTalk ZB's main AM signal at 1035 on the AM (what used to be the) dial. According to distancecalculator.net, the signal traveled 11886.34 km, or 7385.83 miles, across the face of the earth. In fact it flew much farther, since the signal needed to bounce up and down off the E layer of the ionosphere and the surface of the ocean multiple times between Wellington and McGrath. While that distance is no big deal on shortwave (which bounces off a higher layer) and no deal at all on the Internet (where we are all zero distance apart), for a DXer that's like hauling in a fish the size of a boat.

In this sense alone, Paul and I are kindred souls. As a boy and a young man, I was a devout DXer too. I logged thousands of AM and FM stations, from my homes in New Jersey and North Carolina. (Here is a collection of QSL cards I got from stations to which I reported reception, in 1963, when I was a sophomore in high school.) More importantly, learning about all these distant stations sparked my interest in geography, electronics, geology, weather, astronomy, history and other adjacent fields. By the time I was a teen, I could draw all the states of the country, freehand, and name their capitals too. And that was on top of knowing on sight the likely purpose of every broadcast tower and antenna I saw.[…]
In India, where regulators have been working toward recommending a standard to digitize the FM band, Digital Radio Mondiale is presenting its case.

DRM has been conducting trials and demos since late February, when a digital radio transmission with three audio services and Journaline text information went live in Delhi alongside existing analog FM transmissions.

It said it is also showing the possibility of extending a shared transmitter infrastructure by broadcasting up to six individual DRM signals or blocks, carrying up to 18 audio services plus 6 multimedia services, being broadcast from one FM transmitter and antenna. It said the number of individual DRM signals is only limited by the bandwidth of the transmitter. Each signal can have its own power level, and gaps in the spectrum are possible, as are individual SFN networks per DRM signal.

"The transmission is part of an extensive trial and demonstration of DRM conducted by Prasar Bharati and its radio arm, All India Radio (AIR), with the help of the DRM Consortium and its local and international members," DRM stated in a press release. "The test was officially launched on Feb. 24 and 25 at the headquarters of All India Radio in New Delhi."

The test was requested by regulator TRAI and the Ministry of Information & Broadcasting.

DRM officials said a presentation to AIR's committee showed DRM in the FM band on various car radios including line-fit, aftermarket, standalone receivers, mobile phones and tablets. A head unit from Mobis, upgraded for FM via firmware, was installed in a Hyundai Verna. DRM said, "The reception was found to be excellent for over 15 km radius with just 100 W of DRM power in digital," including 5.1 surround sound test broadcasts on DRM.[…]

You might also check out the article HD Radio and Digital FM in India at Radio World.
---
Do you enjoy the SWLing Post?
Please consider supporting us via Patreon or our Coffee Fund!
Your support makes articles like this one possible. Thank you!