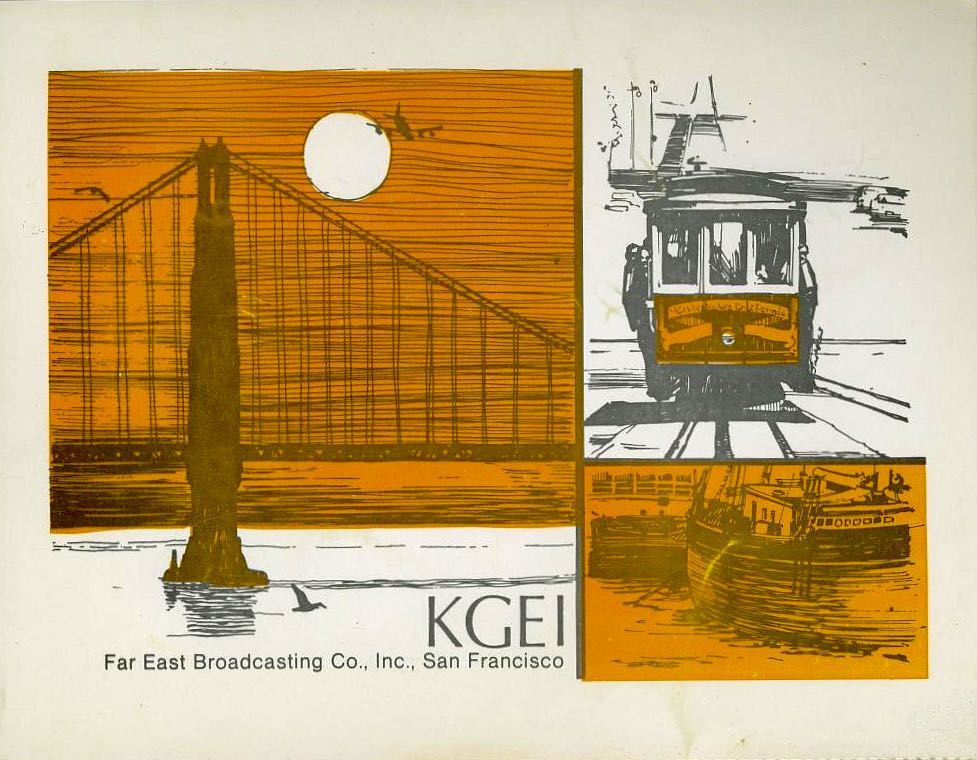 Many thanks to SWLing Post contributor, Dan Van Hoy (K7DAN), who shares the following comment in reply to our recent KGEI post.  Dan writes:
It was my privilege to work at KGEI as a broadcast engineer and antenna rigger with FEBC from 1981-85. After that we went off to serve FEBC in Davao City in the Philippines. Never had any problems with the 50KW GE transmitter except one night when a driver tube failed. Nice to have a transmitter you could walk into! It was back on the air in about 45 min with a new tube. Mario Barahona was the main announcer most nights faithfully bring the Good News from the Voice of Friendship in Spanish.

I also painted the building tan with a dark brown trim while I was there. As I recall, I painted the KGEI name in dark brown too. The biggest project for me was helping install the TCI 16 folded dipole slewable array with reflecting screen stretched between two 365 ft tall towers. I was the only antenna rigger on the project.

The 250KW transmitter was primarily used for Russian broadcasts over the North Pole using the TCI antenna. The ERP was somewhere between 15-20 million watts depending on how the antenna was slewed. We were often heard loud and clear in a variety of home devices in nearby Foster City. I called the 250KW transmitter the worlds biggest Heathkit. It was ably maintained by an amazing radio engineer named Loch Gordon. Jack Brooks, WA6DBT, was the station manager. Hiley Rainer was the jack of all trades do it all engineer. It was one of the most enjoyable periods of my life.
Wow, Dan…I had no idea! Thank you for sharing those wonderful memories.  I can't imagine singlehandedly installing the antennas you did! I need to call you next time I have an antenna hanging party!