Yesterday, I received a sample Degen DE1129 from TecsunRadio.com, which is, to my knowledge, the only current distributor of this newest Degen. I paid extra for DHL shipping to get it quickly to my door, as I've been very curious how this new radio stacks up against similarly-priced portables on the market–especially in light of the number of emails I've gotten from readers asking about this particular radio.
The DE1129 promises a lot: AM/FM/Shortwave coverage and a fully functioning MP3 player/recorder.
I have only played with the DE1129 for a few hours, thus have only developed some initial impressions of the unit.  (A full-fledged comparison review will be coming in the very near future–simply follow the tag DE1129).
My very first impression–?  The DE1129 is just a wee little radio–much smaller than I had imagined. Indeed, though its box (pictured above) isn't very large, it's a cavernous container for such a minute radio. Size-wise, it's certainly within the realm of the ultra-portable. Note its size in comparison with my Grundig G3 and Tecsun PL-380 in the photo below: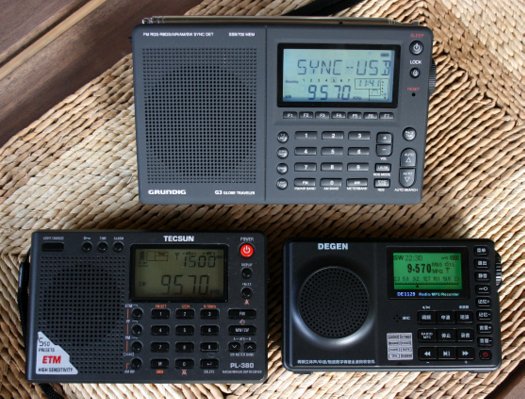 For those of you not familiar with the size of these two radios, we're talking quite small–the Degen is just a little bigger than a pack of cards, easy to hold in one hand.
There is no mistaking the fact that this radio is DSP-based. When you turn this Degen on, it seems to boot up, like a computer–a process which takes about four seconds. It starts where you left off, i.e., at your last frequency, or in the MP3 player, if you were listening to an audio file, just before turning it off.
The display on the Degen is back-lit, although the buttons are not. The display, moreover, has an incredible amount of information for such a tiny screen. Fortunately, it is crisp enough to read easily.
You'll note that all of the buttons are labeled in Chinese Mandarin–since I don't know or read Mandarin, I found that this English translation of the front panel came in very handy.
I can't comment on the performance thus far, as I can tell that the learning curve is going to be slightly steeper than usual.  I have yet to determine how to change the steps, bandwidth, AGC control (if there is one), and recording volume level.
Changing between receiver modes is simple enough; volume and tuning, of course, are intuitive.
I have very little to base a review on yet, but I can say this:  I love this Degen's compact size, crisp display, and am impressed that its tiny built-in speaker actually has some bass response. This is the first shortwave radio I've reviewed that (like the Grundig G2 and Degen DE1128) has a slim rechargeable battery pack instead of accepting the typical AA batteries most portables use. No doubt, this is how they keep the size of the unit so small and its profile so slim. Is this a pro or con? Battery longevity will tell.
Any negatives? Just superficial ones at this point.  Most notably, I'm disappointed in the unfortunate combination of no back stand (see photo) and a fixed, non-rotatable, telescopic whip antenna. This means that when listening to shortwave with the whip fully extended, you pretty much have to hold the DE1129 in your hand. Even if you have a universal portable radio stand (like this one), you won't be able to make the antenna vertical in relation to the ground–rather, it will be fixed with only the ability to move from left to right.   This is, alas, poor product design, as a radio so slim has very little stability when standing with the antenna fully extended; even a slight breeze can potentially tip it over.
Also, the Degen DE1129, like the Tecsun PL-380 (and many other DSP-based radios), "chuffs" while tuning–meaning, it mutes between frequency changes. This is a pet peeve of mine, as I prefer a more uninterrupted analog-like fluidity while band scanning.  I'll experiment to learn whether there is a way to minimize this.
Again, look for a more complete review in the near future as I test this little radio against the (similarly priced) Grundig G3 and the (more affordable) Tecsun PL-380. Simply follow the tag DE1129 or subscribe to our email updates by clicking on the link in the right panel of our site.