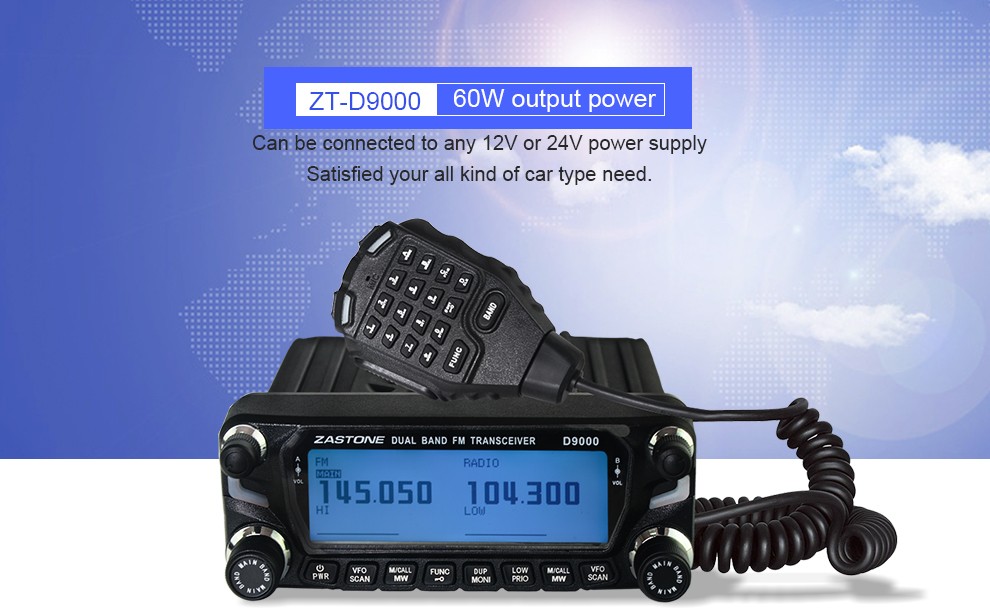 Many thanks to SWLing Post contributor, Cap Tux, who writes:
The Zastone ZT-D9000 radio has actually been out for a while and is a Dual Band Mobile (Triband with option), nothing fancy there and bears a striking resemblance to the Icom IC-2820H (clone?). Options include GPS, Bluetooth, 220Mhz and LW (The latter is really weird!).

What caught my eye is the 2.3-30 MHz Shortwave coverage, a quick search on YouTube turns up a video showing Shortwave working!

Yes, probably as wide as a barn door with no filtering except the 12kHz default but an extremely useful feature if you did need a dual band mobile in your jeep/car.

Two other noteworthy features are a dedicated RX BNC antenna socket and a built in FM Transmitter so you can listen to it on the FM Radio in your car/jeep, very cool. A bit like a pimped IC-2820H. Also has all the bells and whistles a Dual Bander should have,

This is the OEM site:
http://zastonetech.com/2-7-mobile-transceiver/291931

This site has the spec:
http://radioaficion.com/cms/zastone-d9000/

YouTube video showing Shortwave in use:
Click here to view on YouTube.

Some Specs:

A/B Band RX:
136-174MHz
200-260MHz (OPTION)
400-470MHz
470-520MHz

B Band RX:
153-279kHz (AM) (OPTION)
0.5MHz-1.8MHz (AM)
2.3-30MHz (AM)
64-108MHz (WFM)
113-137MHz (Airband – AM)

TX:
136MHz-174MHz
222-225MHz (Type USA 200-260MHz) (OPTION)
400-520MHz

Channel Steps: 1.5, 6, 6.25, 10, 12.5, 15, 20, 25, 50, 100kHz
Frequency Stability: +-2.5ppm
Repeater Shift: +-600kHz(144MHz), +-5MHz (430MHz)
Emission Type: F1D, F2D, F3E
Antenna Impedance: 50 ohms
Supply Voltage: Nominal: 13.8VDC, Neg Gnd, Operating: 12-24V Neg Gnd
Operating Temp: -40F to +-1400F(-20C to +-60C)
RF power Output: UHF: 40W/25W/5W VHF:50W/25W/5W
Case Size: (WxHxD) 6″ x 2.3″ x 1.3″ (Panel w/o knobs and connectors)
6″x6″x 1.8″ (Rear chassis w/o connectors)
Weight: 3.7 lbs

Transmitter:
RF Power Output: UHF: 40W/25W/5W, VHF: 50W/25W/5W
Modulation Type: Variable Reactance F1 D, F2D, F3E
Maximum Deviation: +- 5KHz
Spurious Emission: at least 60 dB below
Microphone Impedance: 2 k ohms

Receiver:
Sensitivity Radio Band:
B Band:
5uV TYP for 10db SN (153-279 KHz, AM)
5UV TYP for 10 db SN (0.5-1.7 MHz, AM)
2uV TYP for 10db SN (203-30 MHz, AM)
2Uv TYP for 12db SINAD (64-108 MHz, WFM)
0.8 uV TYP for 10 db SN 9113-134 MHz, AM)

A&B Band:
0.2 uV for 12db SINAD (136-174 MHz, FM)
0.2 uV TYP for 12db SINAD (200-260 MHz, FM)
0.2 uV for 12 db SINAD (400-470 MHz, FM)
0.2 uV TYP for 12 db SINAD (470-520 MHz, FM)
Squelch Sensitivity: 0.16 uV (144/430 MHz Band)
Selectivity: NFM, AM 12 KHz/30KHz(-6dB/-60dB)

AF Output:
6W@4 ohm for 10% THD (@13.8V) EXP SP
3W@ 8 ohm for 10% THD (@13.8V) Normal EXP SP/CH
AF Output Impedance: 4-16 ohm
3 Speakers

Included in Purchase:
– Radio
– Microphone
– Power Cables
– Remote Install Kit
– Software CD
– Programming Cable
– All Mounting Hardware
– 1 Year Warranty

Options:
– Bluetooth
– GPS
– Barometric altimeter and thermometer
– 220MHz
– LW Band
Very interesting, Cap! Thank you for sharing.  Honestly, I have a very difficult time keeping up with the radio equipment being produced and sold out of China.
And you're right: what a surprise to find HF coverage on a dual-band mobile radio and especially longwave coverage! Like you, I wouldn't anticipate stellar performance. The price is certainly "bargain basement" at $210 US shipped.
SWLing Post readers: Has anyone purchased and tested the ZT-D9000?  Please comment!