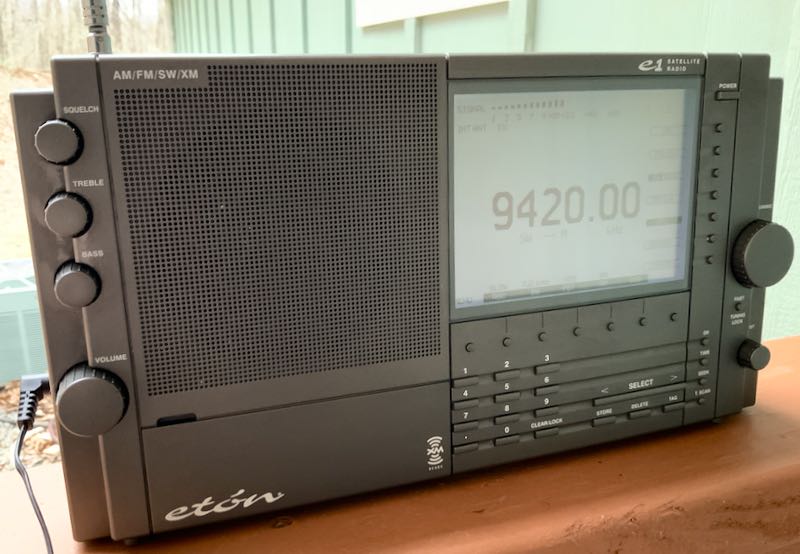 I'm back from a week of travels and the 2020 Winter SWL Fest. In short, is was another amazing Fest and so much fun. I hope to write more about it in the coming days, when I have a few moments to catch up and after I shake a nasty bug (chest cold) I picked up.
Although I had no intention of making purchases at the Fest beyond a few raffle tickets, I couldn't resist snagging an Eton E1 (XM version) at a silent auction from the estate of our recently-departed friend, Tony Pazzola (WB2BEJ). Tim Moody kindly organized the silent auction.
Tony was an amazing friend to all and an avid radio collector, so there were some excellent radios offered up in the silent auction–I could have easily easy bid on each and every one of them! In the end, though, only one really caught my eye: the Eton E1 XM.
Tony took amazing care of his radios, but his Eton E1 XM suffered from what all of those models eventually do: a sticky chassis.
Back in the day (roughly 2009 to 2013) Eton/Grundig covered a number of their radios models with a rubberized coating that unfortunately breaks down over time and becomes tacky or sticky to the touch.
I think this E1's sticky coating put off potential bidders.
It was particularly nasty–if you picked up the radio, you had to immediately wash your hands.
The E1's starting bid on Friday was $200–quite fair considering this unit is fully-functional and comes with all software, cables, manuals and a SiriusXM radio antenna. By Saturday, the starting bid had been decreased to $150. I resisted putting in an offer, but after seeing that it didn't sell after all bidding had ended, I couldn't resist. That E1 needed a good home, right? Plus the proceeds go to Tony's family.
The sticky coating didn't scare me. If you've been an SWLing Post reader for long, you've no doubt read our numerous posts about cleaning off this mess. There are a number of solutions, but I've heard the most positive long-term results by employing a de-greasing product called Purple Power (click here to read archived posts). Indeed, it's the solution Eton Corporation recommends.
On the way home Monday, I stopped by a big box store and grabbed a bottle of Purple Power.
Sporting a pair of nitrile gloves, I grabbed a bunch of paper towels and a few cotton swabs, then started the cleaning process. I spent the better part of an hour carefully going over the entire body of the E1and trying to remove residue in every crevice without allowing the Purple Power solution to creep under buttons.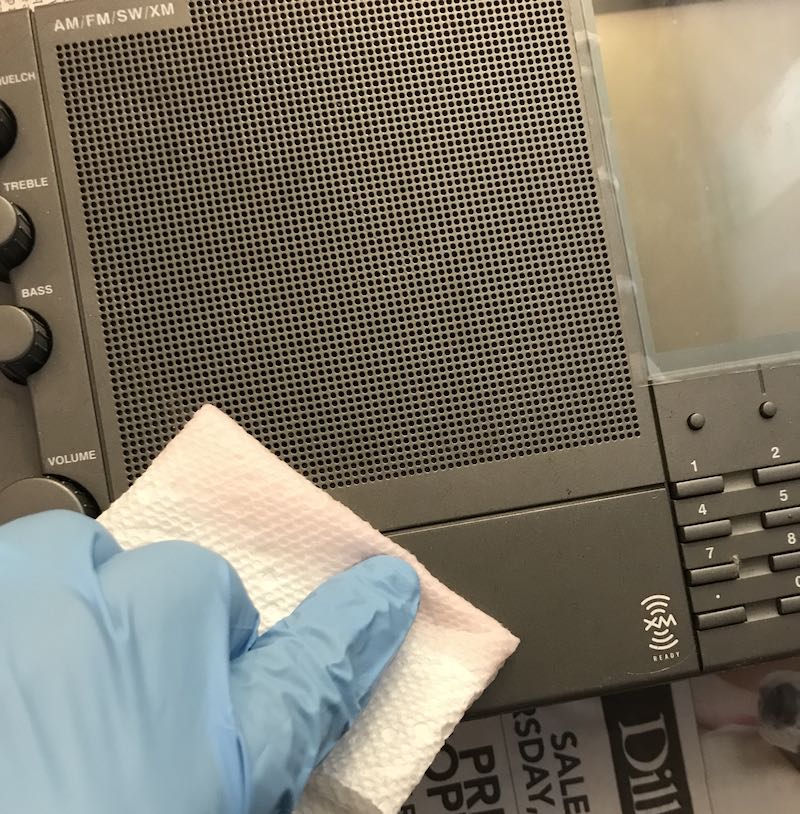 In short?  I'm very pleased with the results and am now a solid believer in Purple Power.
As others have reported, Purple Power breaks down the sticky residue and allows it to be removed with a cloth or towels with very little scrubbing. Indeed, the process was much easier than I anticipate.
Now I have a super-clean Eton E1 XM to put on the air!
Now I have no excuse to finally remove the sticky residue from both my Grundig G6 and G3!
So far, I'm loving the Eton E1. It is, no doubt, a benchmark portable. Of course, another motivation behind snagging this E1 is so that I can compare it with the Eton Elite Satellit once it eventually hits the market.
Do you have an Eton E1?  What are your thoughts about this receiver? Please comment!
---
Do you enjoy the SWLing Post?
Please consider supporting us via Patreon or our Coffee Fund!
Your support makes articles like this one possible. Thank you!