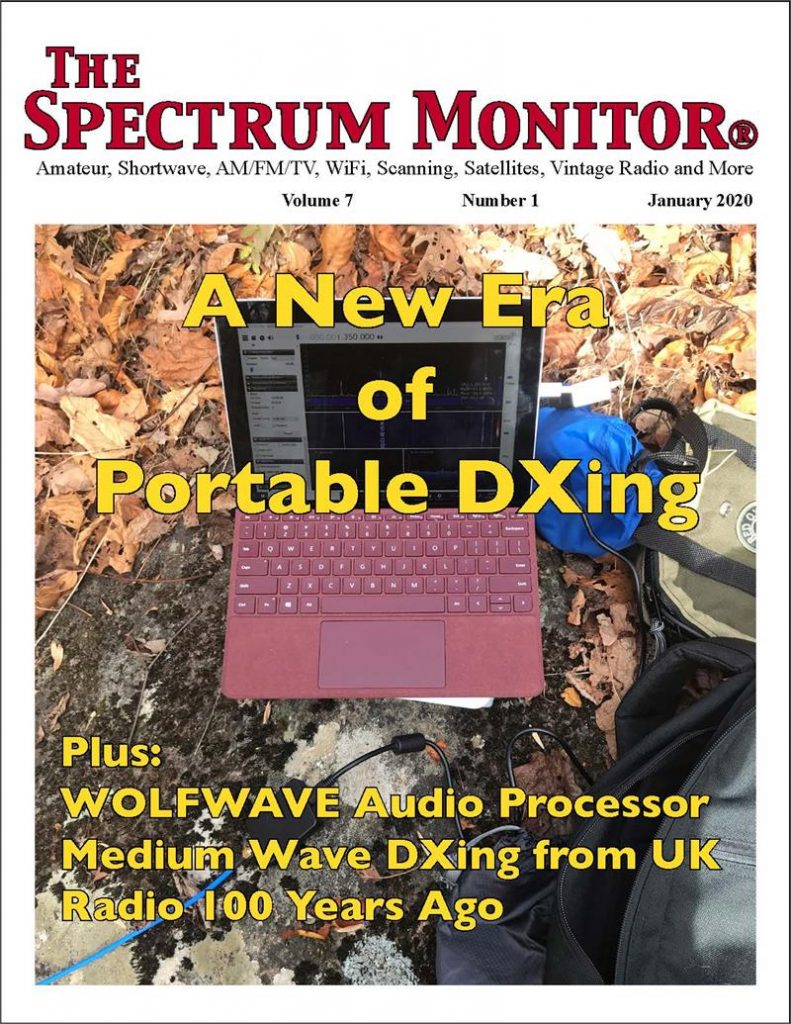 Almost two weeks ago, at the 2020 Winter SWL Fest, I gave a presentation called "A New Era in Portable SDR DXing."
The presentation was essentially an in-depth version of an article I published in the January 2020 issue of The Spectrum Monitor magazine (see cover above).
I devoted a good portion of the presentation describing how to build a passive loop antenna design by Airspy's engineer and president, Youssef Touil. This passive mag loop takes advantage of the Airspy HF+ Discovery's exceptionally high dynamic range and is an impressive performer.
You may recall, I posted a short article about this loop in November after enjoying a little coastal DXing.
In short? This passive loop antenna pairs beautifully with the Airspy HF+ Discovery. I've also been very pleased with results using the new SDRplay RSPdx on the mediumwave band where the receiver now sports a high dynamic range mode.
Overdue corrections…
After returning from the Winter SWL Fest last week, I was hit with an upper respiratory bug. No doubt, a souvenir of my travels!  It wasn't the flu (I was tested), nor COVID-19, but it did knock me off my feet for a few days with fever, coughing, and headaches. You might have noticed a lot less posts last week and almost no replies from me via email. I'm only now feeling totally human again and trying to catch up with my backlog.
Shortly after my SWL Fest presentation, I realized I made (at least!) two mistakes. I had planned to post corrections here on the SWLing Post last week, but the bug delayed all of that, so here you go:
#1 Schematic of my homebrew passive loop antenna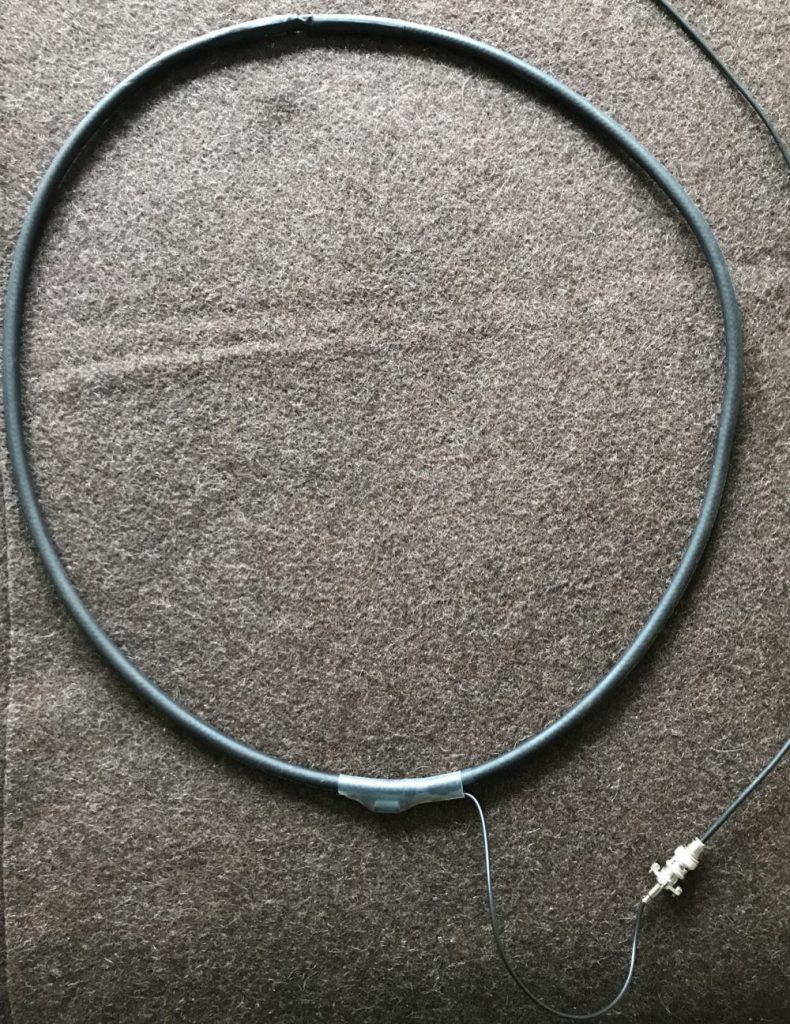 When Youssef started experimenting with passive loop antenna designs, he posted a few schematics of at least three build options.
Although I described how to build my passive loop antenna, I grabbed the wrong schematic for my presentation slides. Many thanks to those attendees who noticed this.
Here is the schematic I should have shared: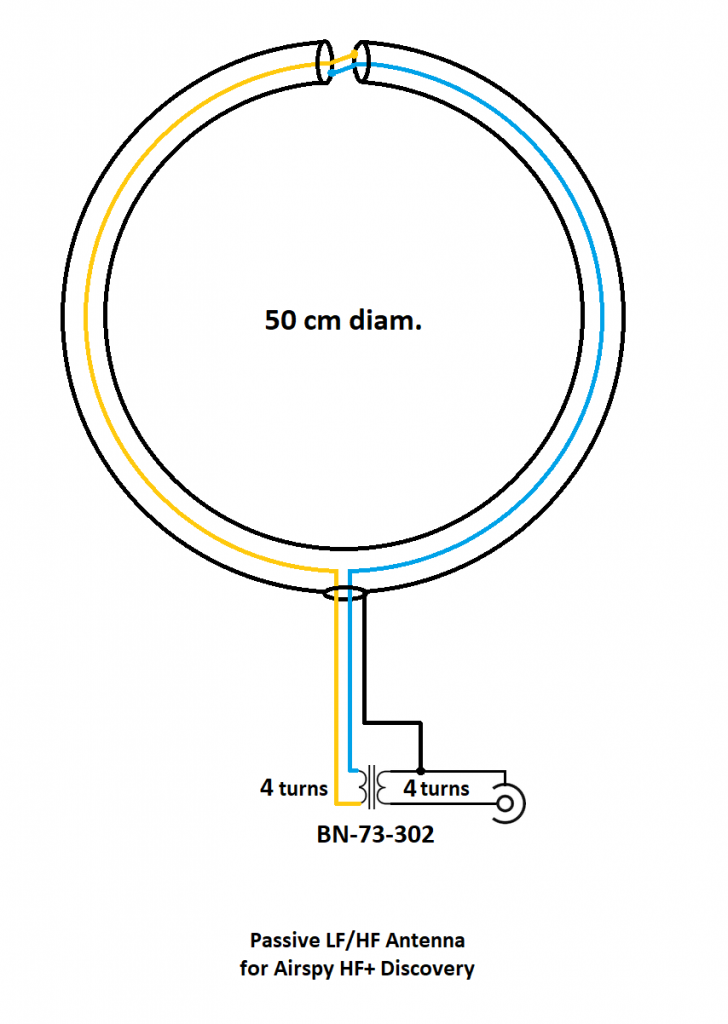 Note that the transformer has four turns on both sides (the one in the presentation had 4:2).
Again, apologies for any confusion.
#2 The Airspy Youloop passive loop antenna
If you're not inclined to build your own passive loop antenna per the diagram above, Airspy is planning to manufacture and sell a lightweight, high-performance loop of a similar design.
During the presentation, I called the future AirSpy antenna, the "Spytenna." I was incorrect. (Turns out, I got this name from an early antenna schematic and somehow it stuck in my head!)
Airspy is calling their passive loop antenna the Youloop. Youssef posted the following note in the Airspy email discussion group:
We are currently arranging the shipping of the affordable passive version to Airspy.us and RTLSDR Blog.

Btw, It's called "Youloop"
Many thanks to Richard Langley and a number of other readers who pointed this out last week.
I've had a prototype of the Youloop since November and brought it to the SWL Fest and presentation. It's a quality antenna and incredibly compact when disassembled and rolled up.
When the Youloop is available to order, we'll post links here on the SWLing Post.
More to come!
Once I catch up here at SWLing Post HQ, I plan to publish detailed construction photos of the homebrew loop antenna.
Many of you have questions about how to tap into the center conductor at the mid-point of the loop. These photos should help guide you.
Stay tuned!
---
Do you enjoy the SWLing Post?
Please consider supporting us via Patreon or our Coffee Fund!
Your support makes articles like this one possible. Thank you!