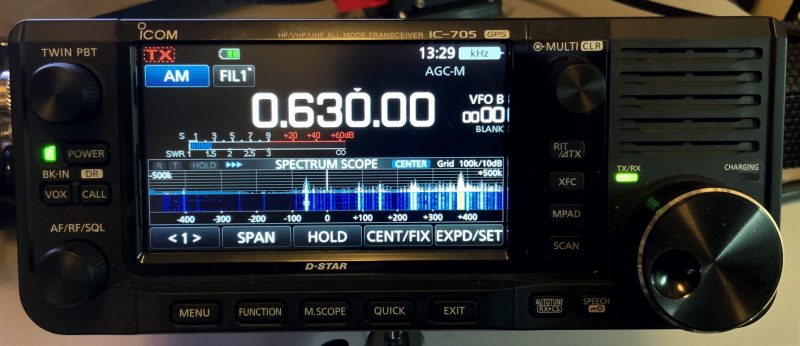 In my previous post, I mentioned how much I enjoy the built-in digital audio recorder in the new Icom IC-705. While I wouldn't buy a QRP transceiver specifically for built-in audio recording–there are less expensive options out there–it is an incredibly useful feature in my world.
After publishing that post, I was reminded that Monday morning (October 12, 2020) I connected the IC-705 to my homebrew Noise-Cancelling Passive Loop antenna mounted indoors at my parents' house.
Their house is like so many others in that it is inundated with RFI (radio frequency interference). I find that the NCPL antenna does a fine job mitigating most of that noise on the mediumwave band when I position it so that the bulk of the interference is nulled.
Monday morning, I tuned the IC-705 to my favorite local AM station: WAIZ on 630 kHz.
Weekday mornings, Dave and his "Wacky Wake-Up Crew" always put me in the right mood. They're incredibly goofy/corny and 100% original.
It's extraordinarily rare these days to find a local radio station, with local talent, creating a local daily radio show. Almost all of their ads are local, too.
I made the following off-air recording for myself, but decided to upload it for others to enjoy. I'm not sure what the receiver audio EQ or bandwidth filter was set to when I recorded this. It's not a demo of receiver performance, just a little radio fun.
Enjoy: