I took delivery of the Tecsun H-501x yesterday morning and the Sangean ATS-909X2 last week.
I've been waiting for these portable receivers for what seems like ages, and both arrive within one week of each other.
My initial impressions are positive for both radios, but I know it's time to start some proper comparisons.
These portables are arguably the flagships of both manufacturers, so I decided to pit them against a "legacy" portable that has a reputation for eating other receivers for lunch: the Panasonic RF-B65.
I fully expect the RF-B65 to emerge as the leader of this pack on shortwave in AM mode. No kidding. That's why it's a benchmark. If you can out-perform the RF-B65, you're a five-star, Holy Grail portable and that's the end of the story.
Where both the H-501 and ATS-909X2 will have an advantage is in audio fidelity. Both have excellent built-in speakers.
In addition, while the Panny RF-B65 is a great AM mode radio, it has very basic BFO controls and fine tuning for SSB. No doubt, I'll likely pull out a different receiver for SSB comparisons.
Dan Robinson just published his initial review of the H-501x and I'm in agreement with his observations.
DanH expects his ATS-909X2 back from firmware update soon and I look forward to his evaluation.
I plan to write a review of the Sangean ATS-909X2 for the June 2021 issue of The Spectrum Monitor magazine. My Tecsun H-501x review may appear in TSM as well.
I will post updates here on the SWLing Post and possibly some comparison audio/reception examples.
Tecsun H-501x availability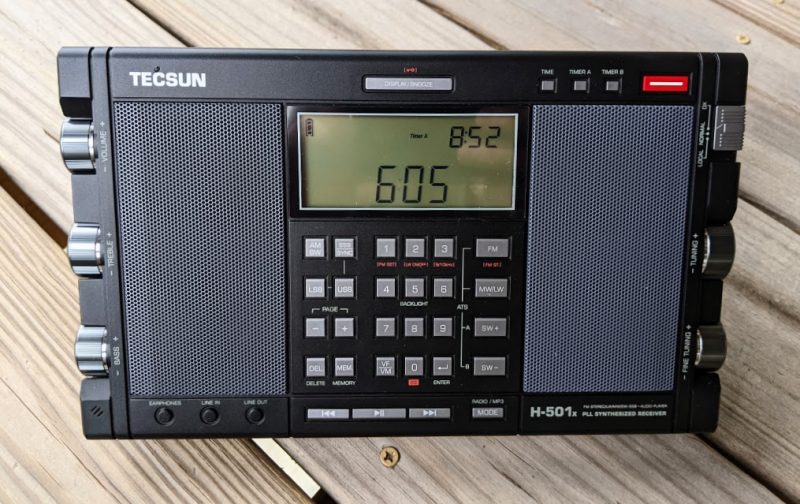 SWLing Post contributor, Troy Riedel, received word from Anna at Anon-Co that they hope to have their first batch of H-501x units available to ship by the end of April 2021. Pricing has not yet been firmed up.