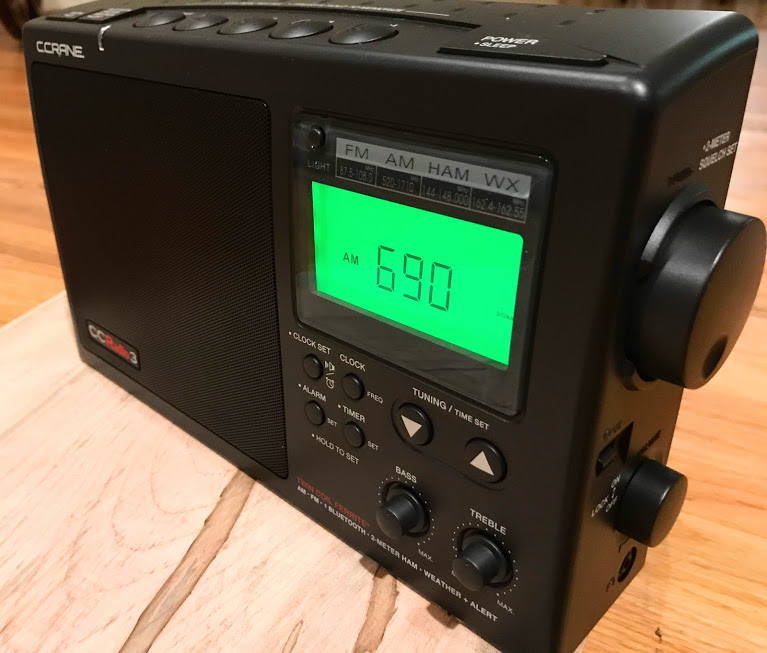 I'm not sure why, but near the end of the year I always like to look back at my radio routine and figure out which radios I used the most. Often, the answer is surprising.
This year, I realized there was a very clear winner…
The C.Crane CCRadio3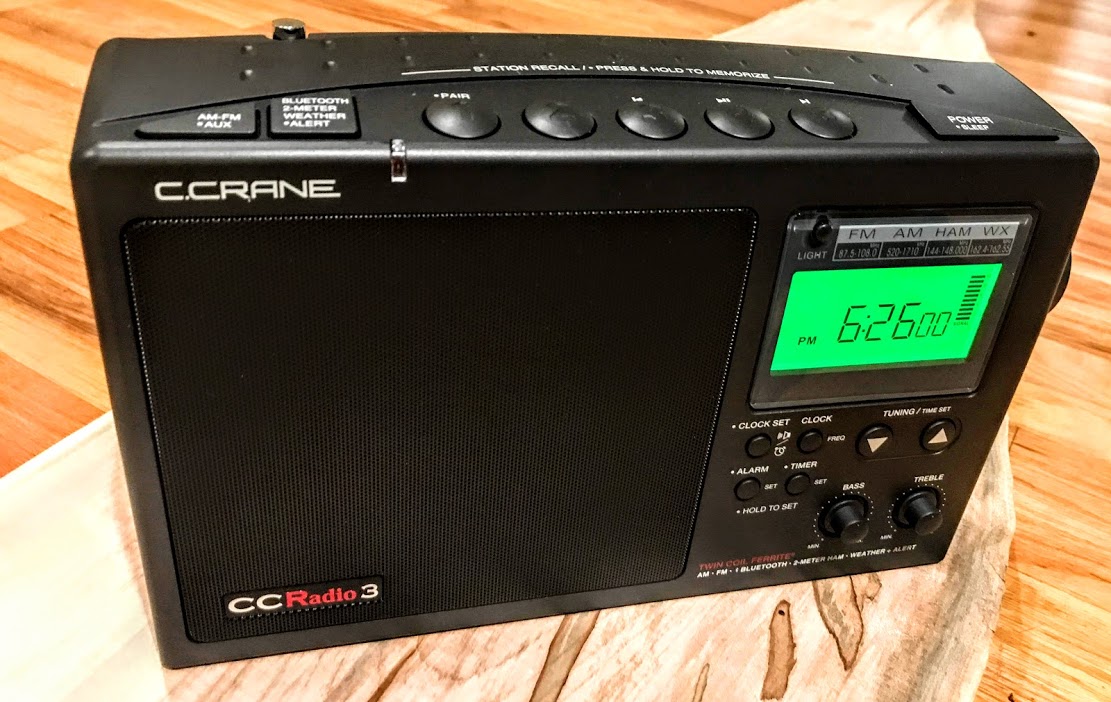 The C.Crane CCRadio3 has taken lead position as my daily driver. I have it turned on most days for as much as 4-5 hours at a time depending on how much I'm at home.
Here's why it has become my daily driver:
Benchmark AM/FM reception: The CCRadio3 grabs a solid lock on my favorite local and regional MW and FM stations. At the end of the day, my favorite news program (Marketplace) is available on a local WCQS and distant WFAE. The CCRadio3 can lock onto both equally well. I've very few portables that can do this. In addition, I use the CCradio3 for casual MW DXing when I'm not using the Panny RF-2200 or my Chuck Rippel-restored SRII.
Audio: The audio from its internal speaker is superb for voice content, but also robust enough for music. I love the dedicated Treble/Bass controls. The audio can be turned up to the point that it can be enjoyed throughout our house.
Bluetooth: I listen to a lot of content online and pipe it via Bluetooth from various devices to the CCRadio3. I stream the CBC, FranceInfo, ABC, and/or the BBC most mornings from my laptop. I use Radio Garden on my iPad to explore a world of local radio. I also stream Apple Music from my Mac Mini to the CCRadio3. When I do workouts on my stationary bike, I'll often listen to both podcasts and music on the CCRadio3 via my iPhone.
Battery life: The battery life on the CCRadio 3 is simply stellar. It takes four D cells which offer up a lot of capacity. There are so few digital display radios today that can quite literally play for a few months on one set of batteries. I invested in a set of EBL D Cells and Charger (this package–affiliate link) and have been super pleased. When in the shack/office, the CCRadio3 is plugged into mains power via the supplied AC adapter. All other times, it runs on rechargeable battery power.
It's ironic, too, because the CCRadio3 doesn't cover shortwave which is, without a doubt, my favorite band. Thing is, now that so many of my staple news sources are difficult to reliably get on shortwave in the mornings (oh how I miss Radio Australia) I turn to FM and online sources for news content. I still listen to the BBCWS, RNZ, RRI, and at least a dozen other news programs on shortwave, but due to my schedule, it's mostly casual listening.
On the go: The Belka-DX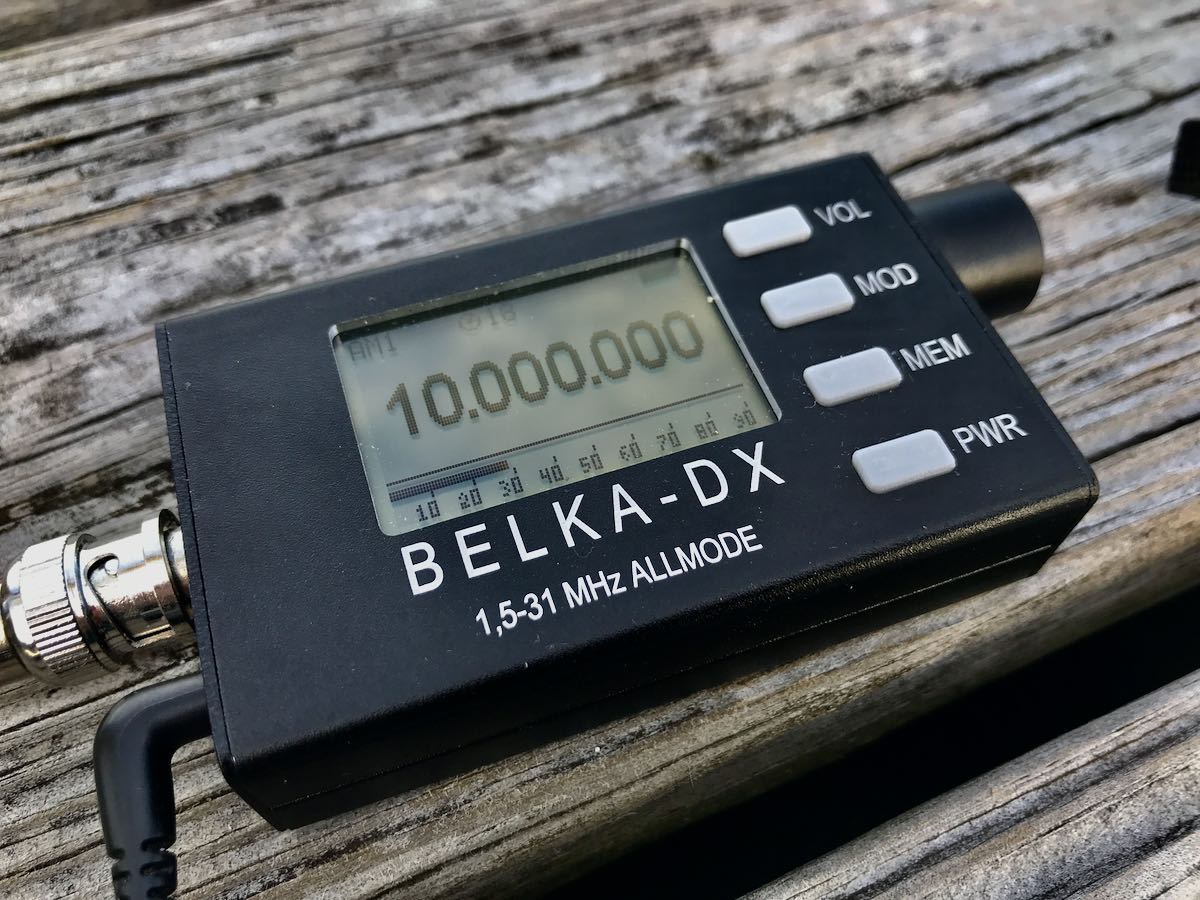 Speaking of shortwave, though, the portable I've used the most this year for SWLing has been the Belka-DX. Besides it being a super-performing DX machine, it's also incredibly compact and portable. I keep it in a small Tom Bihn zippered pouch and it lives in my EDC bag which accompanies me on all errands and travels.
The Belka-DX is so small, I forget it's there. Even some of my smallest compact portables are nearly three times the size of the Belka-DX.
In the field: The Icom IC-705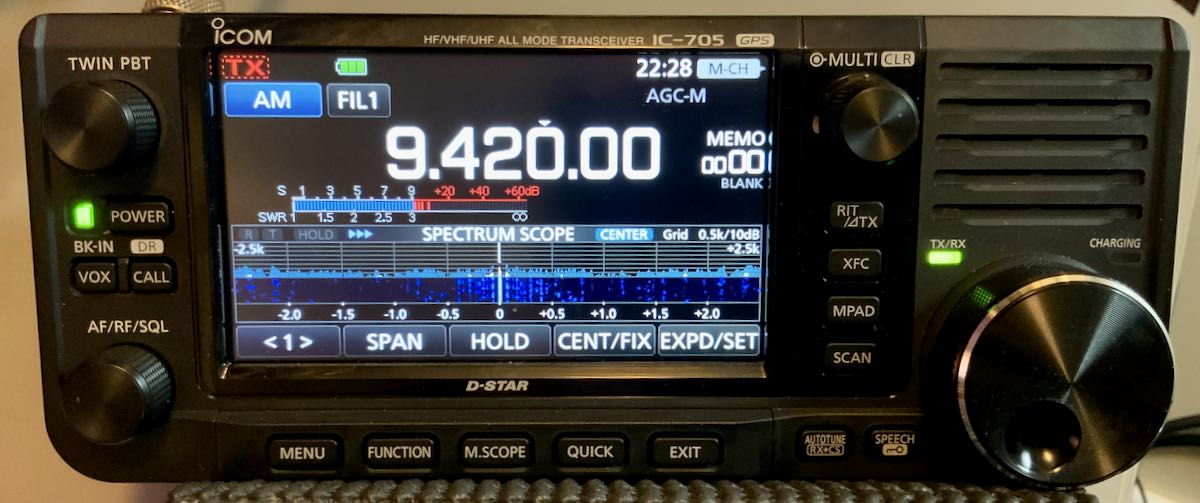 If you follow QRPer.com, you'll no doubt see that I spend a lot of time in the field doing QRP amateur radio activations of summits and parks. As I've pointed out in my review and 13DKA has pointed out in his reviews, the IC-705 is a benchmark shortwave, mediumwave and FM DXing machine. At $1300 US it's pricey for sure, but it offers up a usable spectrum display/waterfall, audio RX controls, customizable filtering, HF/VHF/UHF coverage, and built-in audio recording/playback.
You don't even need a 13.8V power supply with the IC-705 as it'll charge from most any USB source via a Micro USB plug and run in receive for at least 5 hours without needing a recharge. Of course, you could invest in a second, higher-capacity battery pack and get even more battery life.
When I take the IC-705 on a field activation, I'll often do a little listening after I finish the ham radio portion of my outing. It's a great reminder of how important it is to take your radios to the field these days. With no QRM, it's amazing what you can receive.
How about you?
What radios did you use the most in 2021? Please comment!