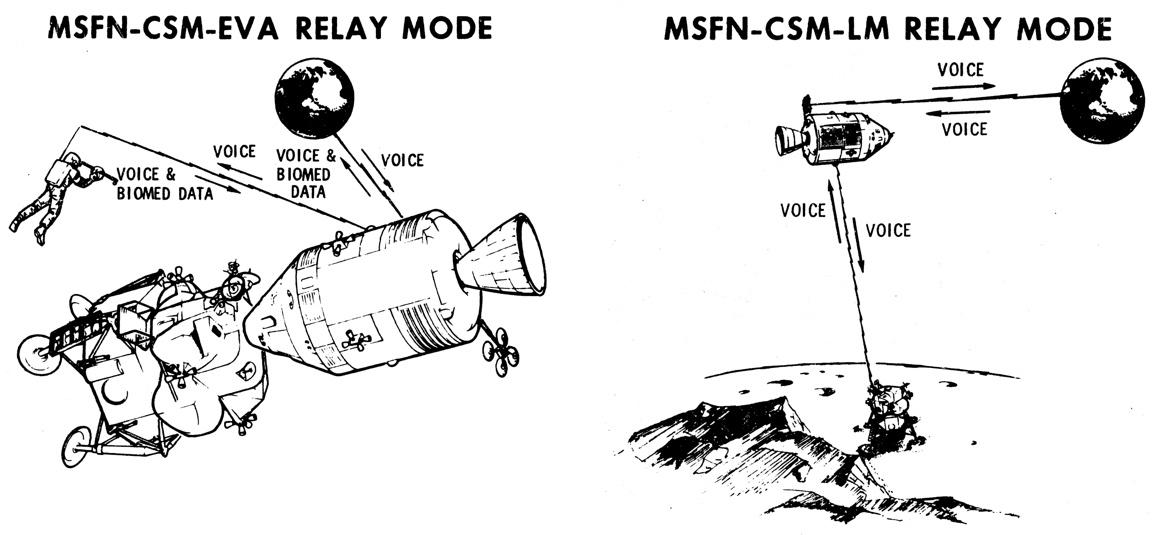 Many thanks to SWLing Post contributor, Paul, who shares the following post from Ken Shirriffs' Blog:
How did NASA communicate with the Apollo astronauts, hundreds of thousands of miles from Earth? The premodulation processor1 (below) was the heart of the communication system onboard the Apollo spacecraft. Its multiple functions included an FM radio for communication to the astronauts, implemented by the Voice Detector, the module second from the top. In this blog post, I reverse-engineer the circuitry for that module and explain how it worked.
The Apollo communication system was complex and full of redundancy. Most communication took place over a high-frequency radio link that supported audio, telemetry, scientific data, and television images.2 NASA's massive 85-foot dish antennas transmitted signals to the spacecraft at 2106.4 megahertz, an S-band frequency, giving the system the name "Unified S-Band". These radio signals were encoded using phase modulation;3 onboard the spacecraft, a complex box called the transponder received the S-band signal and demodulated it.4
The voice and data signals from Earth were combined through a second layer of modulation: voice was frequency-modulated (FM) onto a 30-kilohertz subcarrier while data was on a 70-kilohertz subcarrier, so the two signals wouldn't conflict.5 One of the tasks of the premodulation processor was to extract the voice and data signals from the transponder's output. These voice signals went to yet another box, the Audio Center Equipment, so the astronauts could hear the messages from the ground. The data signals were decoded by the Up-Data Link, allowing NASA to send commands to the Apollo Guidance Computer, control onboard relays, or set the spacecraft's clock.
Many systems worked together for communication, but I'm focusing on a single module: the voice detector inside the premodulation processor that performed the FM demodulation. [Continue reading the full article…]