Even though I do most of my blogging from a MacBook Air and use a Windows 10 PC in the shack for SDR work, I'm a huge fan of Linux.
Over the past decade, I've used a number of Linux distributions including Puppy Linux, Ubuntu, Linux Mint, and Raspian.
The past few years, I've been doing most of my Linux work with a Raspberry Pi running Raspian. I probably own ten or more Raspberry Pi models; some have one dedicated task (like the Raspberry Pirate, my ADS-B feeder, or one that feeds LiveATC) while others, like the Pi4 4GB models, are serving as primary personal computers for my daughters. I've been trying to up my command line game so I can continue teaching it to my daughters–the Pi has been perfect for this.
Why a mini PC?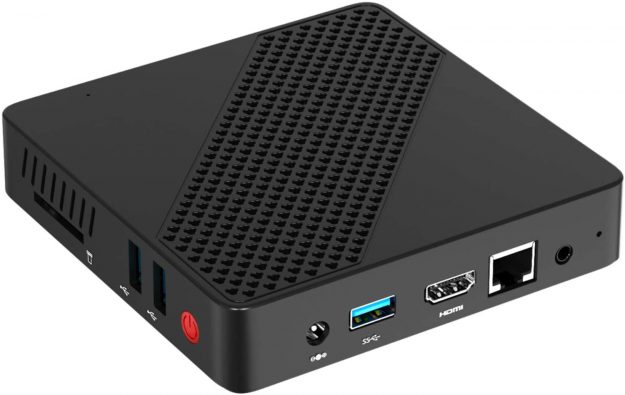 While I love the Raspberry Pi, I would like a dedicated device in the shack that sports more horsepower and a better integrated sound card. I also want something compact.
In the past, I have, of course, resurrected old PCs by installing Linux and I've even turned my primary shack PC into a Windows/Linux dual boot system. I'm not the biggest fan of dual boot, though, because I have run into problems when I needed to do a full re-install of Windows and/or Linux–all of that partition management gets tricky for me. I've even found a few PCs (guessing it's the BIOS) that reject the dual boot loading system.
I simply don't have the desktop real estate for another revived desktop or tower PC.
Spoiled for choice
I like the idea of a Mini PC dedicated to Linux but there are a dizzying array of devices on the market ranging in price from $100-$700. I don't need a lot of horsepower, just enough to run SDR apps, potentially playback spectrum recordings, stream videos, and occasionally manipulate graphics and images. The Pi can do many of these tasks to an extent, but it's not always terribly stable.
I've been tempted by this mini PC because the reviews seem positive (although I don't always trust Amazon reviews) and the price is right at $129.
I've also read positive comments from folks who've loaded Ubuntu on a base version of the Lenovo ThinkCentre M90n IoT.
Of course, I know I can also buy Mini PCs that have Linux pre-loaded and part of the proceeds support development of the distro like the Mintbox Mini pictured at the top of this page. I do like the idea of my purchase directly supporting the distro.
I also like the Intel NUC, but once configured it can be a bit pricey for my purposes. I don't want to exceed $300.
Any recommendations?
If you have any advice, I'm all ears! I'm especially interested in any first-hand experience with a Mini PC model running Linux. Please feel free to comment with your suggestions and links.