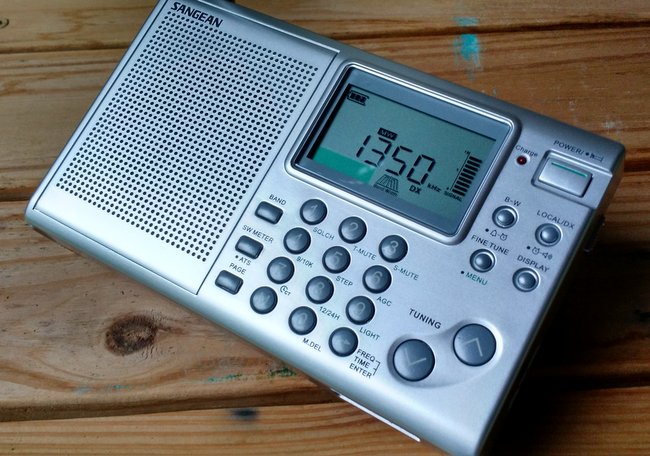 After publishing my initial review of the Sangean ATS-405 on July 25, I contacted Sangean and requested a sample radio for comparison purposes. Back story:  there were some receiver performance issues that I suspected may have been tied to my particular ATS-405 unit. Sangean kindly dispatched another ATS-405 which I received last week. The following is an update to my initial ATS-405 review.
In truth, there were two main reasons I wanted another unit to compare to my initial review radio:
I wanted to see if the new unit showed improved performance–sensitivity, selectivity, and, specifically, noise floor–in comparison with the first review unit tested
I noted strong DSP "birdies" (noises) on 800 and 1600 kHz on the test model, while several of our readers commented that their '405s did not feature birdies
Shortwave sensitivity/selectivity and noise
I noted in my initial review that the initial ATS-405 had an ever-present noise, a sort of low-volume static hiss. The noise floor, while not high, certainly seemed to be higher than other comparable shortwave portables, and was most noticeable when tuned to marginal/weak stations. I suspect many listeners may not notice it unless they compare it with other portables.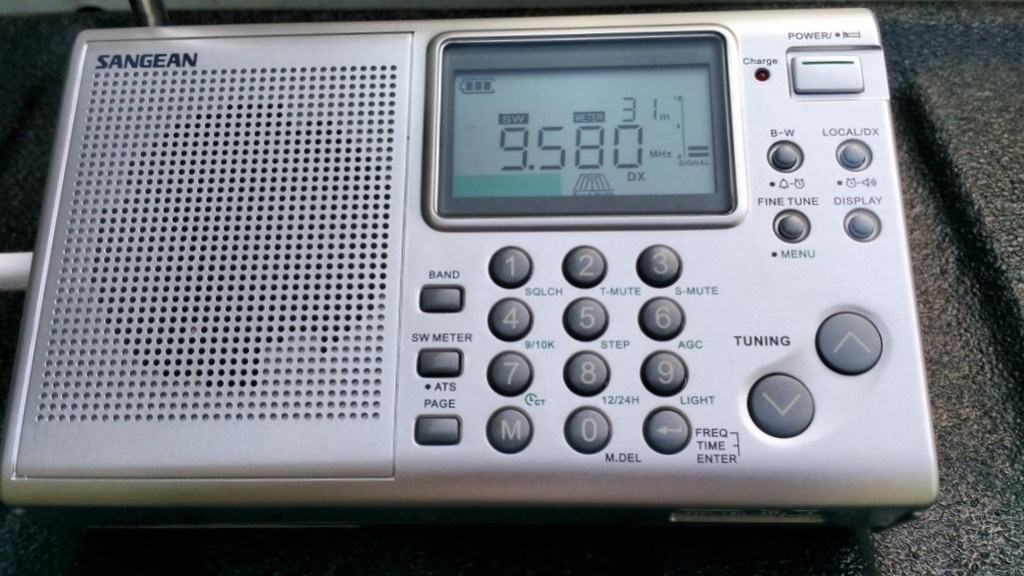 Fortunately, my new review unit's noise floor seems to be slightly lower than that of my initial review unit. [Perhaps this unit's board is better soldered–?] The noise is still there, but can be better mitigated by judiciously using narrow filters and the three-position audio tone control.
I suspect this is a noise somewhere in the audio amplification chain, because I find it less noticeable with headphones, and more pronounced via the ATS-405's internal speaker.
In terms of sensitivity and selectivity on the shortwave bands, I believe my new unit is identical to that of the initial review unit. That is to say, the ATS-405 is not an especially  sensitive shortwave receiver, but fairly average, and thus will fit the bill for most but not for the discriminating weak-signal hunter.  Frankly, even my $46 Tecsun PL-310ET does a better job of pulling in weak stations.
I've tried tinkering with the AGC settings and soft mute–very cool features!–in an attempt to improve sensitivity, but alas, these only help the quality and stability of the received signal.
Birdies
Immediately after opening the box of the new ATS-405 sample, I popped in a fresh set of AA batteries and tuned the Sangean to 1600 kHz AM. [If you read my initial review, I noted a strong DSP birdie on 1600 and (to a lesser degree) on 800 kHz].
At first listen, I was happy to note that the new unit lacks the wild DSP noise that overwhelmed my favorite local station on 1600 kHz.
As I listened more carefully, though, I did note a metronomic "chick" sound that was also present but partially buried in the noise on my initial ATS-405.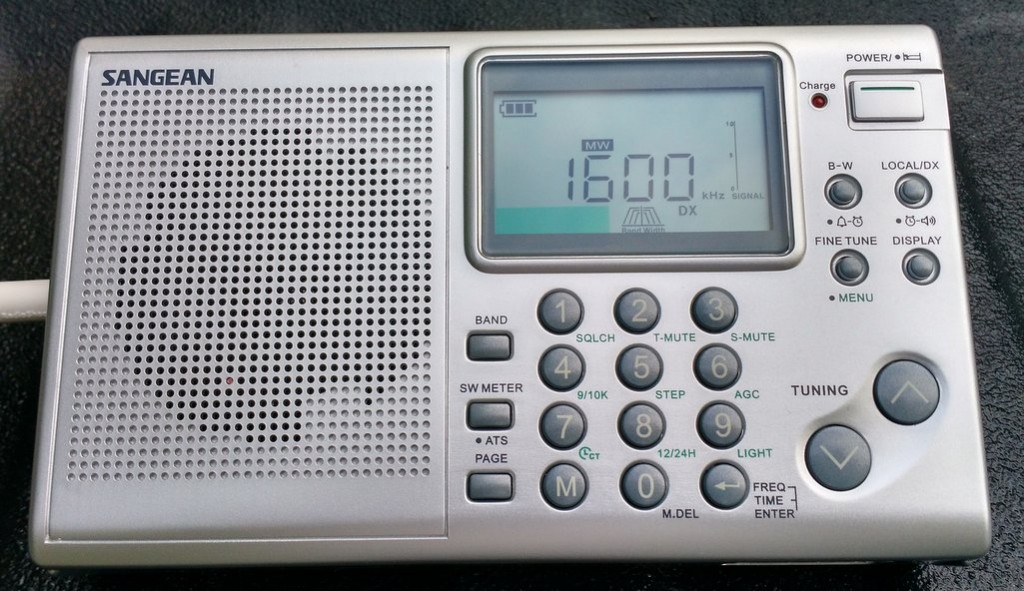 Below, I've embedded audio comparing the two receivers:
Initial review unit:
New review unit:
Listening to these samples, I realize I may have had the filter set to the middle position on the first sample and the wide setting on the second (hence, the brighter tone).
To further demonstrate the difference between the two, I made this short video; I start with my initial review unit, then switch to the new review unit provided by Sangean:
Note that this was recorded at least 100 feet from my house on the tailgate of my pickup truck. DSP birdies on 800 kHz sounded very much like the 1600 kHz sample, save the noise level on the latter is slightly lower and there are no broadcast stations in the background.
None of my other portables have digital noises or birdies on 800 and 1600 kHz.
So, the bad news:  I do still hear a noticeable (and slightly annoying) internally-generated noise on the new review unit. The good news: it isn't as objectionable as that on my initial review unit.
Summary
In short: I stand by my initial review of the Sangean ATS-405.
While the new '405 review sample seems to perform better than the initial '405 sample, I find the discrepancy somewhat marginal, especially since I spend the bulk of my time on the shortwave and mediumwave bands.
I'm not a fan of production runs where units vary so greatly from one to another, making accurate testing difficult. Therefore it's quite possible you might receive a unit that performs better than those I tested…but unfortunately, the opposite is also true.
So, if you're a Sangean fan, if you don't mind the birdies on mediumwave, and if you mostly listen to strong shortwave stations, you may entertain purchasing an ATS-405. The keypad layout is almost identical to previous Sangean models.
To be clear, of course, this radio's negatives above have been viewed under a microscope; the ATS-405 is not a "bad" receiver, it's just not that exceptional. Other than the added mute/AGC/squelch features, when compared to its predecessors, it's really not a better iteration.
In conclusion?  For the $90 US price, I believe there are better receivers out there–such as the Tecsun PL-600 (which, as a bonus, has USB/LSB reception–and saves you $10, to boot).