This unusual Ebay posting is one of the most interesting I've seen in a long time: a genuine, new spy radio transceiver!
Given its rarity and new condition, the $1,900 asking price seems reasonable to me for what a well-heeled collector might pay. The set is referred to as a "FIELD SET MODEL FS-5000 SHORT WAVE SPY RADIO".
It comes as one carton containing four larger fiber boxes and three smaller fiber boxes, all containing modules that are combined to make a digital radio transceiver system.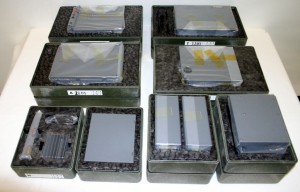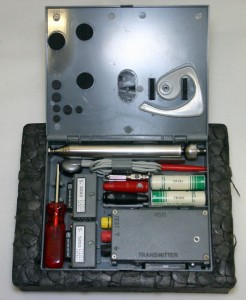 The seller says that the equipment (complete with shock-absorbing transit containers) bears no manufacturer marks, but was likely made in Germany by Telefunken. The various components look to be extremely well made, and the seller has provided these links for more information on this unusual 0.5-30 MHz transceiver:
http://www.cryptomuseum.com/spy/fs5000/index.htm
http://www.tuberadio.com/robinson/Information/FS5000/
http://www.prc68.com/I/FS5000.shtml
Be sure to check out all the clear photos provided by the Ebay seller of this fascinating transceiver.
Guy Atkins is a Sr. Graphic Designer for T-Mobile and lives near Seattle, Washington.  He's a regular contributor to the SWLing Post.