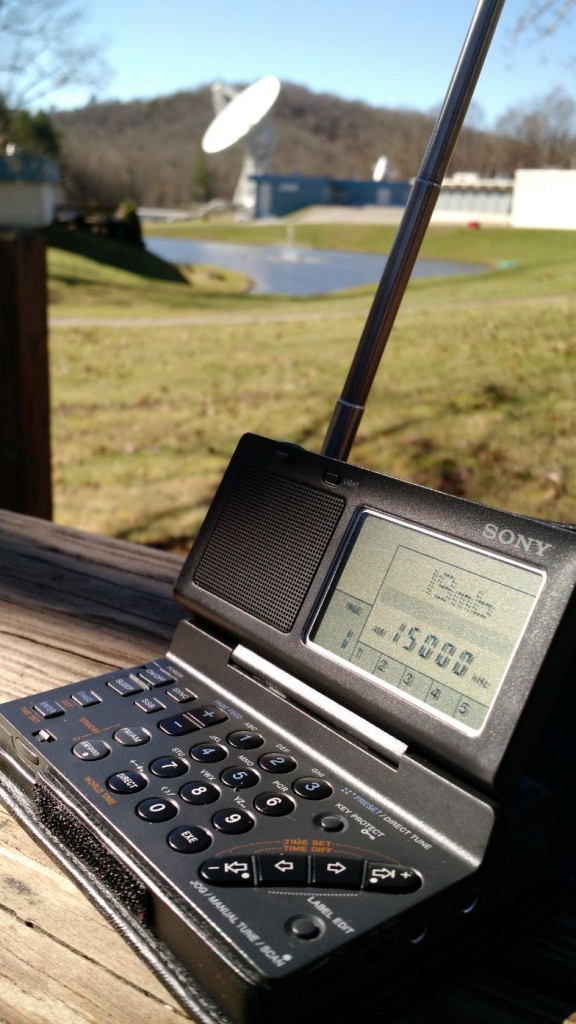 On Thursday I attended an event at the Pisgah Astronomical Research Institute (PARI)–location of the 2015 SWLing Post DXPedition.
During a break, I had a couple of free hours, so I reached in my messenger bag and pulled out the Sony ICF-SW100: a radio that has quickly surpassed all others as my favorite EDC (everyday carry) radio. It has so many useful features in such a small package!
Radio astronomy observatories are ideal locations for impromptu shortwave radio listening as there is little to no radio interference/noise present.
While the weather on Thursday was gorgeous, HF band conditions were…well…miserable. There was very little to hear other than China Radio International, Radio Havana Cuba and a few other blow torch broadcasters.
Still, time signal station WWV was on my mind since I had just purchased Myke's new edition of At The Tone and have been reading your excellent comments with early memories of listening to WWV and WWVH.
I tuned to 15 MHz and, of course, there was reliable WWV in Fort Collins, Colorado on frequency. Though WWV's signal was relatively strong (despite the conditions) I turned on the SW100's sync detector because fading (QSB) was pronounced at times.
Here's a short video of the ICF-SW100 on a picnic table in the middle of the PARI campus. That's PARI's 26 (meter) West telescope in the background: