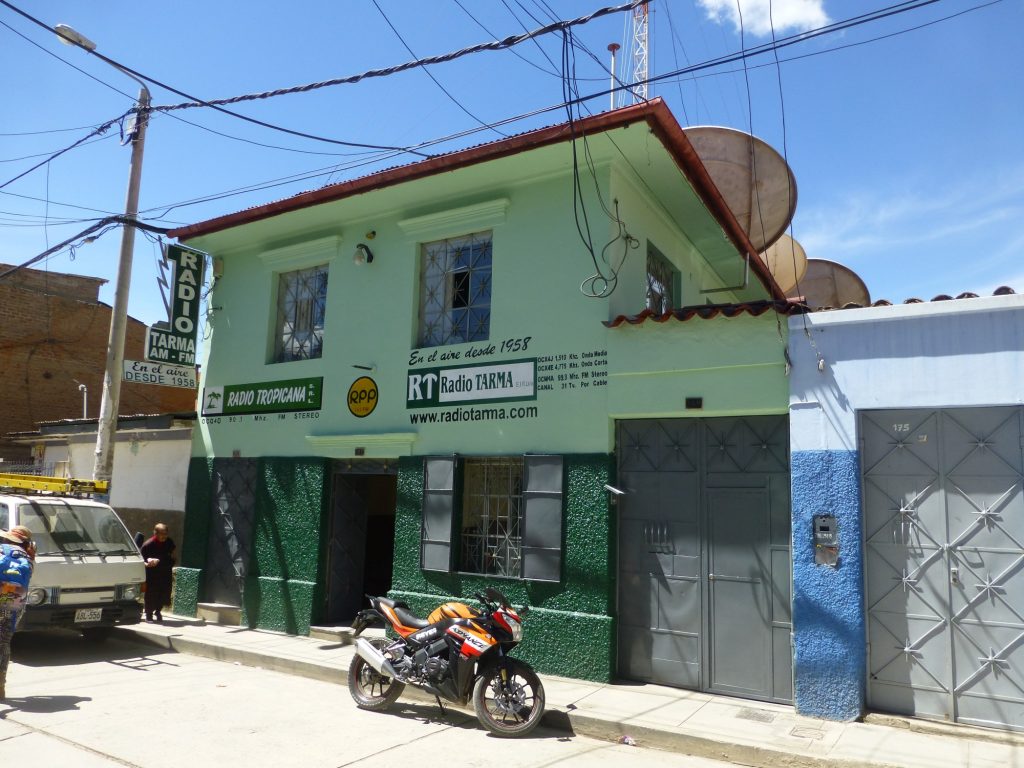 Many thanks to SWLing Post contributor, Don Moore–author of  Following Ghosts in Northern Peru–for the following guest post:
---
A Visit To Radio Tarma
By Don Moore
(Note: A more extensive set of photos from Radio Tarma, and other Peruvian radio stations, can be found at Don's website. The website also contains details of the Peruvian travelogue book he recently wrote and published.)
Shortwave stations in South America are few and far-between these days, but those of us who have been tuning the bands for a few decades remember the days when the tropical bands were filled with Latin American broadcasters from dozens of scattered mountain and jungle towns. One such place was Tarma, a picturesque but chilly city of about 50,000 nestled in a narrow valley in the central Peruvian Andes at 3,000 meters above sea level. Tarma has been an important commercial center since colonial times and archaeological findings indicate that the region was heavily populated long before the Spanish came. Today it sits at the junction of two major trade routes, so it continues to be a bustling place.
While wandering around central Peru in April 2018, I made a point of stopping in Tarma so as to visit the town's namesake broadcaster, Radio Tarma, one of the few Peruvian stations still on shortwave. Radio Tarma's frequency of 4775 kHz has been a fixture on the sixty meter band for over four decades. What I didn't know was that this would turn out to be the best of the over one hundred Latin American station visits that I have made in my travels.
When I first stopped by on Monday afternoon, everyone was busy and no one had time for a visiting gringo. By chance I had arrived on the station's sixtieth anniversary and they were preparing for a big celebration that night. I was invited to come back in the evening when there would be a huge street party with live music. That evening I got to talk to several members of the station staff and was introduced to owner-manager Mario Monterverde, who invited me to come back for a tour in two days after the celebrations and ceremonies were over.
Radio Tarma Owner/Manager Mario Monteverde
The reason for Radio Tarma's continued presence on the sixty meter band is Mario Monteverde, Radio Tarma's energetic owner-manager.
Running radio stations is his passion, and that includes reaching distant listeners on shortwave. Don Mario remembers what shortwave used to be like in Peru and he can rattle off station names and frequencies from past and present as good as any serious DXer. We spend a lot of time talking about stations I used to hear and the ones that I visited in my 1985 trip to Peru. We mostly talk in Spanish, although he speaks English well. He studied in Lima and later in the United States for several months. In the 1980s, he lived in San Francisco for a year while working as a DJ at a Spanish language FM station.
Don Mario thinks that it's unfortunate that there is so little use of shortwave in Peru today, but other radio station owners think he is crazy to continue to use shortwave. The only listeners to shortwave in Peru are peasants in jungle settlements and remote mountain valleys. That may be a suitable audience for a religious broadcaster, but these listeners have no value to commercial stations, such as Radio Tarma, as they are mostly outside the money economy and of no interest to advertisers. But Don Mario doesn't care and so Radio Tarma continues to broadcast on shortwave several hours every morning and evening for whoever might happen to tune in.
And, Radio Tarma can afford to broadcast as it sees fit. Don Mario's Grupo Monteverde is one of the most professionally run and profitable communications companies that I have visited in Peru. In addition to Radio Tarma (on MW, FM, and SW), the company operates two television stations in Tarma, the local cable network, the local FM repeater for Radio Programas del Peru (Peru's radio news network), and Radio Tropicana, a chain of FM music stations in Tarma and three nearby towns.
(Click here to open video in separate window.)
Founded in 1958 by Mario's father, Radio Tarma was the first radio station in this city. Using two homemade 500 watt transmitters, the station initially broadcast on both medium wave and 6045 kHz shortwave, but the shortwave went off the air after about a year. Then in 1978, Mario's father dusted off the old shortwave transmitter and applied for a new license. He was granted 4770 kHz, but that was soon changed to 4775 kHz, where Radio Tarma has been ever since. In the past four decades, Radio Tarma has been logged by thousands of DXers all over the world and, although it's hard to believe, when I visited Tarma in April 2018 they were still using that original 500 watt transmitter that Mario's father built sixty years before. However, a new one-thousand watt solid state transmitter was currently in Lima being tested by the Ministry of Transport and Communications. It should be on the air by now.
Don Mario starts by giving me a tour of the station building and its well-equipped offices and studios. He shows me the closet where the transmitter for the studio-to-transmitter-site link is and then takes me  upstairs to the record library. Radio Tarma has one of the largest and oldest collections of vinyl records in the Peruvian Andes and includes numerous rare recordings. Many of the disks are EPs, or extended-play, which was once a very common format in the Andes. These records are the size of a 45 but recorded at 33 rpm so that there are two songs on each side. Don Mario keeps the records for their value but they aren't used on the air anymore as Radio Tarma and its sister stations are all fully computerized. When there's time they work on digitizing the better historical recordings from their collection.
Radio Tarma mountaintop transmitter site
After seeing the studio, we get in Don Mario's four-wheel drive SUV for the trip up a steep and winding dirt road that leads to the mountaintop transmitter site. For most of the station's history, Radio Tarma broadcast from a field on the north side of town.
Then in 2010 Don Mario decided to modernize by buying a modern 3000 watt solid-state transmitter for the medium wave frequency and by building a modern transmitter facility on a ridge overlooking town. The new site, which was inaugurated in 2012, is at 3,600 meters elevation (over 600 meters higher than Tarma) and located about 1.5 kilometers south of the old site. (If you've logged Radio Tarma both before and after 2012, I think it's fair to count these as two different transmitter sites.)
The transmitters and antennas for all the Grupo Monteverde stations in Tarma (MW, FM, SW, and TV) are housed in the gray fortress-like cement building covered with a jungle of antennas and satellite dishes, for both receiving and transmitting. All of Peru's main cellular services have towers nearby, as do several other FM and TV stations in Tarma, but Radio Tarma has the best location, right at the end of the ridge overlooking all of the town. For shortwave, Radio Tarma uses a dipole antenna strung between two masts.
The transmitters and other technical equipment are all housed in a large room that takes up most of the first floor of the building. Upstairs there is a small apartment, complete with a living room and kitchen, for the technician who lives here plus another small apartment where Don Mario comes to stay when he feels like escaping to the quiet mountaintop for a night or two.
Don Mario takes pride in showing me the original 500 watt medium wave and shortwave transmitters that his father made. Normally the shortwave service is shut down for several hours in midday when the frequency won't propagate, but he turns on the transmitter so that I can see the tubes come to life. The three medium wave transmitters – the original 500 watt one, its 1978 1000 watt replacement, and the new 300 watt solid-state one – are lined up against the wall adjacent to the shortwave transmitter.
Don Mario tells me that the two older medium wave transmitters are regularly maintained so that they could be used at a moment's notice if needed. He then proceeds to show me that he means just what he says, and shuts down the solid-state transmitter. Once that's down, he powers up the original Radio Tarma MW transmitter that his father made, and we watch the old tubes light up. Then when it's operating fully, he turns his father's transmitter off and switches on the 1978 transmitter for a few minutes before finally returning the signal to full power on the new transmitter. One wonders just what his listeners thought was happening with all this on-and-off transmitting on a beautiful sunny day barely a cloud in the sky!
Radio Tarma and the Grupo Monteverde are a model operation for radio in smaller cities in the Peruvian Andes. Getting to know both the city and the station was one of the highlights of a seven-month journey through the northern Andes in South America.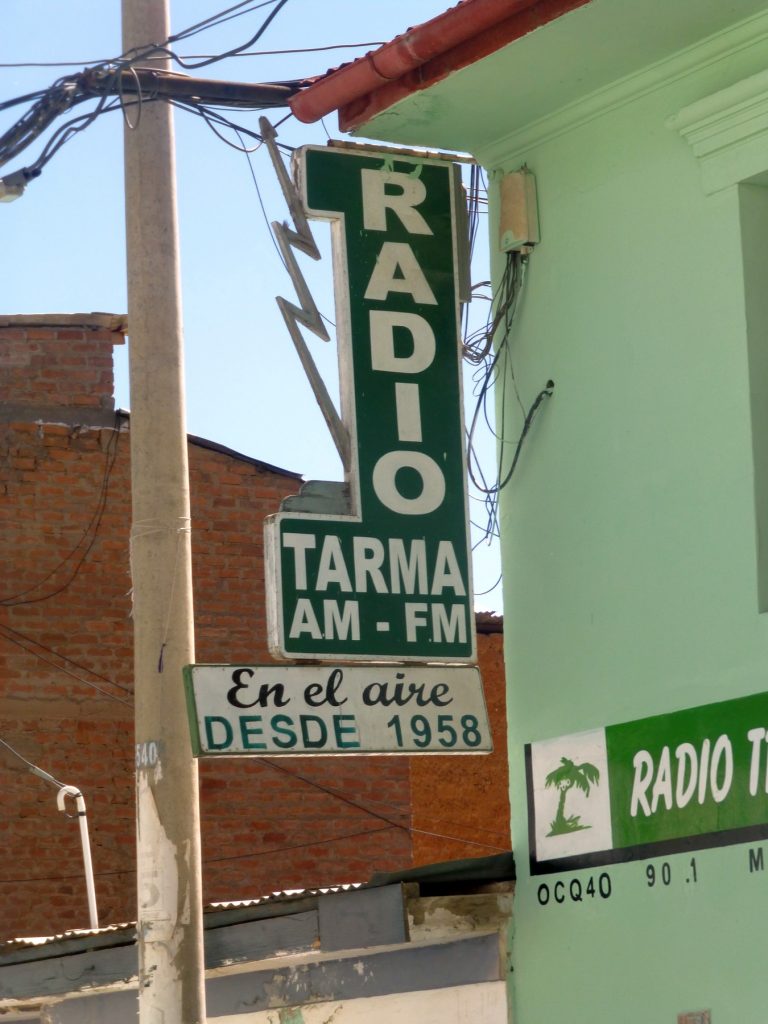 Don Mario's father built the foundation and Don Mario turned Radio Tarma and its sister stations into the small but professional media group that they are. He's now in his mid-sixties and plans to run the radio operations for several more years. But he is beginning to think of the future. He never married and has no children, his siblings live in Spain and Lima, and all his nieces and nephews are in the United States. It's not likely that anyone in the family would return to Tarma to run a radio station. He is investigating options of how to set up the corporation so that Radio Tarma and its sister stations would continue as locally-owned and operated radio broadcasters. Whatever he works out, let's hope it includes a commitment to continue broadcasting on shortwave for many years to come!
If shortwave conditions aren't the best, you can always listen to Radio Tarma on the web.
---
Wow–Don, this was amazing. Thank you for taking us on a tour of the amazing Radio Tarma! What a special station to encounter during your travels!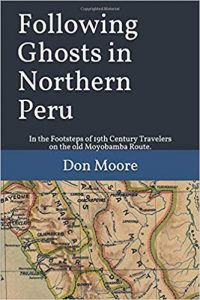 Post Readers: If you like the photos Don included in this guest post, you'll enjoy browsing even more on Don's Radio Tarma page. 
Check out other radio travel photos' on Don's Peru DX Photos Page.
Don's new book, Following Ghosts in Northern Peru: In the Footsteps of 19th Century Travelers on the old Moyobamba Route is available in Kindle and print formats via Amazon.
Purchasing through this Amazon link supports both the author and the SWLing Post.