Yesterday, my family packed a picnic lunch and took a drive through Madison County, North Carolina. It was an impromptu trip. Weather was forecast to be pretty miserable that afternoon, but we took the risk because we all wanted to get out of the house for a bit.
Although that morning I had no intention of performing a Parks On The Air (POTA) activation, my family was supportive of fitting in a little radio-activity, so I jumped on the opportunity!
A quick glance at the POTA map and I determined that the Sandy Mush State Game Land (K-6949) was on our travel route. Better yet, the timing worked out to be ideal for a lunch picnic and before most of the rain would move into the area.
Ready for radio adventure
I had no time to prepare, but that didn't matter because I always have a radio kit packed, fully-charged, and ready for the field.
My Red Oxx Micro Manager EDC pack (mine is an early version without pleated side pockets) holds an Elecraft KX2 field and antenna kit with room to spare (see photo at top of page).
This 20 year old blue stuff sack is dedicated to antenna-hanging. It holds a reel of fishing line and a weight that I use to hang my end-fed antenna in a tree or on my Jackite telescoping fiberglass pole. The sack also accommodates a 10′ coax cable.
The Elecraft KX2 transceiver, EFT Trail-Friendly Antenna, hand mic, CW paddles, C.Crane earphones, and wide variety of connectors and cables all fit in this padded Lowe Pro pack: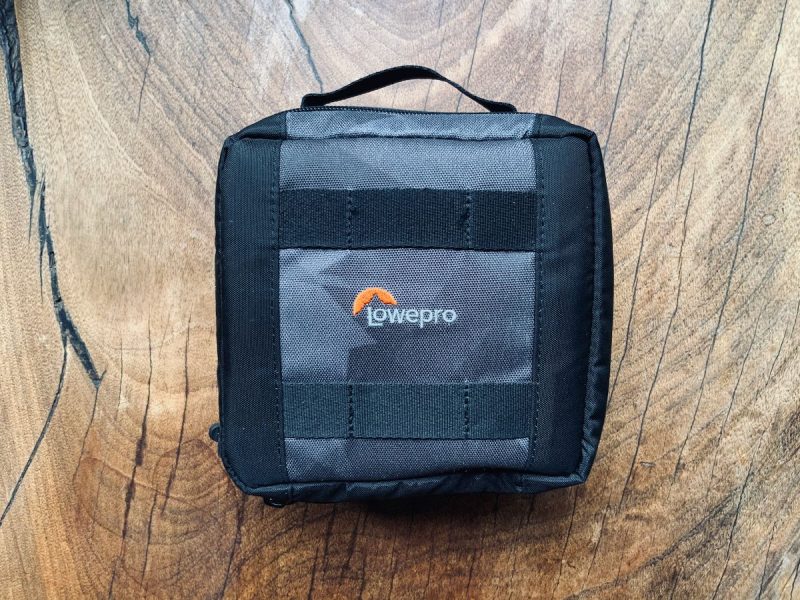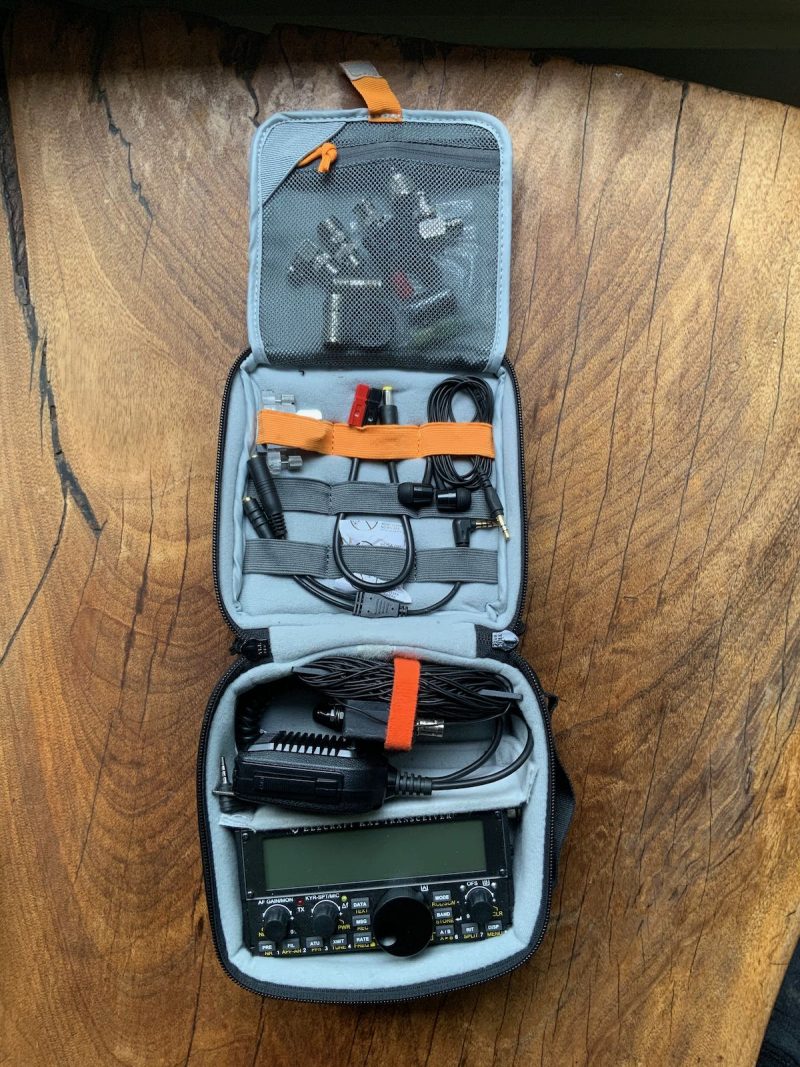 The advantage to having a simple, organized radio kit at the ready is that everything inside has its own dedicated space, so there's no digging or hunting for items when I'm ready to set up and get on the air.
This level of organization also makes it easy to visually inspect the kit–missing items stand out.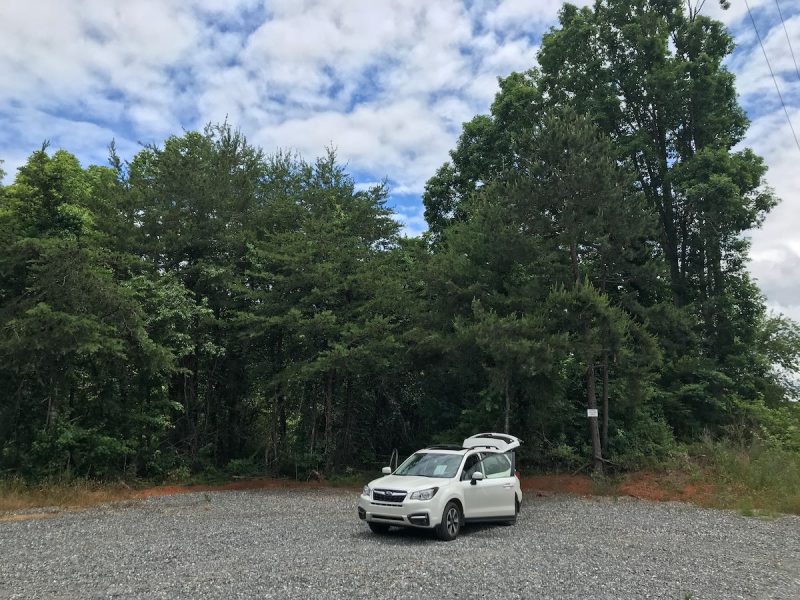 Yesterday I parked our car at one of the Sandy Mush Game Land parking areas, deployed my field antenna, and was on the air in a matter of seven minutes at the most.
We planned for heavy rain showers, so I fed the antenna line through the back of my car so that I could operate from the passenger seat up front.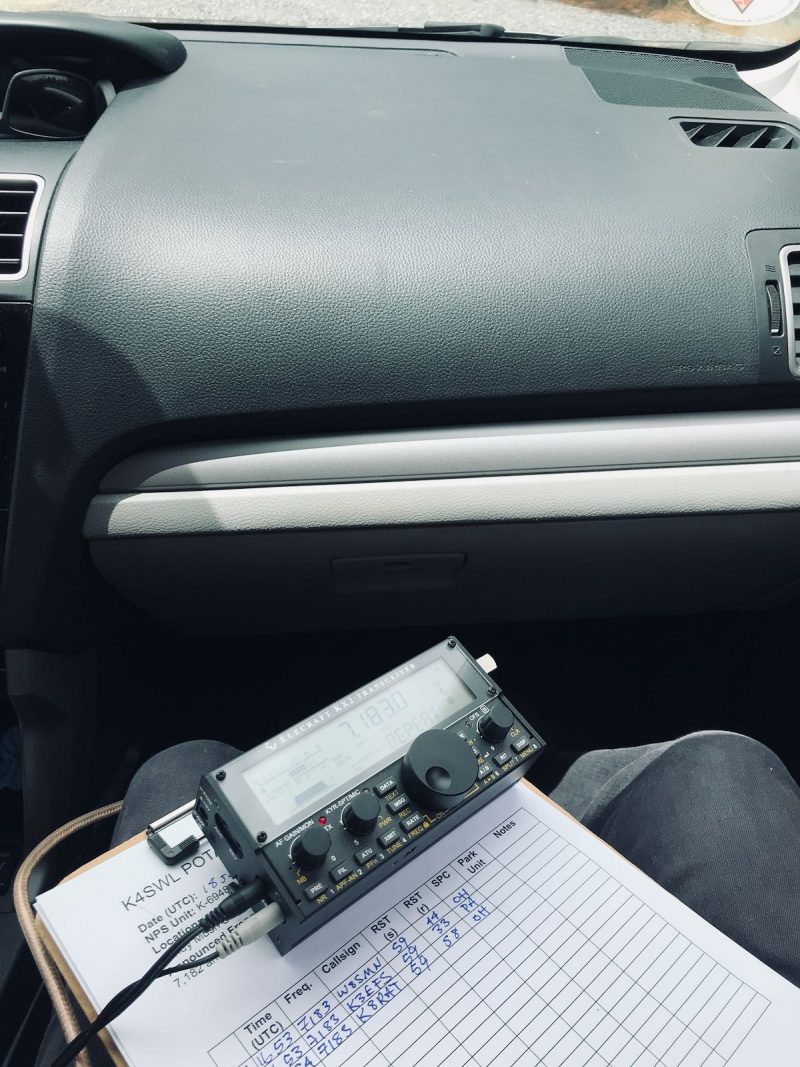 I also brought my Heil Proset – K2 Boom Headset which not only produces better transmitted audio than the KX2 hand mic, but it frees up my hands to log stations with ease. This is especially important when operating in the front seat of a car!
The great thing about the KX2 is that it's so compact, it can sit on my clipboard as I operate the radio (although typically I have an elastic strap securing it better). Since all of the KX2 controls are top-mounted, it makes operation a breeze even in winter weather while wearing gloves.

Since I routinely use the KX2 for shortwave radio broadcast listening as well, I know I always have a radio "locked and loaded" and ready to hit the air. My 40/20/10 meter band end-fed antenna works well for the broadcast bands, as long as there is no strong local radio interference (RFI). When I'm faced with noisy conditions, I pack a mag loop antenna as well.
What's in your radio go-kit?
Having a radio kit stocked and ready to go on a moment's notice gives me a great sense of security, and not just for recreational ham and shortwave radio listening reasons.
Sometimes I travel in remote areas by car where I'm more than an hour away from the nearest town and where there is no mobile phone coverage.
If my car breaks down, I know I can always deploy my radio kit and get help from the ham radio community in a pinch. Herein lies the power of HF radio!
If you haven't built a radio go-kit, I'd highly recommend doing so. Although I'm a bit of a pack geek, keep in mind that you don't need to purchase special packs or bags for the job. Use what you already have first.
I'm plotting a detailed post about the anatomy of an HF radio field kit. In the meantime, I'm very curious how many of you in the SWLing Post community also have a radio kit at the ready–one based on a transceiver or receiver.  Please comment!
Better yet, feel free to send me details and photos about your kit and I'll share them here on the Post!
---
Do you enjoy the SWLing Post?
Please consider supporting us via Patreon or our Coffee Fund!
Your support makes articles like this one possible. Thank you!