Many thanks to SWLing Post contributor, Dan Robinson, who shares the following guest post:
---
Revisiting the XHDATA: What Sangean Should Have Learned from the D-808
by Dan Robinson
Recent additions to the shortwave portable receiver market have been quite impressive, especially considering the continuing decline in the use of shortwave as a transmission method by broadcasters.
In what could be the final models from Tecsun, we saw the PL-330, PL-990x and H-501x all of which bring impressive features and capabilities to the game.  Sangean finally introduced its upgraded ATS-909×2 including an early firmware upgrade that was supposed to correct some issues with this receiver.
As I have observed in some recent reviews, the very fact that the listening community still sees any new receivers is reason for gratitude, though we also have opportunities to acquire numerous classic receivers and can still do an excellent job in today's listening environment.
One receiver that emerged a few years ago and which took the listening hobby by storm was the XHDATA D-808.  Numerous reviews are online, including ones here on the SWLing Post, and excellent reviews by Gilles Letourneau here and here.
The 808 was and still is compared to the CCrane Skywave SSB, a much smaller and compact receiver.  Unfortunately, in my experience both suffer from soft muting.
I obtained a D-808 shortly after it appeared based on early positive reviews.  I used it once, at the beach in Florida where reception conditions were superior – comparing it to some older portables in my collection such as the SONY ICF-SW07, ICF-SW55, and the Panasonic RF-B65.
I was impressed with the sensitivity of the 808, large speaker, and inclusion of AIR band, though I noticed some digital artifacts and agree with negatives such as slight soft muting and chuffing, and slowness of the processor.
I boxed the D-808 up and stored it away where it sat until recently when I took it back out after my experience using Sangean's ATS-909×2 – thus the title of this brief commentary.
Sangean made some basic decisions with the 909×2.  Many of them are quite positive over the old 909x.  For many users the 909×2 has more than enough features to justify the higher price of the receiver.
I came to a different conclusion after returning my ATS-909×2, and I started thinking about how the D-808 could have informed engineers at Sangean as they considered which features to put in the 909×2.  To what extent Sangean designers looked at various other portables, including the D-808, we will probably never know.
D-808 DEMONSTRATES IMPORTANCE AND IMPACT OF BANDWIDTH FILTER CAPABILITY IN SSB
AM bandwidth control on the ATS-909×2 is quite nice.  However, what leaps out is the absence of multi-bandwidth capability in SSB mode.  It's baffling that Sangean seems not to have recognized this as a must-have feature.
Tecsun started providing this on small receivers years ago, and in the PL-880, the excellent though flawed portable that also took the listening world by storm, and in the recent 330, 990x and 501x.
Using the D-808 again after a few years reminded me that this little China-made receiver offers no less than SEVEN bandwidths, in AM mode.  Let me say that again:  SEVEN (7) bandwidths.
You don't find that kind of selectivity capability even in a Drake R8B.  After that, you're getting into continuously variable bandwidth control found in premium DSP receivers.
So, in AM mode you have:  6 kHz, 4 kHz, 3 kHz, 2.5 kHz, 2.0 kHz, 1.8 kHz, and 1.00 kHz
The D-808 also has fine tuning capability.  This is not the same as the Tecsuns which actually enable you to re-calibrate, and with adjustment that remains set for both USB and LSB.  On the D-808 you fine tune to zero beat, but have to repeat the correction  for LSB and USB on the frequency you're on – it's a bit more twiddly, but on my 808 the fine tuning is nonetheless very smooth.
Nevertheless, combined with SIX bandwidth options when in SSB, the fine tuning option on the 808 is a superb feature, not to mention that on my particular D-808 there is little to no "warbling" when carrying out the fine tune operation.
So, in SSB on on the D-808 you have:  4.0 kHz, 3.0 kHz, 2.2 kHz, 1.2 kHz, 1.0 kHz, and an amazing .5 kHz !  Imagine that:   .5 kHz
I usually remember stuff like this, but when I first tried the D-808 in Florida back in 2018 I was more focused on assessing sensitivity, audio, and issues such as its pretty slow DSP response when changing modes.
Video Demonstration of D-808 bandwidth capability in AM and SSB modes:
So, now you have to pick me up off the floor as I re-visit the D-808 and realize what an amazingly capable little radio it really is – again, see the excellent reviews by Gilles in which he pays a lot of attention to this fact.
Additional years ago, I used receivers such as SONY SW-55s and Panasonic RF-B65s in ocean side DXing.  These are fine receivers, but the 55 is limited to two bandwidths, NARROW and WIDE – similar to the SONY 2010 and SW-77, both of which also had effective synchronous detection.
One of my best DX catches at that time was Radio Rwanda on 6,055 kHz just before it's sign off in the late afternoon eastern timed.  Using a Panasonic RF-B65 which had NO bandwidth options, I was able to hear and record a full sign off and ID.
However, had a D-808 existed at that time this would have been much easier because of the multiple bandwidths in both AM and SSB.  I imagine a SONY ICF-SW7600GR would have done a good job as well, but it too does not have the multiple bandwidth options that a D-808 has.
These days, with the number of stations on the air reduced even further, examples like this may be fewer and farther between.  But one has to observe that for AMATEUR radio listening, the amazing bandwidth capability of a D-808 really sets it apart from the pack.
Am I glad I re-discovered the D-808?  You bet.  It was on my list of TO SELL receivers.  Now, it has a reprieve and is firmly back on my keeper list.
I have to think that it is highly unlikely that there will be a new version of the D-808, unless someone out there has heard something in the receiver rumor mill that I have not.  Perhaps the folks at XHDATA/RadioWOW will take this hint.
If XHDATA were to re-design the 808, the most improvements one would hope for are obvious:  a newer and faster DSP chip to speed up mode changes, a jack for external recording.  A real long shot would be to hope for the same sort of  calibration adjustment seen in the Tecsun receivers.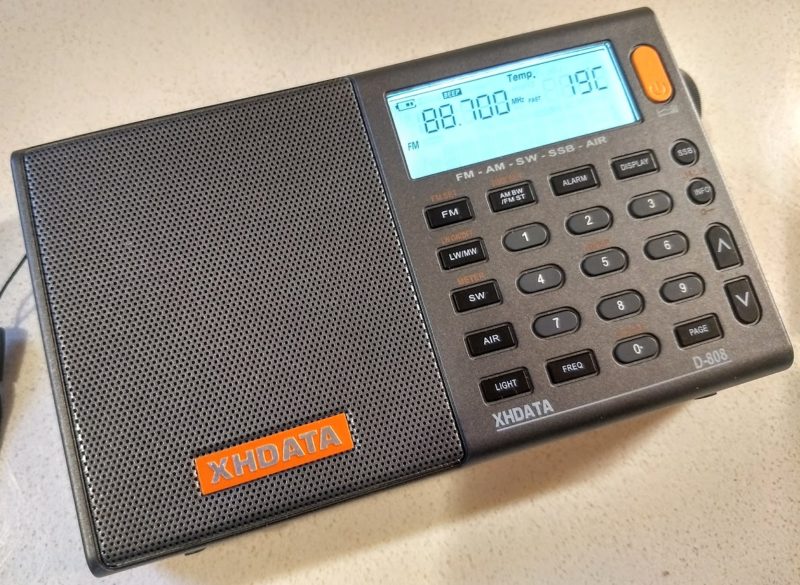 When I really get to dreaming, I think of XHDATA or some other maker designing a portable like the 808 – why not call it the 1000 Super DSP – that actually has continuously adjustable bandwidth control.  This will never happen.
It's doubtful that XHDATA or some other manufacturer will consider competing directly with Tecsun and Sangean.  But the D-808 carved out a place for itself in the small portable category, at an extremely competitive price point.
As this was not an exhaustive retro review of the D-808, I have not gone into the various negatives that every D-808 owner knows to exist.
Lack of a RECORD OUT jack is one.  A D-808x might implement Bluetooth capability as Tecsun has, and MicroSD recording capability (though that gets into issues that appear to have prevented Tecsun from doing the same).  And surely, get rid of the soft muting.
In conclusion, I go back to a question that occurred to me as I used the Sangean ATS-909×2:  what Sangean could or should have learned from the D-808.
Here was a small, well-designed DSP radio that burst upon the scene with outstanding capabilities and which even today is prized among those who own it.  Need I repeat?  SEVEN bandwidths in AM mode, and MW, and SIX in SSB and LW.
Every company that's still manufacturing receivers makes its own decisions. It's as important that we voice our gratitude to Sangean for its latest (possibly last) effort to revise the 909xxxx series as it is to Tecsun for offering no fewer than THREE superb world band receivers.
Sangean has received feedback from me and other reviewers about the x2.  All of that is aimed at helping the company possibly correct shortcomings in the new receiver.  I hope that this commentary is another step in that direction.