Many thanks to SWLing Post contributor, Ivan Cholakov (NO2CW), who writes:
Thomas, not sure if this is something relevant but airlines now state it is OK to use an am/fm radio on board aircraft.

Not much possibilities for AM unfortunately but on a recent flight from Ft Lauderdale to Dallas and Albuquerque I hooked up an SDRPlay receiver to a 3 inch stick antenna and recorded a few stations I was able to pick up along the way.
I did take a few more videos flying between JFK and MIA as well.

I used the following equipment: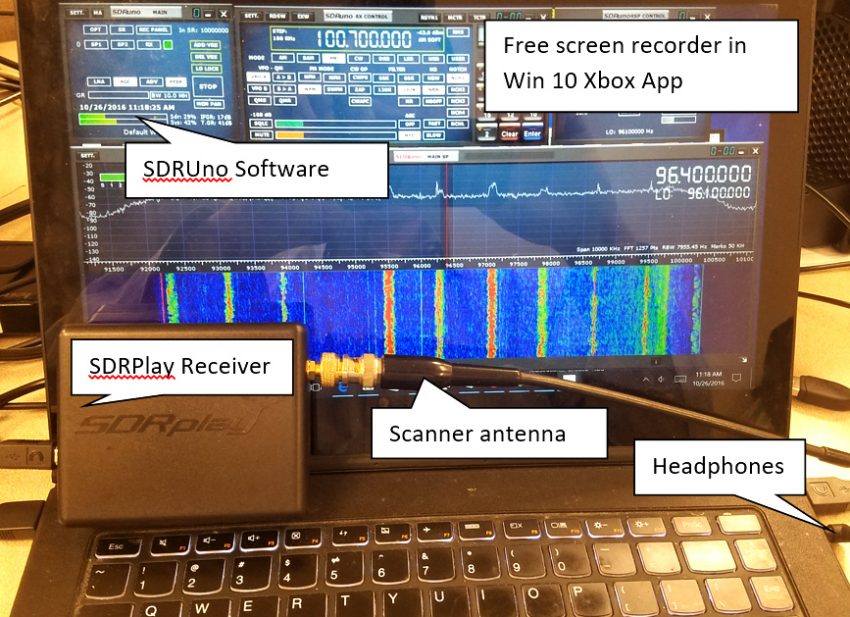 1. 13 inch laptop that I also use for work
2. SDRPlay receiver
3. Old scanner antenna that I happened to have
4. SDRUno software to drive the radio
5. Screen recorder that comes with the Win 10 Xbox app
6. Windows movie maker to stitch the individual clips together and annotate

If needed, the size of the setup above can shrink further if a smaller laptop/tablet is used and an RTL dongle instead of SDRPlay.

You will also need to equip yourself with a window seat. Otherwise, signals are significantly weaker.

I did not place the antenna in a special position, just next to me on the seat where it could not be noticed by other passengers. I uploaded a few more videos from my weekly shuttle flights between MIA an JFK.

Ivan NO2CW
Wow!  Thanks so much, for sharing this, Ivan.
I've always packed a simple FM-capable radio in my one, compact carry on bag and typically try a little FM DX travel while in flight. I was never aware there was a restriction on using an FM receiver in flight, but I've always kept my radio listening very discrete so it's never been a problem.
I love the idea of doing in-flight FM spectrum captures! It would be fun to watch signals on the spectrum shift and change as the flight progresses. Very cool, Ivan!
Post readers: Have you ever made in-flight FM spectrum captures like Ivan?  Please comment!