Over the past four weeks, I've gotten a number of emails from first-time readers of the SWLing Post who've landed here because they're searching for a new radio. While not all these readers are necessarily interested in shortwave, what they are interested in is a good, solid battery-powered radio to receive local news on AM and FM.  A few have specifically asked for a radio with NOAA/Environment Canada weather radio reception. Others are looking for a self-powered or hand crank radio option, while some specifically asked for a shortwave radio to listen to international broadcasts. A common point was that no one wanted to spend a lot, inclining toward something cost-effective––understandable in these uncertain times––but they nonetheless are looking for quality, for a radio that won't fail them, even if their Internet service does.
Radios provide local connection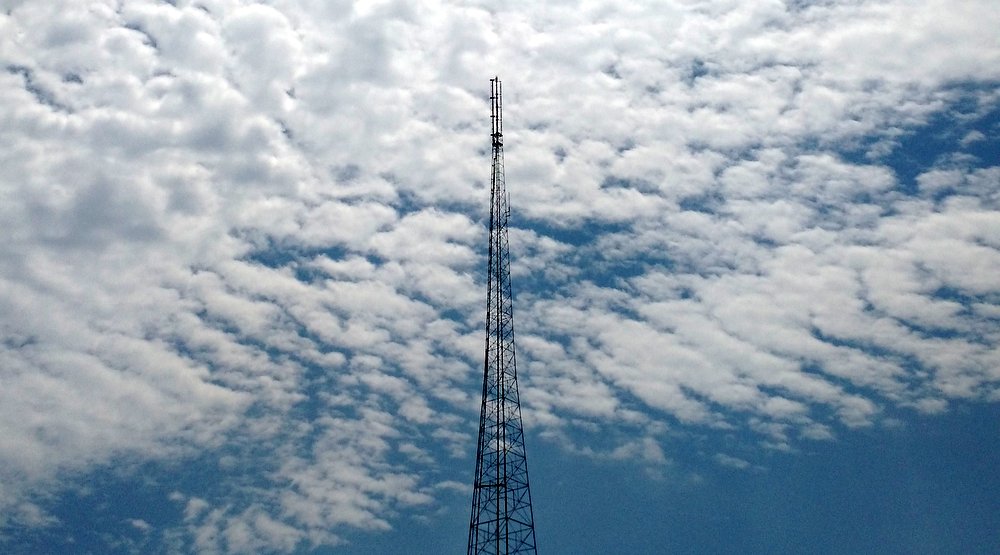 The following post is my response to these questions. I've selected five radios under $90 USD that can fill a variety of needs, and also offer good information support in the event of an emergency. I gave priority to radios that can be powered by common AA batteries––all but one model can be powered by common AA cells. Also, three of the five radios below can receive North American weather radio frequencies.
Note that while many of these models have been chosen with North American readers in mind, there are a number of similar models available in Europe, Asia, and the Pacific that have DAB/DAB+ reception. This list is by no means comprehensive, as there are literally hundreds of similar radios on the market; if you feel I've left an ideal radio off this list, please feel free to share your thoughts in the comments section.
Self-Powered Radios: The C. Crane CC Solar Observer ($50)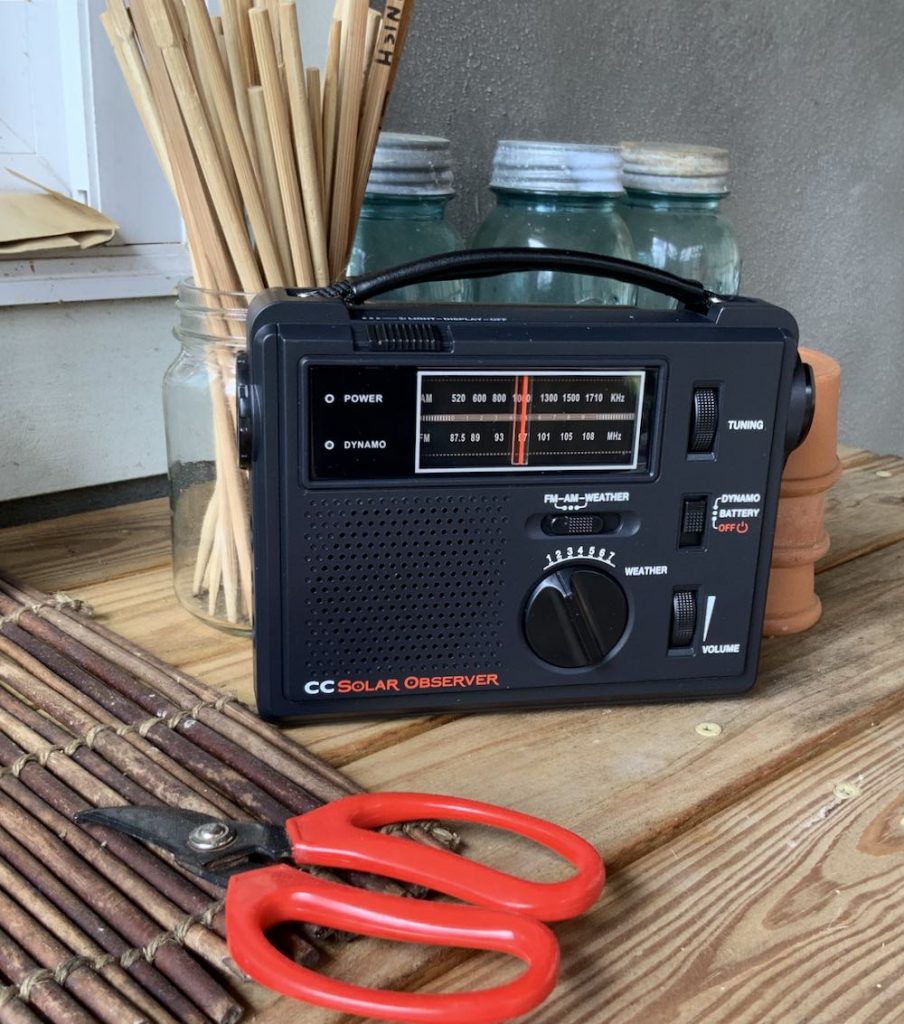 There are a number of self-powered (hand-crank and/or solar powered) radios on the market. My favorite self-powered radio for receiving local news and weather here in North America is the C. Crane CC Solar Observer.
I like the CC Solar Observer because it's substantial, well made by a company I trust, and has three different ways to power it (AA batteries/AC adapter, a hand crank, and solar charging). The internal rechargeable battery pack stores energy from the hand crank, solar panel, or AC adapter. In a pinch, this radio can even charge a mobile phone via a supplied USB adapter.
And, of course, this radio performs very well, indeed. You'll be pleased with AM, FM and weather radio reception. Audio is quite respectable via the internal speaker, and the overall build quality is excellent. The CC Solar Observer also sports an LED flashlight, and is, to my knowledge, the only self-powered radio with a very handy backlit dial!
This is not the cheapest in the line-up: new, these retail anywhere from $45 to $60 USD. Still, I think this radio is a very worthwhile investment, and really, the best of the bunch.
Retailers:
Other Options: The Degen DE13 DSP is much smaller, sports the shortwave band, and is less expensive (roughly $25 USD). I also like the Tecsun GR-88, which has a similar form factor to the CC Solar Observer, and also includes the shortwave bands (roughly $55 USD). Negatives for both of these radios is that many are sold from China, which could mean longer-than-normal shipping times, should you need it soon. Also, neither of these models include North American weather radio frequencies.
For more emergency radios, also check out Eton Corporation's offerings.
Simple Pocket Radios With Built-In Speaker: Sangean SR-35 ($20)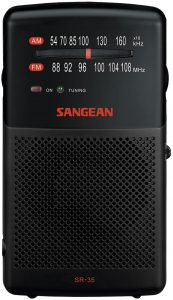 Small form factor ideal for you? I like the Sangean SR-35 because it's such a simple, easy-to-use radio, is obviously incredibly portable, and produces respectable audio for a pocket radio. (The SR-35 is also a favorite among SWLing Post readers.) The SR-35 sports an 18" telescopic FM antenna and built-in AM antenna. Performance is fantastic for a radio in this price class. If you don't mind an analog dial and the fact the SR-35 can't receive North American weather radio frequencies, you'll love this affordable little pocket radio.
Retailers:
Other Options: Although the Sangean DT-800 is pricier (roughly $55 via Amazon, $79 via Universal Radio) it includes weather radio reception and even weather alerts––click here for my full review. The C. Crane CC Pocket is very similar to the DT-800, and retails for $65 via C. Crane, $60 via Universal, and $65 via Amazon. I'm also a massive fan of the Sony ICF-S10MKII for its AM/FM performance and superb battery life, but unfortunately it's no longer in production, so your best bet is to look for one on eBay.
Battery Endurance Radios: Sangean DT-160 ($50)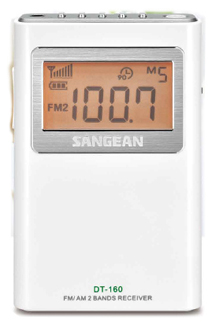 I like the Sangean DT-160 because it's a respectable AM/FM portable radio that can run on two AA batteries for an impressive 116 hours. I can confirm this because I once tested its clear-case cousin, the DT-160CL. It's very compact, and sports excellent FM and AM performance that will snag all of your local broadcasters. Unlike some of the other selections on this page, it lacks an internal speaker and North American weather radio frequencies. Still, if you're looking for a pocket portable with digital display that's an incredible battery miser, look no further than the Sangean DT-160.
Retailers:
Other Options: I've only tested a handful of radios for battery performance. The DT-160 is certainly king in this category, although no doubt there are many analog models that could achieve even better battery longevity. The models that have impressed me the most both in terms of performance and battery life are the Sony SRF-59 and SRF-39FP (clear case). Sadly, neither of these models is still in production, but you can still track down used ones on eBay.
Large Portable Radios: Sangean PR-D4W ($65)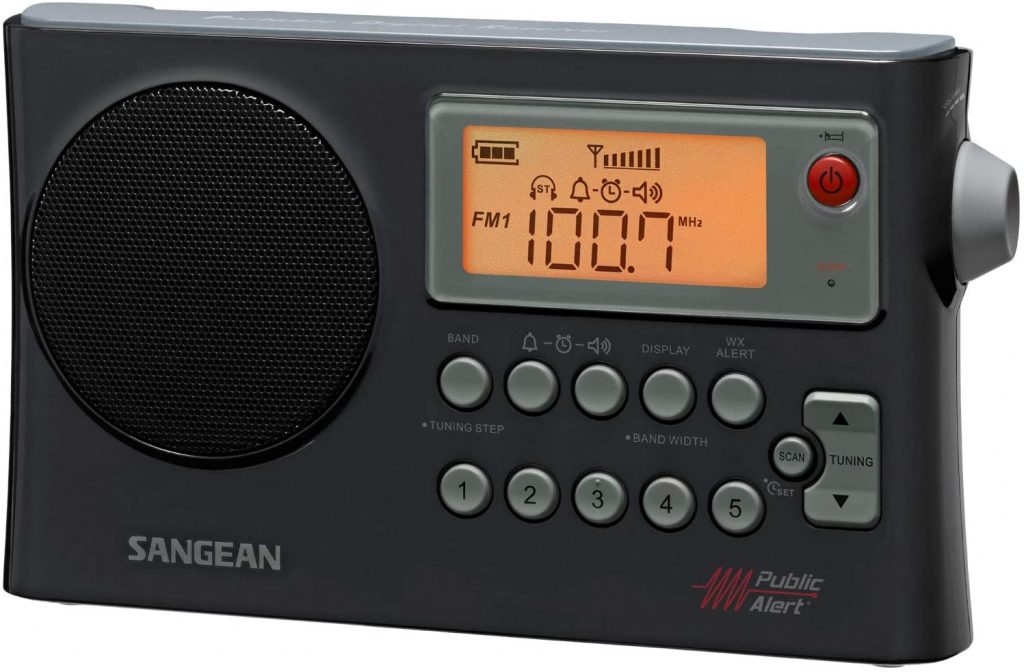 Sangean radios are a favorite among SWLing Post readers because they're built well and typically perform exactly as they should. In fact, when I mentioned I would be writing this post, several readers immediately suggested the Sangean "PR" series radios, and perhaps my pick of this bunch is the venerable Sangean PR-D4W. I like this particular model because it receives AM, FM and North American weather radio frequencies. It even has a weather alert function. Audio from the built-in speaker is pleasing and operation is very simple. Most functions are available via one-button press. Note that Sangean also produces a PR model for visually-impaired customers that is similar to the PR-D4W, although it lacks weather radio; this is the Sangean PR-D17 (click here to read a full review). The only gripe I have with the PR-D4W (and many of the "PR" series radios) is a lack of carry handle. Unlike the other radios in this list, the PR-D4W requires four "D" cells for battery operation.
Retailers:
Other Options: Click here to check out the full line of Sangean "PR" series radios.
Portable Shortwave Radios: C. Crane CC Skywave ($85)
The CC Skywave is a brilliant little radio and is certainly time-tested. It's a fine broadcast receiver and one of the most sensitive travel portables on the market. For those of us living and traveling in North America, the CC Skywave is a veritable "Swiss Army Knife" receiver, as it not only covers AM, FM and shortwave, but is a capable AIR band receiver plus incredibly adept NOAA/Environment Canada weather radio receiver. At $90 USD, I believe it's the best radio value in the C. Crane product line. Click here to read our full review of the CC Skywave.
Retailers:
Other Options: Although it lacks North American weather radio reception and no AIR band like the CC Skywave, the Tecsun PL-310ET is a time-tested benchmark portable radio. At $48 shipped (via Amazon), it's a bargain. An even less expensive option is the Retekess V115, at $29.99 shipped, and though its performance is pretty impressive for the price, I prefer the overall quality of the Tecsun and C. Crane better.
Summary
If you've found this post because you're looking for a reliable AM/FM radio, I hope the selections above will give you some guidance. There are so many AM/FM radios on the market, we can't cover them all.  But these solid radios are time tested, and in my view, among the best; they're not likely to let you down when you need them most.
---
Do you enjoy the SWLing Post?
Please consider supporting us via Patreon or our Coffee Fund!
Your support makes articles like this one possible. Thank you!