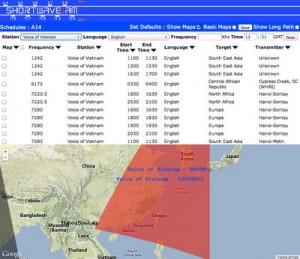 A few SWLing Post readers have recently recommended that I check out a new shortwave radio schedule site: shortwave.am.
Shortwave.am has a unique layout that lists broadcast schedules along with a map that displays broadcast footprints (both short and long path).
Fortunately, I was able to get in touch with the site developer, Stephen Cooper, who frequently comments on the SWLing Post.
Stephen kindly answered a couple of questions I posed.
My first question was why, with the number of shortwave schedule sites on the Internet, he felt motivated to create a new site.  Evidently, inspiration came from Stephen's Android app, Shortwave Radio Schedules. He responds:
I first created the [Shortwave Radio Schedules] app to give me searchable listings on my phone which I found interfered much less with my radio than on my PC so I could turn my PC off and look at frequencies and schedules on a phone/tablet.

Since then I have just added extra features that I find useful, such as the ability to save logs including the station name, time, SINPO, a comment and a recording of the audio. I've used the app to then share my logs to Facebook groups, DXLD Yahoo Group etc. including the audio recordings made on the app.

The maps option I added because I had been using AOKI listings with the beam direction to try and work out favourable beam directions of broadcasts for me in the UK even if they were not targeted to Europe. I realised that it would be much easier to visualise this on a map and started looking at the Google Maps API to work out this would be possible on the app.

Once I added to the app I had noticed screenshots of the maps being posted on groups such as the Rally DX 2012 Facebook group's and a few people who didn't have Android asking if there was a web version. I looked into it and it wasn't too hard to create shortwave.am after converting the Java code to PHP:and Javascript then the site was complete."
When I asked Stephen what made his site differ from others, he responded:
"[I]t uses data from a combination of Eibi and AOKI to display the listings with maps showing the beam direction. It can also show estimate long paths of each broadcast and uses AJAX web technologies to show search results and maps without having to reload the page for each search or change of parameters.

[…]If you choose a station or language or both and click "Save" (next to the "Set Defaults" part of the site) it will set these as the default that will open each time you go to the site.

Also if you click on a transmitter it now shows all broadcasts coming from that transmitter.

[…]I am going to add some more of the features from the [Shortwave Radio Schedules] app such as the ability to add logging reports, view others reception reports from each station and the options to add recordings of a station and listen to others recordings."
I think shortwave.am is fantastic, and I'm glad Stephen has put the time behind developing it in his spare time.
Stephen is eager to hear your comments, as he wishes to further develop the shortwave.am. Either post them here, or email Stephen directly.