Many thanks to SWLing Post contributor, Jock Elliott, who shares the following guest post:
---
The Crisis Radio
By Jock Elliott, KB2GOM
Sooner or later, it will happen to you. What's 'it'? Short answer: a crisis.
It could be as simple as you wake in the morning to find the power is out; you don't know how long it has been out, and you don't know when it is coming back. It might be a weather event: a blizzard, a sandstorm, a tornado, a derecho, a hurricane. It might be a geologic event like a tsunami, earthquake, or even volcanic activity. As recent events have shown, it could even be a war or a revolution.
When normal life is disrupted, and uncertainty is perched on your shoulder like a vulture, you will want to know what's going on, and your usual means of getting information – telephone, smart phone, internet device – may also be disrupted.
When that happens, radio can come to your rescue. Your local FM or AM (medium wave) station may be on the air, providing vital information to your community, or NOAA Weather Radio may be providing hazard information. In extreme cases, shortwave radio may be beaming information to your area when all else fails.
One of the points that was made when our own Thomas Witherspoon was interviewed recently was that people tend to regard shortwave radio as "crisis" radio.
So I have a couple of very specific recommendations.
First, make sure that your household has a "crisis radio." By that I mean one that will receive your local AM and FM broadcasters as well as shortwave radio, and, if you live in the US or Canada, NOAA Weather Radio. If you can afford it, I recommend getting a crisis radio that has single sideband capability (SSB) so that you have the ability to intercept ham radio communications, which might be another source of information.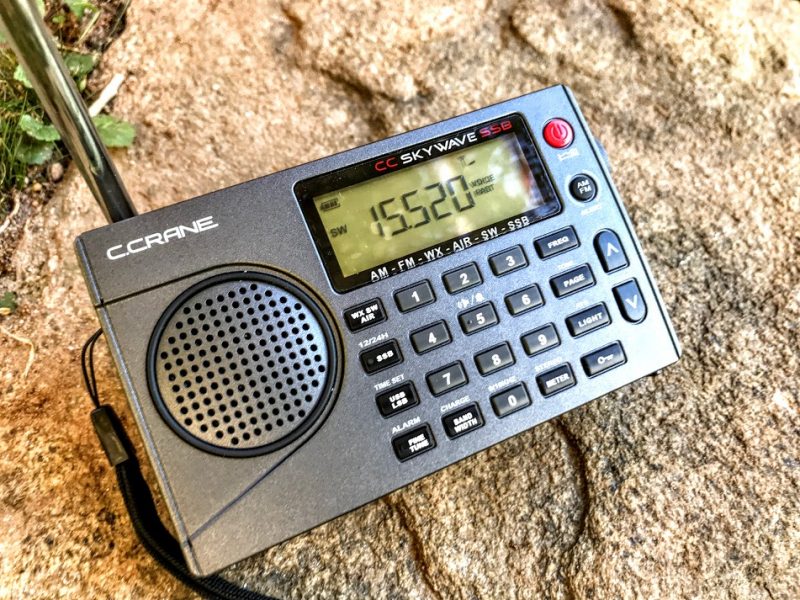 Toward that end, I can heartily recommend the CCrane Skywave SSB radio. (Let's be clear: I have no commercial connection with CCrane; I get nothing from them for making this recommendation, I purchased my Skywave SSB with my own money.) It has AM, FM, Shortwave, Weather, VHF, Aviation and SSB Bands. It is very small, measuring just 4.8″ W x 3″ H x 1″ D and weighing just 6 ounces without batteries. It will run for over 50 hours on a couple of AA batteries and comes with CC Earbuds, SkyWave SSB Carry Case, and CC SW Reel Antenna which boost sensitivity for shortwave and ham radio listening.
It is a crisis radio that you can stick in your pocket, backpack, purse or briefcase for deployment when the need arises or you simply want to listen to some radio programming. Further, you don't have to be an expert to operate the CCrane Skywave SSB. Thanks to the Automatic Tuning System, just select the band you want to listen to, press and hold the ATS button for two seconds, and the Skywave SSB will automatically search for stations in that band (AM, FM, Shortwave, etc.) and store those stations in the memory banks for that band. You can later check those memories to hear what programming those stations are broadcasting.
Second, and this is important, if you listen to shortwave radio at all, take the time to let the stations know. Drop them a postcard; shoot them an email, do whatever you can to inform them you are listening, and you value their transmissions.
Why? Because we all want those stations to be there if and when the next crisis happens. And if your local AM or FM station provides special programming to the community a weather event or geologic emergency, for the same reason, be sure to let them know how much you appreciate their efforts.
As a fire captain observed a couple of years after the North Ridge earthquake in California: "You cannot be over-prepared for communications in an emergency."