Many thanks to SWLing Post contributor, Patrizio Cardelli, who has discovered some interesting signals on the HF bands and is seeking information about them.
A little background: Patrizio asked me about these signals a few weeks ago and based on a quick glance at the spectrum and waterfall images I assumed it was DRM (Digital Radio Mondiale). I was wrong, of course. Had I looked at the actual frequency and bandwidth, I would have immediately realized is was not DRM. My email load has been so heavy as of late, and my time to reply at such a premium, I rushed through the reply–my apologies, Patrizio!
Patrizio followed up with this message:
Hello Thomas,
I hope this message finds you well. I wanted to share my recent radio exploration based on your advice. I followed your suggestion and investigated a sample signal within the 60-meter band, specifically settling on the one at 4.962 kHz.
I attempted to decode it using the Dream software but encountered no success. It seems this isn't a Digital Radio Mondiale (DRM) transmission. To rule out local QRM (interference), I tested various Kiwi SDR receivers across Europe, both to the south and north of my QTH. Interestingly, I managed to pick up this signal everywhere, with a stronger intensity noted in the northern locations.

I'm eager to publish this article to find out if other Shortwave Listeners (SWL) have been able to decode this transmission. Additionally, I'd like to mention that similar signals, either continuous or intermittent, are present on various HF frequencies.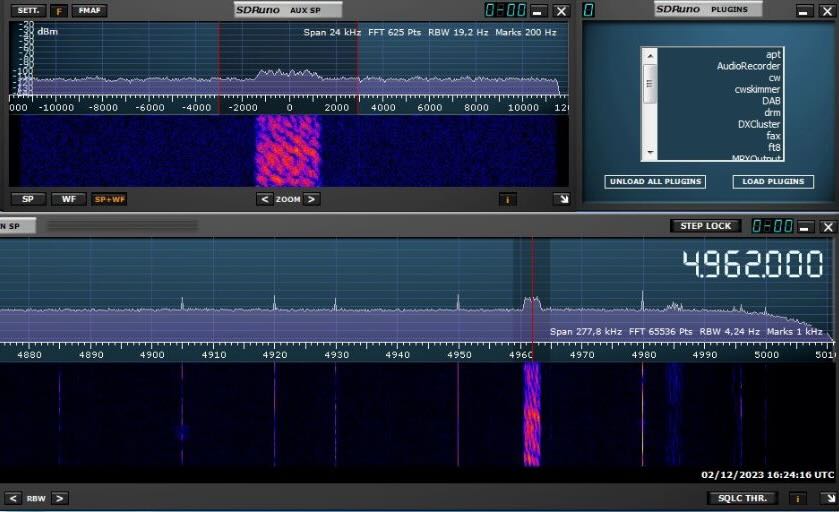 I look forward to any insights or experiences others in the community might have regarding this intriguing signal.
Audio sample:
While I recognize these signals now, and I'm sure most of you who cruise the bands have seen/heard these as well, Patrizio is a relatively new SWL, turns out, and I thought it might be fun exploring just what these signals are. 
Readers: If you know what these signals are, please comment. Indeed, I'm sure there are a number of SWLing Post readers who have hands-on time with generating these signals as well in a past life or current career. Let's explore!