Hi there, after conducting a total of 14 reception tests comparing these two vintage – but excellent portable shortwave radios, there was a clear winner – the ICF-2001D. Interestingly, the second half of the testing identified yet another example of synchronous detection lock dropping out on the ICF-SW77 (during reception of Radio CANDIP, Democratic Republic of the Congo on 5066.4 kHz). Generally, however, and despite a fairly narrow performance margin, the ICF-2001D managed to deliver clearer audio across 5 of the remaining 6 reception tests, giving a final score of 9 to 3 in it's favour. However, despite the clear win, there is no doubt in my mind at all that the ICF-SW77 is still a great portable receiver and in my humble opinion, remains one of the best ever made.
I believe this comparison test reveals the only likely remaining contender to the top-spot in portable shortwave receivers to be the Eton E1/E1XM. Originally to be marketed as the 'Satellit 900' (that never happened) and following a decade of development, involving RL Drake, it was finally introduced in 1995 – and then out of production within a few years. Fortunately, a couple of months ago, I managed to snag one in excellent condition on eBay, for a reasonable price. Now, these radios are not without issues, including, but not limited to; sticky rubber exterior casing, malfunctioning display, failing function keys and general all-round fragility. Not exactly what I would be looking for in a rugged, well-performing portable for my DXpeditions. However, as someone who is always exploring ways to 'push the performance envelope' and the obvious potential benefits of passband tuning, an allegedly superior synchronous detection circuit, 4 audio bandwidth filters and tuning resolution down to 10 Hz, the E1 was impossible for me to ignore. Thus, at some point in the near future, I will perform a similar comparison test with the Sony ICF-2001D and the Eton E1. Whichever camp you might be in, I hope you'll enjoy the reception videos and find the results/conclusions informative.
For now, wishing you all excellent DX.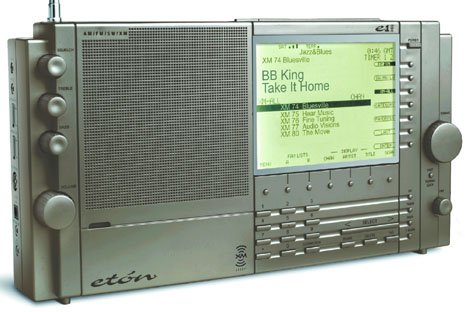 The Eton E1; possibly the best portable shortwave receiver of all time?
Clint Gouveia is the author of this post and a regular contributor to the SWLing Post. Clint actively publishes videos of his shortwave radio excursions on his YouTube channel: Oxford Shortwave Log. Clint is based in Oxfordshire, England.