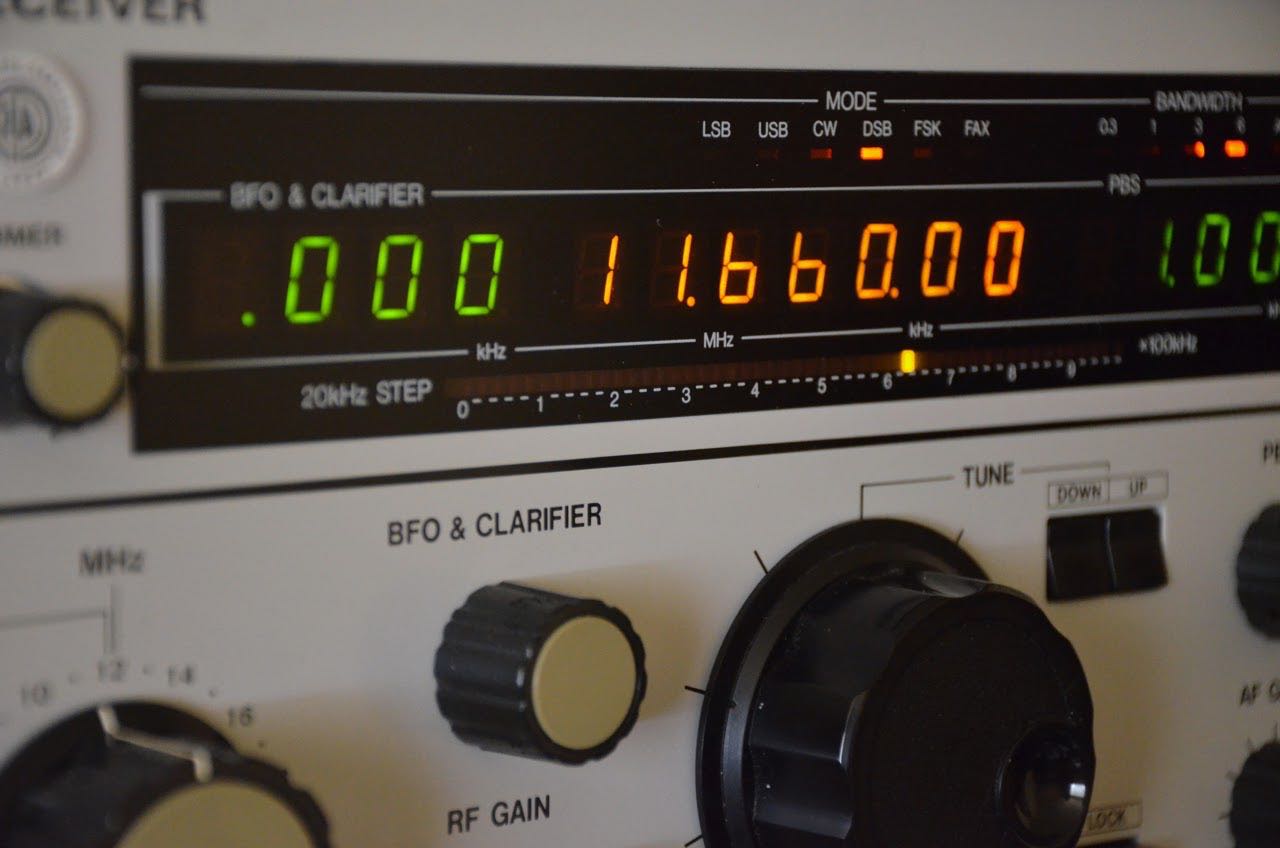 Radio Waves:  Stories Making Waves in the World of Radio
Because I keep my ear to the waves, as well as receive many tips from others who do the same, I find myself privy to radio-related stories that might interest SWLing Post readers.  To that end: Welcome to the SWLing Post's Radio Waves, a collection of links to interesting stories making waves in the world of radio. Enjoy!
Many thanks to SWLing Post contributors Tom Daly, David Iurescia, Dave Porter, and the Southgate ARC for the following tips:
---
If you were a major-league baseball fan in the 1910s, you were living at a time before commercial radio had come along. With no way to listen to the play-by-play at home (and no expectation that such a thing was even possible), you had to find other options when you wanted to know how your favorite team was doing. The best way, of course, was to go to the ballpark and watch the game in person, but not everyone could get the time off from work; there was no 40-hour workweek yet and putting in 50 or more hours a week was common in some jobs. And even if you had an understanding boss, there were still expenses to consider: By modern standards, tickets seemed cheap (even World's Series seats ranged from 50 cents to $3), but keep in mind that the average worker's salary was much less than what people earn today. For example, in 1915, the annual salary for teachers in most cities was less than $600,[1] and many other jobs paid no more than $700 a year.[2] Thus, attending a ballgame was reserved for special occasions.
Some fans who could not attend in person would go downtown and gather in front of the offices of the local newspaper, where they eagerly awaited the latest scores. The bigger cities often had a group of newspaper offices in close proximity to each other; in Boston and other large cities, this area was sometimes referred to as Newspaper Row. It became a place for fans to socialize, as everyone stood on the street in front of their favorite publication, hoping for good news about the game. When the newspaper received the latest scores from a telegrapher at the ballpark, a newsboy would write the information on a bulletin board, updating it every inning.[3] Some newspapers also had someone with a megaphone calling out the updates as they were received. In either case, the fans would cheer whenever the news was good, or express their disappointment when it wasn't.[…]
Voice of America Bangla language service FM and shortwave radio transmissions officially end on July 17, 2021, after 63 years of serving Bangladesh and the Bangla-speaking Indian states of West Bengal, Tripure and Assam. Simultaneously, the service's television and social media content will expand considerably, as these are platforms more heavily used by VOA Bangla's 16 million weekly audience members.
"When VOA Bangla launched in January 1958, Bangladesh was known as 'East Pakistan' and it was a territory under martial law with no television or private radio," said John Lippman, Acting VOA Programming Director. "VOA's shortwave radio transmissions from outside the borders were a lifeline to the Bangla-speaking population for independent news and information."
While the service's shortwave radio audience is now less than one percent, VOA Bangla social media audiences have grown significantly in recent years. Engagement actions on the Twitter account have risen 54% over the previous year, while video views on Instagram are up 274% in the same period.
"Dozens of domestic television and radio stations compete for Bangla-speaking audiences, as well as an increasing number of digital sources," Lippman noted. "As the demand for TV and online access to news in Bangladesh expands, VOA's Bangla service program offerings need to be on the platforms its audience already is most active."
"VOA Bangla radio broadcasts brought world events to its audiences since the days when radio was the primary news medium," Acting VOA Bangla Service Chief Satarupa Barua told staff this month. "It was a staple in our upbringing, a household name. We will build on that reputation, increasing our presence on media that is now far more heavily used than short wave and medium wave radio."
During the final days of its radio broadcasts, the service will broadcast retrospective programming, looking back at the changes in the country since 1958. "Because of our service's history in Bangladesh, working at VOA has been the 'dream job' for many of us. With the coming changes, it will continue to be," Barua added.
This change in radio programming will not affect broadcasts of "Lifeline", a 30-minute daily radio program in the Rohingya language, spoken by Muslim refugees in Bangladesh who fled ethnic violence in Myanmar. Produced by the Bangla service, the program launched in July 2019.
Among its multiple accolades, Hertfordshire is home to one of the most important facilities in British broadcasting history – and it's nearly 100 years old.
The Brookmans Park Transmitting station in Hatfield, Hertfordshire, was originally built by the BBC as the first of a network of regional dual transmitter stations, replacing the city-based ones from before.
The station has played a crucial part in the history of broadcasting in Britain. It was the first purpose-built twin transmitter station in the world that was capable of broadcasting two radio programmes simultaneously when it was completed in 1929.
The transmitter also played a role in the early development of television broadcasting.
This particular station was the first in the BBC's adventurous scheme to bring existing radio reception to the whole of Britain.[…]
Ireland's IRTS News report that meetings of the National Shortwave Club on Sunday evenings at 2000 on the Zoom platform will continue over the Summer months and they continue to attract around half of the membership of almost 120 most weeks.
A decision has been made to suspend the weekly Wednesday revision classes until it looks like an examination will be held within a reasonable time. Hopes are high that following next Thursdays Government announcement, an exam date will be published as soon as possible thereafter.
Interest in the new on-line classes which will begin in the autumn is already high and anyone interested is invited to reserve their place via email to 'training at SWL.ie'
---
Do you enjoy the SWLing Post?
Please consider supporting us via Patreon or our Coffee Fund!
Your support makes articles like this one possible. Thank you!