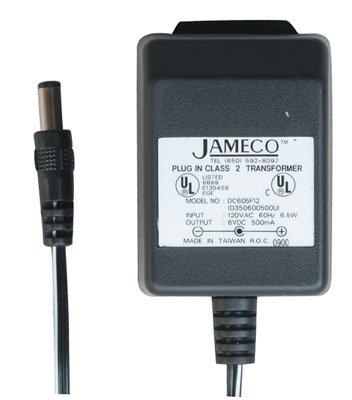 Regarding noisy switching power supplies, SWLing Post reader, Dan Lewis, comments:
"Google the following: "Jameco linear wall transformer", and you'll find a suitable non-switching replacement.

Jameco still has a number of linear transformers in their catalog at reasonable prices. I haven't bought anything from them in many years but when I dealt with them frequently a number of years back they were always reputable."
Many thanks for your suggestion, Dan! Jameco is a reliable company and I've also been a long-time customer. If you know how to pick the proper power supply for your radio (or any other electronic device) click here to view a list of regulated linear supplies on Jameco's website. [Also note this follow-up post.]Otherwise, keep reading…
How to find a replacement AC adapter/power supply
When you purchase a replacement power supply, you must make sure that several properties match that of the device it will power, else you could cause damage.
There are four properties you need to match: voltage, rated current, polarity and tip size.
Voltage
Most consumer electronics are powered by and rated for 4.5, 5, 9, 12, or 13.8 volts DC. Of course, there are exceptions. It is important that you match the required voltage exactly. Most radios and electronic devices display their required voltage and voltage tolerance on the unit itself, on the supplied switching power supply, and/or in the owner's manual.
Rated Current
Like voltage, rated current is usually displayed somewhere on the device, existing power supply or in the owner's manual. Current is usually indicated in amps (A) or milliamps (mA). Unlike voltage, rated current on your power supply does not have to match the device exactly. You simply need to make sure the power supply meets or exceeds your radio's required current.
For example, if your radio requires 800 mA (or .8 A) and you find a power supply rated for 500 mA, you should not use it. If you find a power supply rated for 2 amps (or 2000 mA), it exceeds the 800 mA rating, so you're good to go!
Unlike voltage, your electronic device or radio will only draw the amount of current it needs from the power supply.
Polarity
You'll need to determine if your radio requires a plug with a positive or negative tip (a.k.a. center conductor).
Fortunately, manufacturers have long used standard symbols to make polarity obvious (see image).
You'll typically find a polarity symbol printed on the back of your radio, near the plug-in point, in the owner's manual or on the back of the existing wall adapter.
Note: Be very careful matching polarity! Some radios and electronic devices are not properly protected against reverse polarity; damaged can occur immediately after supplying voltage with incorrect polarity.
T

ip/plug size
You need to make sure that the inner diameter and outer diameter of a replacement wall adapter will match that of your existing adapter.
This can be the most difficult property to match.
Occasionally, radio manufacturers will actually specify the tip size in their owner's manual, spec sheets, or on the product page of their website. I've even had luck calling manufacturers and asking a technician for the plug size.
Otherwise, you can always measure the existing power supply tip (both inner and outer dimensions) using calipers.
Once you have those dimensions, finding the appropriate replacement power supply is quite easy. Indeed, companies like Jameco provide specification sheets (click here for an example) that indicate dimensions for each power supply they sell.
Once you've matched the voltage, rated current, polarity and tip size, you can purchase a regulated linear power supply with confidence!
Keep in mind: there are most likely other devices in your home with noisy switching power supplies that could be causing radio interference. Check out my noise trouble shooting section of this article to help identify local sources of radio noise.
Update: check out this follow-up post regarding Jameco power supplies–not all are truly linear regulated.