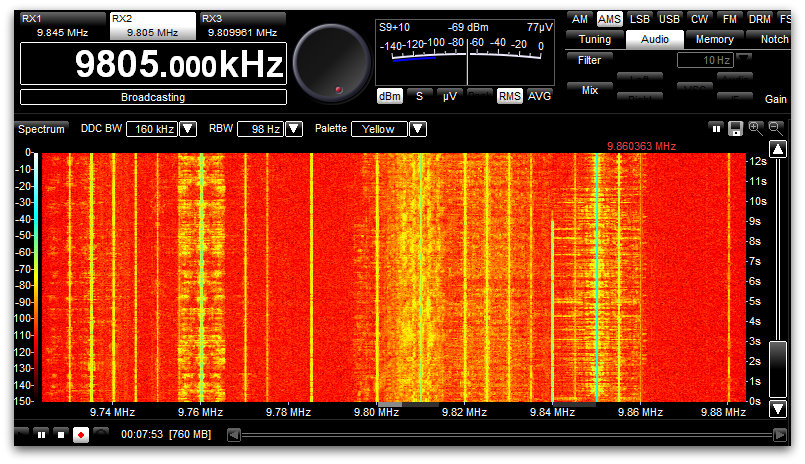 One of the most popular posts on the SWLing Post is one published nearly two years ago: "Is there anything to listen to on shortwave?"
In that article, I posted recordings made on the 31 meter band of eight different broadcasters, all of which I found within a 250 kHz chunk of bandwidth on a Friday afternoon.
On February 8th (this past Saturday), I recorded a 160 kHz chunk of spectrum on the 31 meter band with my WinRadio Excalibur, starting around 1:00 UTC and lasting for about 9 hours.  I made this spectrum recording in attempt to capture the Voice of Korea on one of their three scheduled frequencies.
While VOK wasn't audible enough to make a good recording, I did log the following stations all within this thin slice of radio spectrum (click on links for recordings):
BBC World Service
Voice of Iran
Voice of Turkey (9,820 kHz)
KBS World Service (9,805 kHz)
Though not logged, I also heard Radio Havana Cuba, China Radio International, WRMI, China National Radio, WWRC, Deutsche Welle, Voice of Korea (faint) and many others.
I'm guessing that I only logged 50% of what I heard as this list was put together from a quick scan through the recording. In fact, I'm systematically making recordings of each of these broadcasts, from the spectrum file, and adding them to the Shortwave Radio Audio Archive. I may actually discover more stations in the process.
My point is, if you think there's nothing to listen to on shortwave, you're simply not listening!
Now back to my radio…